Custom design elements — like changing benches, coat hooks and cabinet storage— make mudrooms practical and full of possibilities.
Who knows what to call them anymore, and I say this as someone who's designed hundreds of IKEA mudrooms. The name "mudroom" really isn't in tune with today's needs. Originally they were intended for large homes in cold climates as a place to put muddy boots, heavy jackets and other gear. Today they're a must-have not just for what they do but for what they let you do. These are places to drop your sports gear or the kids to put their school bags. It's a place to make your daily routine more efficient and stress-free without cluttering up other rooms— all while meeting your unique needs. Who doesn't need that? So maybe we should call them "Indoor-Outdoor Changing Stations," or "All-Purpose Transition Areas." It's hard to pin down one name since mudrooms do so much. Let's just use "mudroom" until my suggestions catch on (sigh).
"IKEA mudrooms provide a unique, affordable opportunity to customize smaller spaces [and] IKEA cabinet hacks make that happen. These are high-traffic areas. Whether it's for a family with a busy schedule; part of a larger remodel with other rooms; or designed for extra storage, we're seeing a lot of different mudroom uses," says IKD designer Richard.
Let's look at three IKEA mudrooms which share these qualities. They all feature IKEA's SEKTION kitchen system with white IKEA cabinet doors and have bench areas in spaces less than 8′ wide. But that's where the similarities end. There's the mudroom in a small (59″ wide) recess area for Adewale from Pittsburgh, PA which features IKEA's AXSTAD Matte White cabinets for a built-in style; the recessed IKEA mudroom designed for Srijana from Redwood, CA which was part of a larger remodel project; and the custom mudroom/laundry room designed for Judith from Fairfax, VA, which features Semihandmade Supermatte Shaker – Light Gray doors for extra storage options.
These mudroom projects were all completed for less than $3,000 (for the IKEA cabinets and Extra Items List specifically). So any IKEA customer looking for budget-friendly ways to add custom and practical touches to their project will appreciate this information.
Let's take a look!
We'll Design Your Ideal IKEA Mudroom Easily, Affordably, and Online
Our IKEA Mudroom Design Package is everything you need to complete your new mudroom with confidence.
GET STARTED TODAY
Built-In IKEA Storage
The IKEA mudroom designed for Adewale was done with cabinet hacks.
"The mudroom was meant for a small area near the back door of our home. But I really didn't want it to look like an afterthought. So it was important to make it unique and incorporate custom options and a built-in look. I preferred open cubbies instead of wall cabinets because the recess made it impossible to open doors fully. The cabinet modifications done by our designer were a great solution!" Adewale says.
Working with IKD designer Merari he selected IKEA's AXSTAD door style in Matte White paired with chrome-plated IKEA ENRYDA knobs. He wanted six cabinets below the bench units which include three open slots for small, flat objects and three other drawers underneath.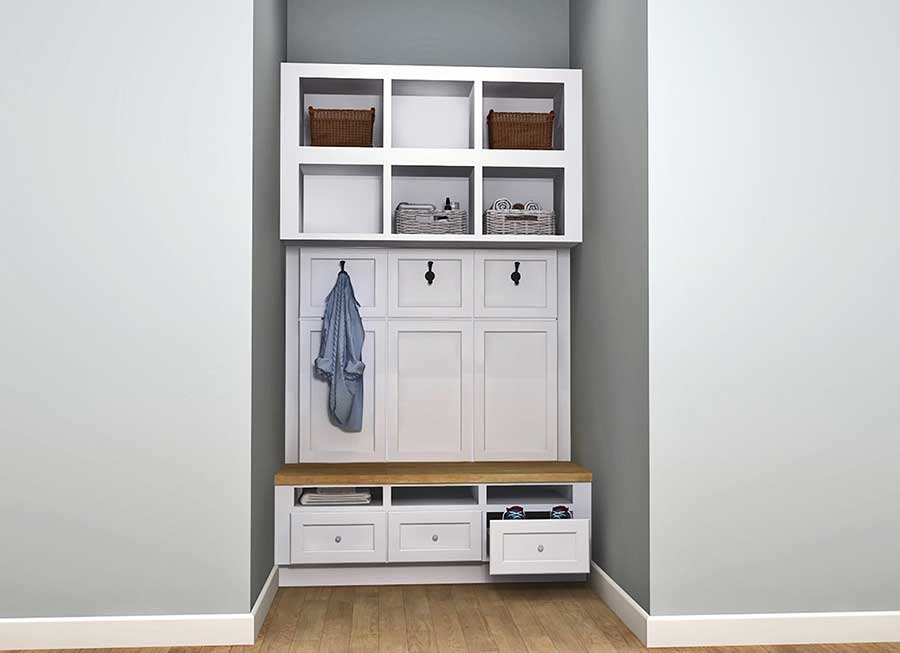 Establishing space with IKEA MAXIMERA bottom drawers for shoe storage was the first order of business. So Merari modified the height of three 18″(w) x24″(d)x30″(h) IKEA AXSTAD base cabinets to 15″(h).These were modified (read: "hacked") to have the drawer at the bottom 10″(h) and extend 5″ upwards to support the bench seating (featuring the IKEA MOLLEKULLA countertops in oak/veneer as the bench). This created the open storage for foldable items such as towels.
Adewale also wanted the back wall paneled with additional AXSTAD door fronts.
"I wanted six door fronts at the wall to add to the built-in style and make the area easy to clean. IKD designer Merari did a great job in making this happen," he says.
The walls were paneled by modifying 36″ (w) x96″ (h) tall unit side panels. Three 18″ (w) x 30″(h) doors along with three 18″ (w) x 15″ (h) doors were placed over the paneled wall to provide dedicated space for hanging jackets and hats.
Two rows of three 18″ (w) x 15″ (h) wall cabinets without doors were then added at the top to create open cubbies. This is ideal for storing baskets and other decorative items. A 15″ (h) x 90″ (w) panel was then used to cover the bottom row. Other products in the mudroom include: IKEA UTRUSTA hinges; IKEA FORBATTRA toekicks and cover panels, and IKEA VARIERA cover plates.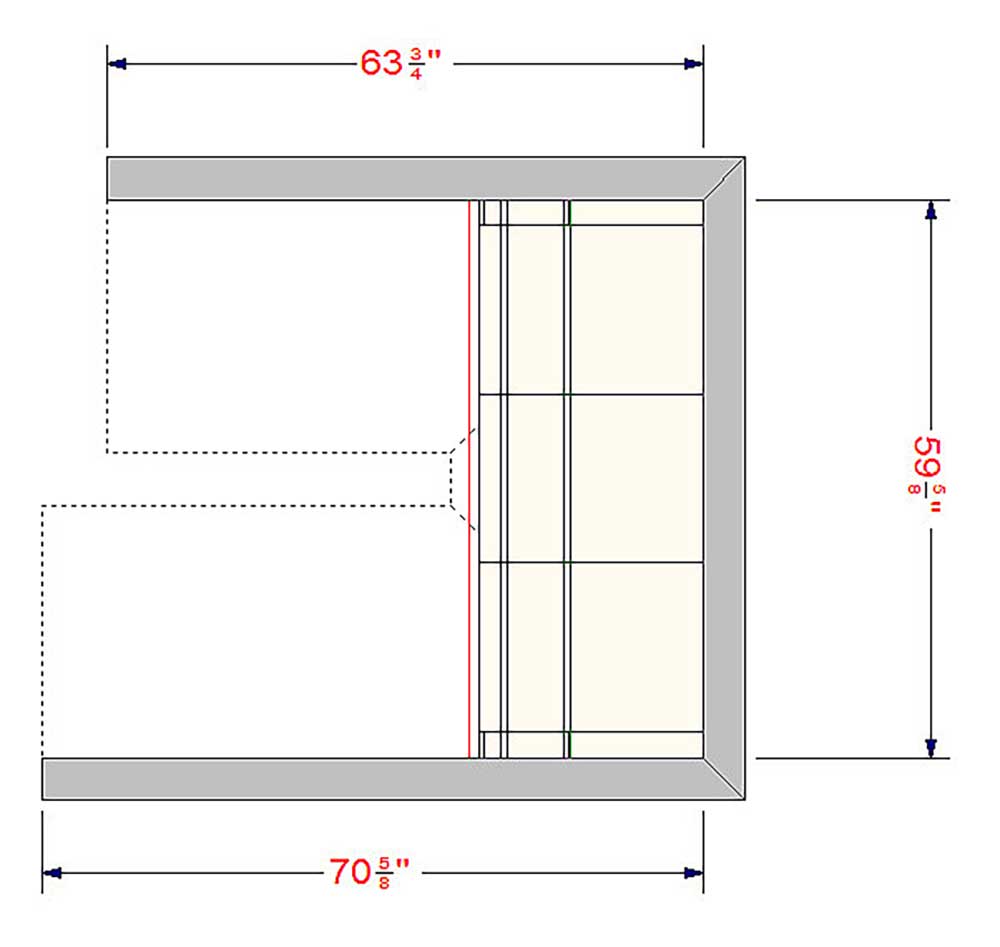 Project Numbers
| | |
| --- | --- |
| $552 | IKEA Cabinet Cost |
| $991 | Extra Items Cost |
| $1,543 | Total Project Cost |
Out of Sight, Not Out of Mind
Srijana's mudroom is there when she needs it.
"This project was a remodel of a small area (23 sq. ft.) in between our garage and kitchen. We incorporated the space behind the media center. Since we're a two-person household it was okay for minimum storage but we wanted a spot to hang our coats and some extra storage for cleaning supplies," she says.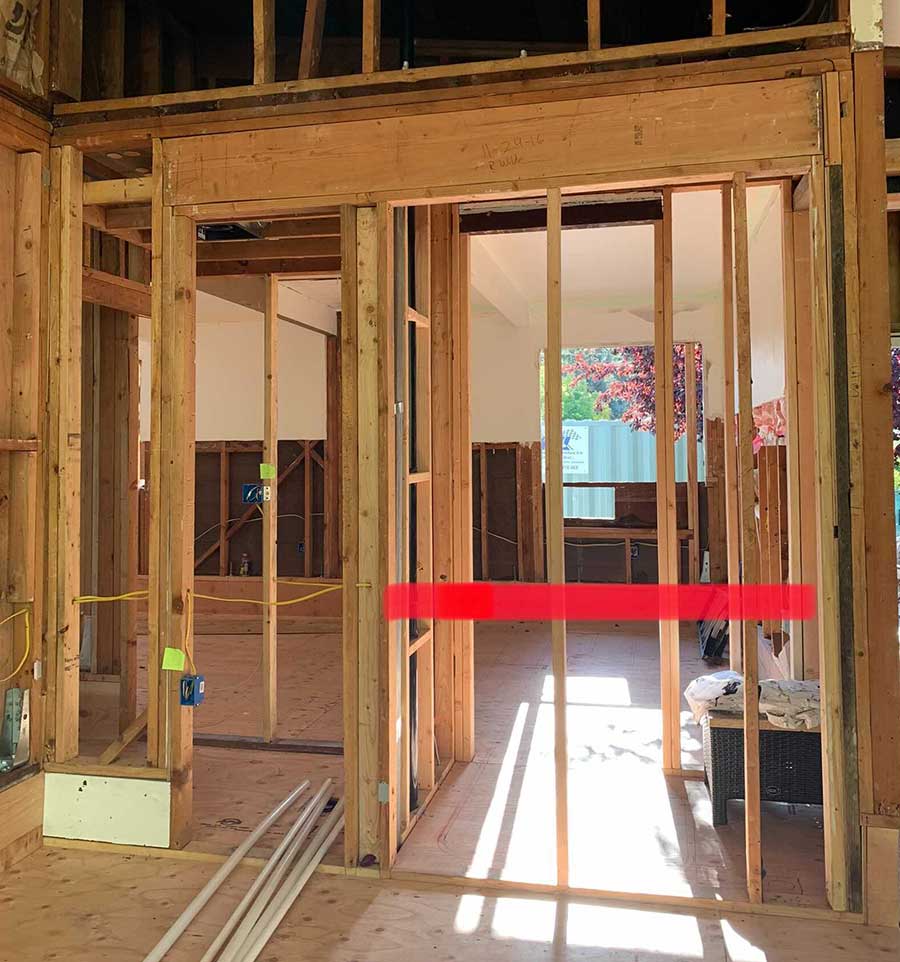 Working with IKD designer Frank she selected IKEA's VOXTORP cabinet doors in Matte White along with IKEA MAXIMERA drawers and IKEA KARLBY walnut countertops. In total the space features eight cabinets and eight panels, including wall cabinets that nearly reach the 12′ ceiling.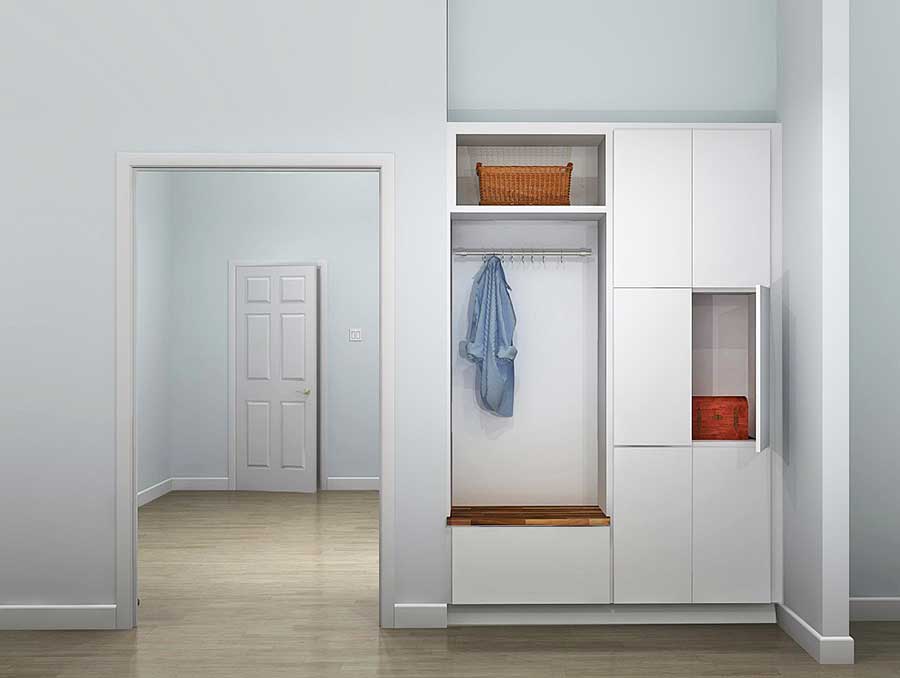 The design also called for a 15″ deep tall cabinet instead of the standard 24″which were not available.This required a creative design solution. So Frank suggested a 30" (w) x 24"(d) x 90″ (h) IKEA VOXTORP unit modified to 15″ (d). Frank also designed a 30″IKEA MAXIMERA drawer at the bottom of a 30″ (w) x 15″ (d) x 15″ (w) wall cabinet to establish accessible storage beneath the bench. IKEA FORBATTRA cover panels were added to the sides and back to keep the cabinet walls from getting banged up at the open bench area.
The final hack required designing an open wall cabinet above the recessed hanging area. Frank designed a 30″ (w) x 15″ (h) wall cabinet without doors and added more IKEA FORBATTRA panels to finish the top and bottom.Completing the mudroom product lineup: IKEA UTRUSTA hinges; IKEA FOBATTRA rounded deco strips; and IKEA SEKTION suspension rails.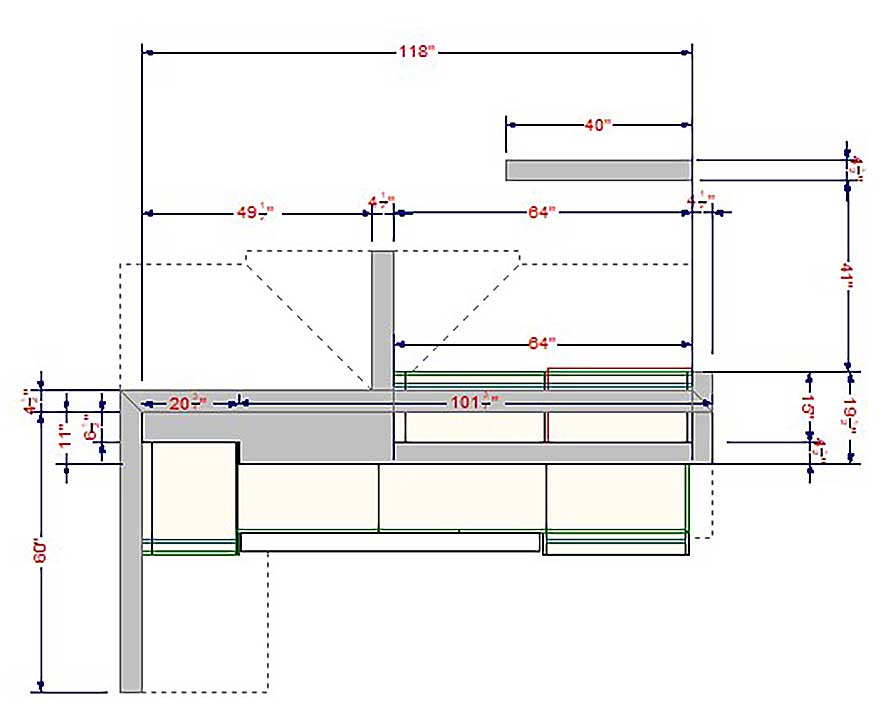 Project Numbers
| | |
| --- | --- |
| $927 | IKEA Cabinet and Door Cost |
| $806 | Extra Items Cost |
| $1,733 | Total Project Cost |
Custom Functions
Judith's IKEA mudroom performs multiple functions — which is just how she wanted it.
"We have a small home with three adults and a baby. I was looking for function and storage for taller items, like our vacuum. The bench area is so useful when getting the baby ready for the stroller. It's also very convenient having [the mudroom] opposite the laundry area. Now we can fold clothes and put them away easily. We also wanted a 'Drop Zone' and storage for coats and shoes," she says.
Judith selected Light Gray Supermatte Shaker doors from Semihandmade along with IKEA MAXIMERA drawers. Overall the 93 sq. ft.mudroom features 12 cabinets and 11 panels. The upper cabinets provide storage for seasonal clothes and reach the tall 120″ ceiling. This is key as Judith specifically requested 24″deep cabinets running close to the ceiling — which left 25″ from the top of the tall cabinets below the ceiling.It was IKD designer Javier's challenge to make this work.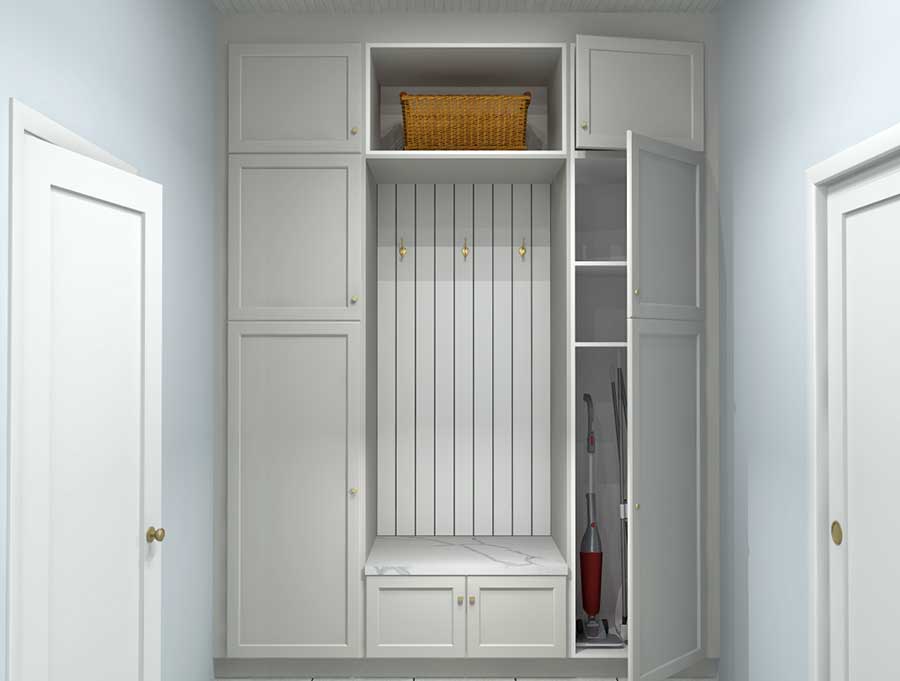 "With this IKEA cabinet hack we modified the height of the 30″ (h) base cabinets to just 20″ (h). So these cabinets were now 24″ (d) x 24″ (w) x 20″ (h). With this done we continued the design and sizing of the tall cabinets below," he says.
The next hack called for creating an open wall cabinet above the recessed hanging area. This is ideal for a large basket to hold hats and gloves. Javier designed a 36″ (w) x 20″ (h) x 24″ (d) wall cabinet without doors and added panels to finish the top and bottoms. The featured bead board panel was bought and painted by Judith.
Extra storage space beneath the bench was established with a third cabinet hack. This required Javier to modify a 36″ (w) x 24″ (d) x 15″ (h) wall cabinet which provides space for blankets, a diaper bag and extra hats and jackets. The tall cabinets store the vacuum and brooms which makes cleanup easier. The product lineup also includes: IKEA BAGGANAS brass knobs and hooks; IKEA UTRUSTA hinges; IKEA FORBATTRA toekick; IKEA VARIERA cover cap and IKEA UTRUSTA shelving.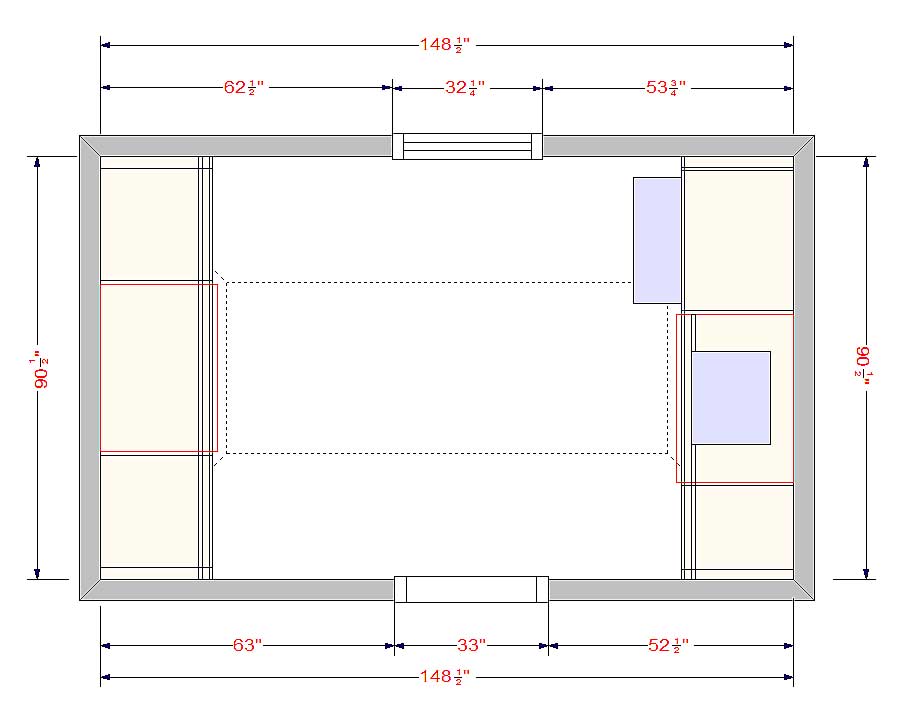 Project Numbers
| | |
| --- | --- |
| $1,648 | IKEA Cabinet and Door Cost |
| $296 | Extra Items Cost |
| $1,944 | Total Project Cost |
These remodel projects really highlight how IKEA mudrooms can be customized to customer's needs.
Get a Professional IKEA Mudroom Design – All Online
Work with our certified designers to get a personalized mudroom designed around your needs and vision. If you're interested in learning more about our service, make sure to check out our IKEA Mudroom Design Services.