Karen Carpenter may have sung that rainy days and Mondays always got her down. But, I can't see how you could be anything but cheerful, even on the rainiest days in one of these waterproof jackets. This article has the best raincoats for women that will mean you don't mind rainy days at all!
Things to think about when choosing a raincoat
When you're choosing a raincoat, obviously, the most important thing is to make sure it keeps out the rain! But what else should you consider when choosing the best raincoat for you?
How long will you be out in the rain for?
If you're just wanting a little protection when walking a short distance, then you can get away with a totally different rain jacket compared to if you're going for a hike in rainy season. Read on for the difference between waterproof, water resistant and water repellent to help you make your choice.
Is it also cold?
A raincoat is usually a staple for spring and fall, when you need a protective layer but you don't necessarily need a lot of warmth. However, if you do live somewhere chilly, you will also want to make sure your coat is cozy.
Aroob (above) opts for a classic waxed jacket with her jeans.
Get her look with this Chanel belt and. handbag and wear it with this similar rain jacket, top, jeans, boots and sunglasses.
What style do you like?
A trenchcoat, for example, is a timeless example of a raincoat and will be perfect if you have a classic style personality. However, you may prefer a more casual option such as a wax jacket.
Best raincoats for women: What is the difference between waterproof, water resistant and water repellent?
Ever bought a rain jacket you thought would keep you dry only to be soaked through to the skin in a heavy downpour?
That's because not all rain coats are created equal. Some will keep you drier than others and knowing the terminology can help you to choose the right one for your climate and purpose.
Vanessa (above) wears a padded jacket to stay warm AND dry.
Check out this similar jacket, top, pants and sneakers.
Water resistant
Water resistant tends to offer you the lowest level of protection from the rain. A water resistant coat usually relies on tightly woven fabric rather than a waterproof coating. But if you won't be out for long, it should keep you dry enough.
Water repellent
This is the next step up. A water repellent coat will usually feature a coating so that the rain sits on the jacket rather than seeping into it. However, it will still struggle to keep you dry in very heavy rain, when you may need to choose the next option…
Best rain jacket: Waterproof
If you live somewhere where you get really heavy downpours, or you are going to be outside for some time, then a waterproof option will be best. This should keep you dry even if you have a lot of rain, or you press on the material of your coat.
The most stylish raincoats in stores now
Now that you're thinking about the type and style of raincoat that will be best for you, below you will find some of the best options to choose from to keep you dry in style!
Oxana (above) chooses style which cinches at the waist.
Recreate her look with this similar jacket, sweater dress, sneakers, clutch, earrings and sunglasses.
Best raincoats for women: The classic trench coat
One of the most classic options you can possibly choose, a neutral trench coat should see you through rainy season after rainy season.
For more inspiration see our article on how to wear a trench coat.
Best waterproof jackets for women: Patagonia waterproof coat
If you are looking for a waterproof option, maybe to make sure you are dry while walking or hiking, Patagonia is a good brand to try.
Bow back raincoat
The problem with some raincoats is they can be shapeless. However, this Bernado jacket has a waist that you can cinch to keep a feminine shape, as well as a bow detail on the back.
Bernardo back bow hooded waterproof & water resistant raincoat
Floral raincoat
You don't have to stick to block colors for your raincoat. You could always add a fun print, such as florals.
Joules floral waterproof jacket
Insulated coat
Do you need extra warmth as well as making sure that your coat keeps you dry? An insulated option could be the way to go.
Kristen Blake insulated rain jacket
Fashionable raincoat: Transparent style
If you have a trendy style personality or you'd like a rain jacket which stands out from the crowd, you could opt for a transparent jacket. That way, you can still show off the outfit you are wearing underneath.
ATM Anthony Thomas Melillo transparent rubber rain jacket
Rainwear for women: Colorblock raincoat
Boden is a good place to look when searching for raincoats which are sure to keep you dry as well as winning you plenty of compliments. You could try a patterned or colorblock option.
There are more tips in this article on how to color block your outfits effortlessly.
Lavender raincoat
If you want to be certain that your raincoat has a spring-like feel, choosing a pastel color could be a great option.
Blue print coat
Adding a print to your coat means you can wear over the plainest of outfits and add real pizzazz to your outfit.
Black waterproof coat
If you already have a little black dress in your closet, how about a little black coat? A black trench is truly timeless.
Opting for a style with shoulder detailing can be particularly flattering to balance out a pear shaped figure.
Plus size raincoat
Whatever the weather, this A-line raincoat by Gallery should be able to handle it. It has a removable liner, so you can chance the level of warmth to suit the weather.
Amazon raincoat
The Columbia waterproof jacket (below) is one of Amazon's bestsellers and has plenty of 5-star ratings. Reviewers say it is roomy and light so can easily be worn over other layers.
Best raincoat brands: J.Crew coat
J.Crew is another of my favorite brands for rain jackets which are a little different to the norm. This leopard print jacket would look fantastic worn with other neutrals.
Barbour coat
The Barbour story began back in 1894, so the brand has definitely picked up a lot of expertise in creating stylish, waterproof jackets over the years. All of its waxed jackets are manufactured by hand in its UK factory.
Stylish rain jacket: Sam Edelman coat
I like this Sam Edelman coat (below) for its shape. You can cinch the waist with the drawstring, making sure your outfit looks shapely rather than shapeless.
It comes in 4 different shades – see if you prefer this one, or the choice of pastels and brights.
Sam Edelman hooded water resistant parka
North Face coat
If you want to make sure you're protected from the elements, The North Face is a good brand to consider. This waterproof trench is seam-sealed to keep you dry.
The North Face waterproof trench raincoat
Lands' End coat
Often, the weather, particularly in spring is ever-changeable, so you may want to take a raincoat with you in your bag. This Lands' End coat (below) packs into its own pocket and comes in 5 different colors.
Do you have your own recommendations for the best raincoats for women? What is the best brand you have found?
Continue reading:
Like this post on the best raincoats for women? Share it on Pinterest!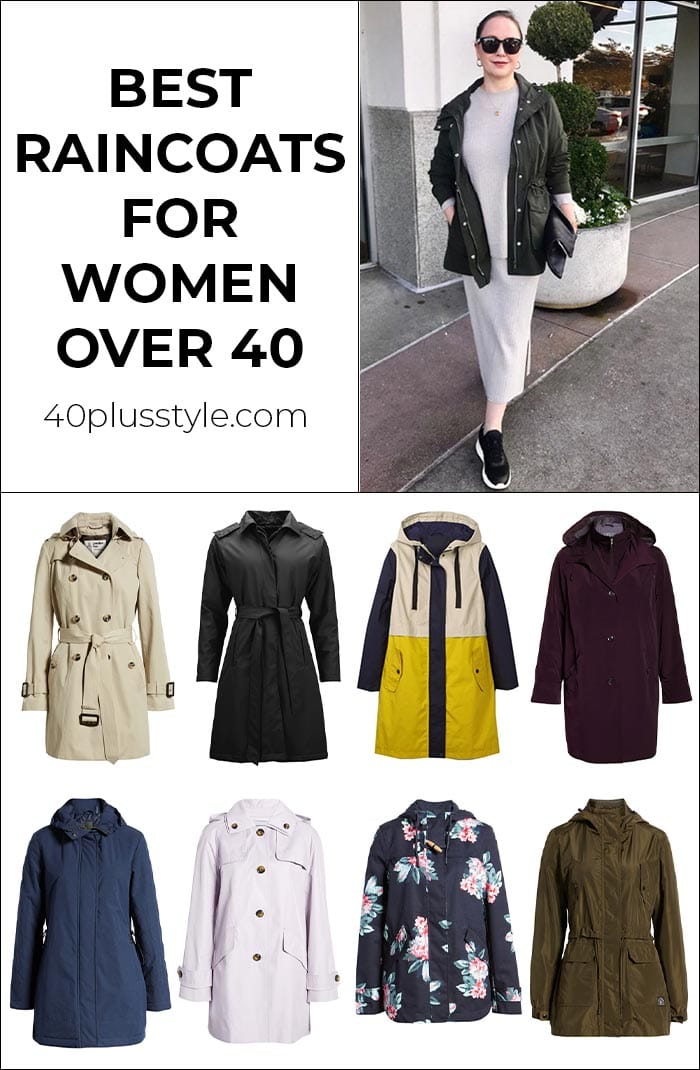 Feature image by Oxana
The post The best raincoats that will make you wish for rainy days! appeared first on 40+ Style.