Outdoor Edge is a leading knife and tool company in the outdoor space – specifically known for their replaceable blade hunting knives – and now they are expanding that selection within their portfolio of blades by adding in the RazorPro S, the latest addition to their innovative lineup of knives in the RazorPro family of RazorSafe

replaceable blade hunting knives.
Outdoor Edge Coverage on AllOutdoor 
The new RazorPro S comes with six Drop Point replacement blades and a Kryptek® camouflage sheath. The projected availability date will be this summer of 2023. The current MSRP is slated to be at $89.95 for a full system for processing all types of fish, birds, and game animals. All of the RazorPro S specifications can be read below as presented by Outdoor Edge:
Knife Blade: 3.5″ | 8.9 cm
Saw Blade: 3.4″ | 8.6 cm
Overall Length: 8″ | 20.3 cm
Razor Blade Steel: Japanese 420J2 Stainless Steel
Razor Blade Thickness: 0.6mm
Saw Steel: 65 Mn with Chrome Coat
Blade Holder: 420J2 with Black-Oxide Coating
Handle: Rubberized TPR with 420J2 Stainless Steel Liners
Sheath: Nylon (Kryptek pattern)
Weight: 8.3 oz | 235 g
Denver, Colorado (January 9th, 2023) – The new RazorPro S is a modification to one of Outdoor Edge's best-selling knives, the original RazorPro G, double folder. The new S version has been modified to include a bone saw made of 65 MN spring steel for wear resistance and toughness combined with the 3.5" replaceable Drop Point blade. This new model is the perfect knife combo to take in the field for all around outdoor use. With its rubberized TPR handle, stainless steel blades, spring steel saw with chrome coating, this knife is built to withstand the use and abuse of serious outdoor enthusiasts while being small enough to easily fit into your pocket or daypack for easy all-day access.
When it comes to hunting knives, cutting tools, and even saws – for troublesome tree limbs or even bones while processing wild game – implements and tools like those are simply invaluable. They make life not only easier, but also safer when you have the right tool in hand. As always, let us know all of your thoughts in the Comments below and whether you currently own any Outdoor Edge products. We always appreciate your feedback.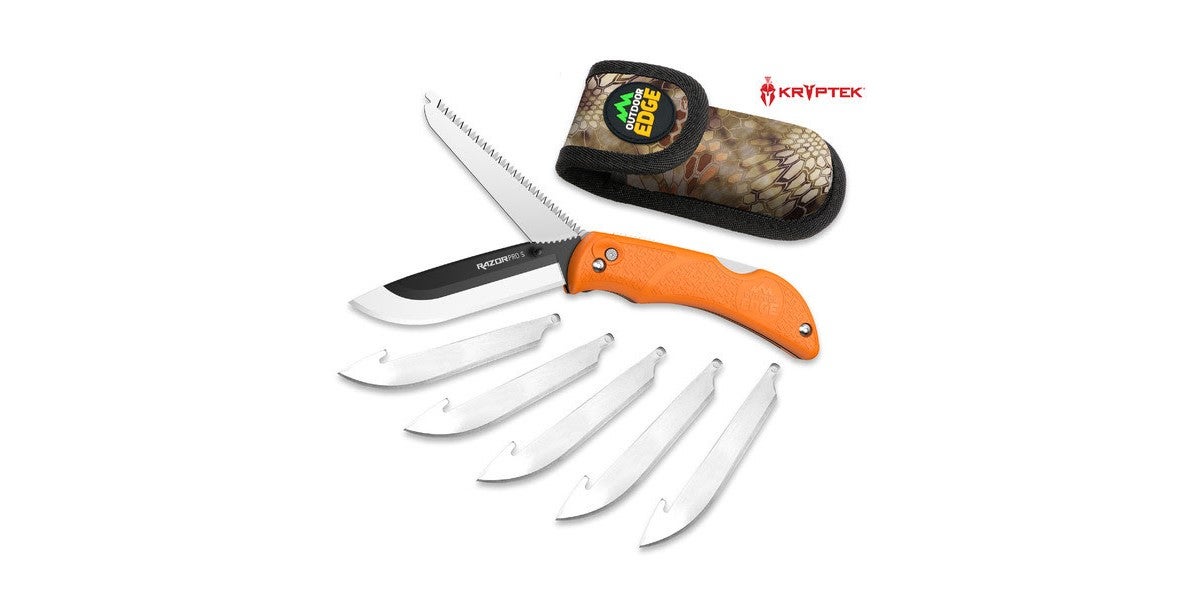 The post Outdoor Edge RazorPro S Latest Addition to Replaceable Blade Knives appeared first on AllOutdoor.com.