This past week, October 4 – 6, NeoCon 2021 featured a selection of new and innovative furniture designs in Chicago. NeoCon has exhibited designs since 1969 becoming a world-renowned platform for progress into the future. We curated our favorites in lounge and seating from the NeoCon 2021 show. Check them out below!
All Furniture descriptions are taken directly from NeoCon 2021 official website.
Charlotte
The Charlotte lounge chair (above) is an impressive sit with a soft wing back look. The back design is derived of soft contours and subtle stitching details accompanied with a generous seat. The Charlotte offers two attractive base designs, the metal wire frame that wraps around and gently hugs the back for a modern glance, and the wood post legs that adds warmth to this classic look.
Patkau Cocoon
Drawing on their award winning and iconic Canadian ice warming huts, Patkau Architects has designed The Patkau Cocoon. Its organic form combined with the feeling of natural materials provides an almost poetic and sculptural presence. Each element is made of curved plywood and wood veneer, the interior is spartan: with a fixed seat and fitted with ecoustic panels to provide a quiet space for undisturbed work or conversation. The Patkau Cocoons are completely unexpected and are a welcome retreat, just what a modern workplace demands.
TOOtheLOUNGE
Offering roomy seated comfort, a generous-sized table, convenient storage and power connectivity, TOOtheLOUNGE invites you to take a break for short term stays, or settle in for the long haul. Accommodating single users, but with the flexibility to be multiplied or configured with other models to create higher capacity groupings, units can be positioned throughout open spaces to serve any number of purposes. And with the option to add panels to create more private enclosures, productivity has never been easier to come by.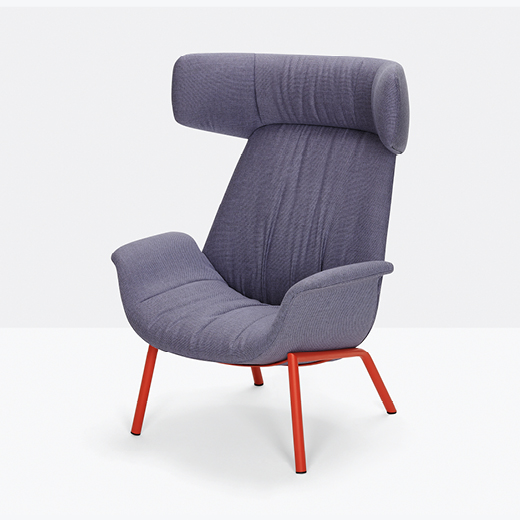 Ila
The new, elegant and high-quality Ila is a refined piece of furniture with a strong personality, expressing utmost comfort, softness and sensuality. Its curved, flexible lines trace out a comfortable and enveloping silhouette. Armchair with outer shell in rigid polyurethane foam and flexible polyurethane foam for the inner shell. Available with four-legs Ø 30 mm steel tube frame or with swivelling central steel base in the shape of a cone section.
Knot Lounge Chair
Bound in Leather: Leather bindings replace the traditional McGuire rawhide detailing. The interlaced leather accentuates the dramatic shape of the frame, adding a layer of exquisite handcrafted detail. The generously scaled, 100% down and feather cushions create a comfortable oasis, amidst the caned back and walnut or ash frame. The loose seat cushion attaches with Velcro straps to ensure a tailored fit. Comes standard in Satin Walnut or Blonde Ash. Standard fabric: Lenno Ecru linen for a quick ship option; customization with COM also available.
Inyo
Open and generous, the honest lines of the Inyo range are friendly from any angle. A tubular steel base gives a wide, stable stance and is available in multiple standard powder coat colors, stainless steel or hand rubbed steel. Optional strap leather or fabric detailing links the seat to the base, or specify without straps for streamlined simplicity.
Gimbal Lounge Chair
The ideal addition to an open office or lounge setting, the Gimbal is a statement piece that encourages productivity and welcomes the user through comfort and movement. Both the Highback Rocker and Low Lounge Rocker feature the comfort of down-filled pillows with the support of a foam insert that hugs the inside of the frame, creating a layer of softness that cradles the body. And, just like its name, the rocker provides the perfect pivot to not only rock but swivel as well.
Tubular
Designed by award-winning architecture firm Populous, the Tubular chair brings comfort and style by utilizing five layers of mixed-density foam along with unique bent metal tubes that create independent, floating cushions. "We wanted this chair to be reminiscent of the bent tube chairs of the 70's but with a contemporary design featuring oversized, pillow-like cushions," said Josh Sweazy, Director of Sales for SIXINCH USA. "The details of this chair are what set it apart from its mid-century predecessors, including a slightly flared stance at the base and unique accent bands around the perimeter of the two independent cushions," said Sweazy. The Tubular chair rethinks the role of the pillow. What was once just a piece is now the core of the design. All about softness, the chair's large, overstuffed seat and back cushions feature layers of mixed density foam and are every bit as comfortable as they appear. The burly tube frame also adds a bit of whimsy with its smooth bends and cheerful powder coat options. The distinctive accent band adds a little dimension and the option for a pop of color, continuing the Tubular chair's playfulness throughout. "Our design teams studied the elements of seating needs and played around with the basic building blocks of a chair," said Adam Stover, Senior Principal at Populous. "Taking inspiration from pillows, we wanted the entire chair to be both physically and visually comfortable, and the Tubular chair achieves that."
Kata
Lightweight in form and environmental footprint, Kata is designed with circular sustainability at its core. Arper's first solid wood lounge chair, Kata takes inspiration from artisan-made wood and woven straw chairs and reimagines the near universal typology using contemporary, sustainable solutions in an expression that's both graphic and warm. Kata finds form in juxtaposition—an evocative gesture in the movement between material presence and minimal silhouette, softness and strength, tradition and technology.
Nagare
Nagare, which translates to flow in Japanese, is a beautiful collection of lounge seating and tables. Designed in collaboration with Rainlight Studio, Nagare offers a solution for the modern work environment in the time of experiential design. Nagare's two distinct families, Lounge and Platform, each possess a sculptural quality that makes a bold statement, while also being highly functional. Inspired by nature, this new collection has been carefully designed to help us work effectively wherever work might happen.
You can view the official NeoCon 2021 website to see the full selection of sofas, lounge and seating designs.