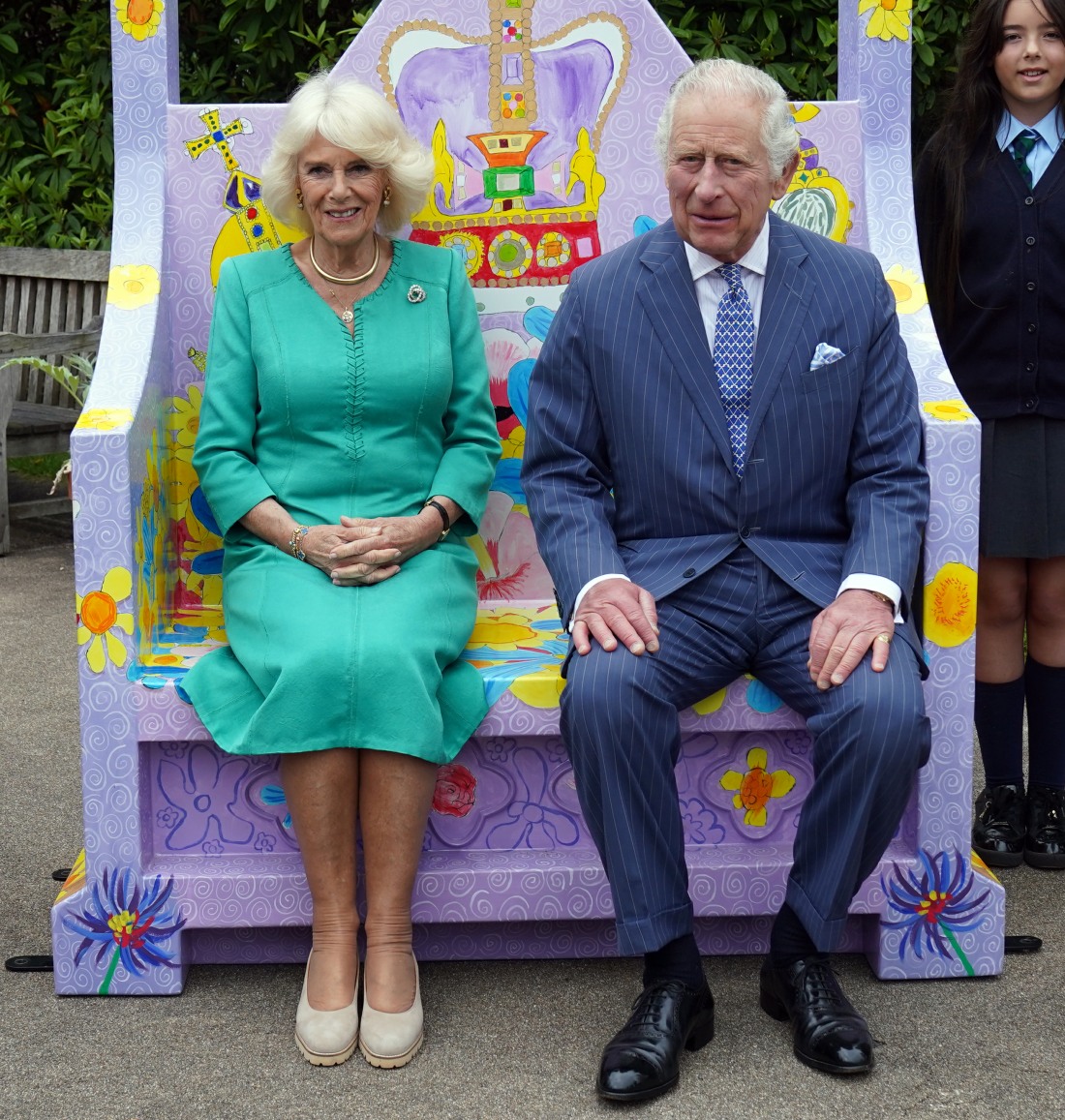 King Charles and Queen Camilla made a "surprise" trip to Northern Ireland on Wednesday. Most of the royals' trips to Northern Ireland have to be a surprise, even 25 years after the Good Friday Agreement. Don't want to give any Irish republicans too much time to plan ahead, you know. Charles and Camilla traveled to Belfast, and it was their first real trip since the coronation. For all of the talk about how Camilla probably won't travel much anymore, she made sure to grab a green horse tarp and feather her hair like Farrah Fawcett and just get on with it. Do I also think she had several stiff drinks before she staggered around Belfast? Yes. I do.
Charles and Camilla didn't seem to have a busy schedule – they opened the new Coronation Garden at Hazelbank Park, they posed with children and Charles even showed some affection for one of the little girls. The adults they met were picked specifically because they pitched in for the Day of Service during the coronation weekend, and some of them were recipients of "The Queen's Award for Voluntary Service, The King's Award for Enterprise and The Duke of Edinburgh Bursary," according to People Mag. At some point, Charles and Camilla were presented with a very large cake shaped like the St. Edward Crown. Don't look too closely at Chuck's sausage fingers while he's cutting the cake, yikes.
After all of that, there was a garden party at Hillsborough Castle. So… was this a surprise trip or not? This garden party was thrown together pretty fast. Camilla changed into a white coat and gloves, like she doesn't want her skin to touch the Irish peasants.