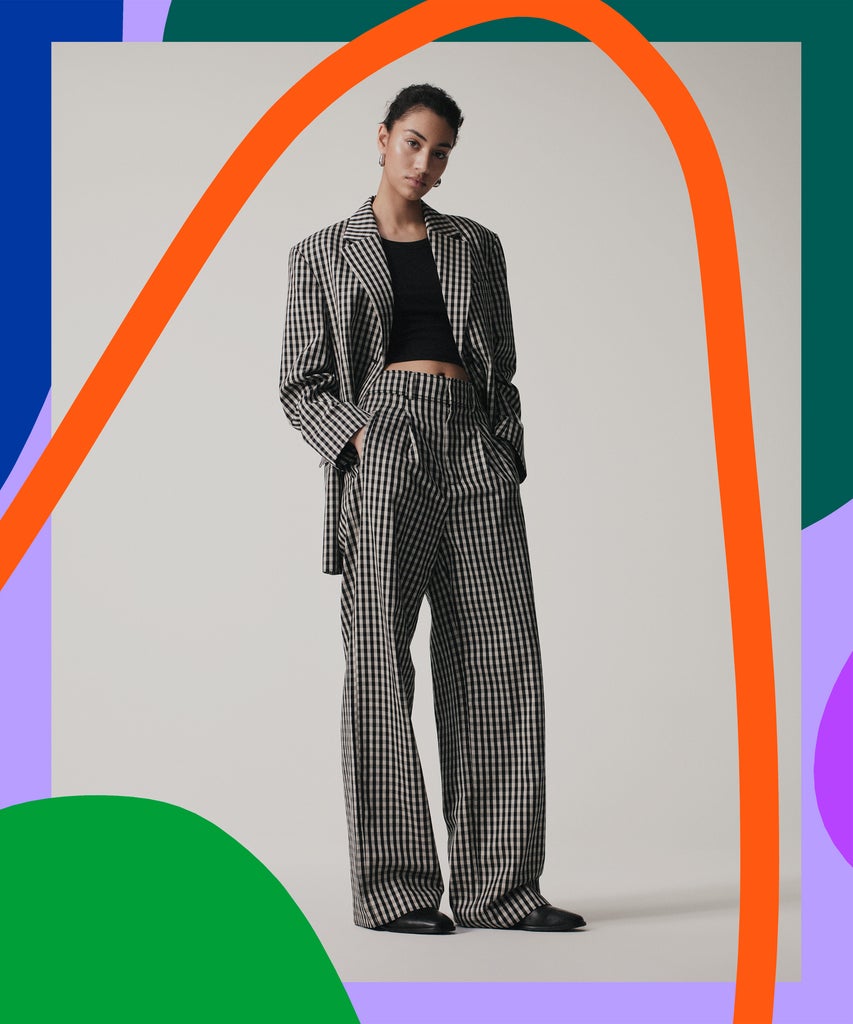 In 1972, when a 26-year-old Diane Keaton appeared on The Tonight Show Starring Johnny Carson, the titular male host asked his female guest if she was wearing a suit which she charmingly replied, "Yeah, it is a suit; I'm just like you guys." To that, Carson curiously asked (and not even in any malicious way), "Is it a man's suit you had fixed?" Keaton responded in the most Diane Keaton way, "No, it's a female suit…and I am female." Fifty years later, it's hard to imagine anyone giving an F about women wearing suits — and, yet, it still seems to be a topic of conversation, comment, or consideration since suiting primarily carries on as a men's-dominated aesthetic. Allure, in a 2016 article on the history of women in suits, reported that in July 1949, an image of Katharine Hepburn wearing a suit in an issue of Picturegoer magazine "was lauded as a shrewd publicity move: 'That slack suit paid for itself several times over—for Katharine Hepburn got special mention in hundreds of different publications. If she'd worn a dress, her name would merely have been listed among the 55 other top stars.'" How iconique. When it comes down to it, women in suits simply appear bold and powerful, refreshingly insouciant towards overt feminity.
Those are enough reasons why Everlane's new Modern Wardrobe Capsule is worthy of closer inspection, which consists of three key pieces (for now): A long trench, a boxy-fit blazer, and a slinky trouser. "Our Modern Wardrobe Capsule serves as a curated collection of versatile pieces that can be worn separately or together, and dressed up or dressed down for endless dressing opportunities," a rep for Everlane told Refinery29 over email. "Specifically, the relaunch of these iconic styles into three new colorways gives our customers an easy way to create a polished and classic head-to-toe look, while still incorporating comfort through our breathable and environmentally-friendly fabric. We like the idea of the three pieces as a group being an easy way to mix and match into the wardrobe of today to move from smart to casual dressing."
The 80's Blazer, $185
On the topic of the collection's "environmentally-friendly fabric," in keeping in line with the brand's sustainable ethos, all three pieces — available in various colorways of black, tan, gingham, sandstone, and dark grey (depending on the style) — are made from plant-derived Tencel fabric, which "is biodegradable, requires a lot less dye, and is also pure white when produced, so no bleaching is necessary."
Ahead of the modern capsule collection launch, Everlane sent over the three pieces for me to test in the gingham pattern, which is by far the most unique option out of the other neutral-flavored tones. I do have to say that the Tencel material feels incredible — it's smooth to the touch, business-y but also breathable, substantial but not too thick or cumbersome. I am an owner of several suits that are made from delicate fabrics (only reserved for very special circumstances) and these Everlane suiting pieces aren't like that at all; these feel extremely durable which is a major plus. It means I can get into a little rowdy, late-night mischief without concern — which is exactly what I want from a going-out suit.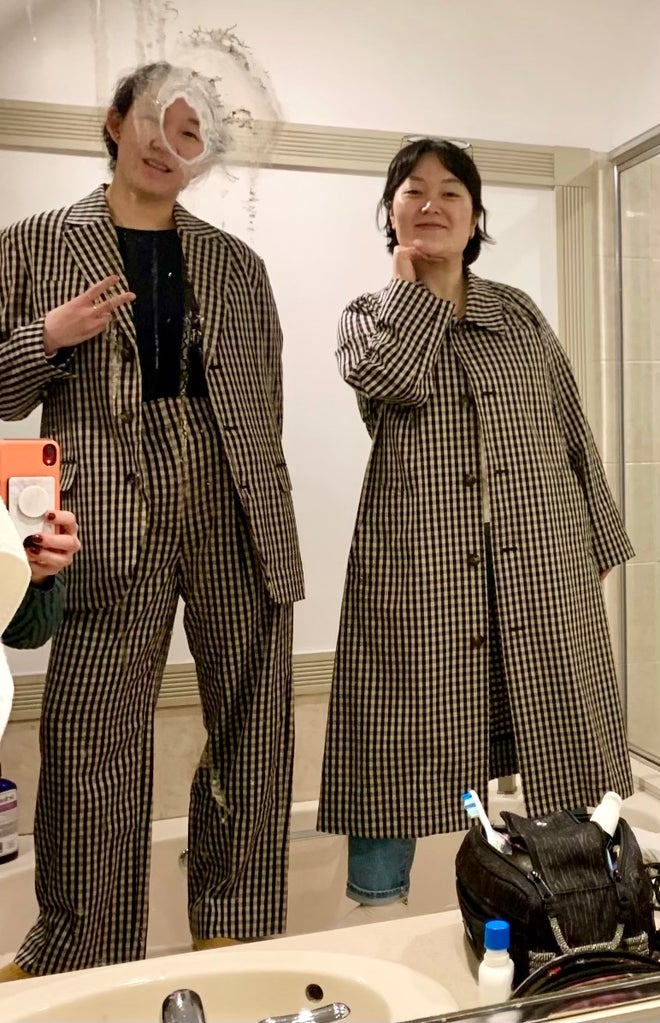 The blazer — which is offered in sizes 00 to 16 — fits true to size in the shoulders and has a hem that drops to the upper-to-mid thigh. The pants, which also come in sizes 00 through 16, have two inseam lengths but as a 5'3″ person, the shorter-inseam pant still ran long on me (I will have to request a hefty alteration and/or only wear these with my highest platforms or heels). However, I knew that a taller pal will look very sharp in these trousers so I had my 5′ 7″ friend Naomi try on the pants and it worked out perfectly for her height. And I'd have to say my absolute favorite piece from the collection is the trench coat — available in sizes XXS to XL — which I sized down in (to account for my short height) and I think the fit and length are superb all around. I cannot wait to wear this as my picnic-inspired springtime layer.
The Gathered Trench, $178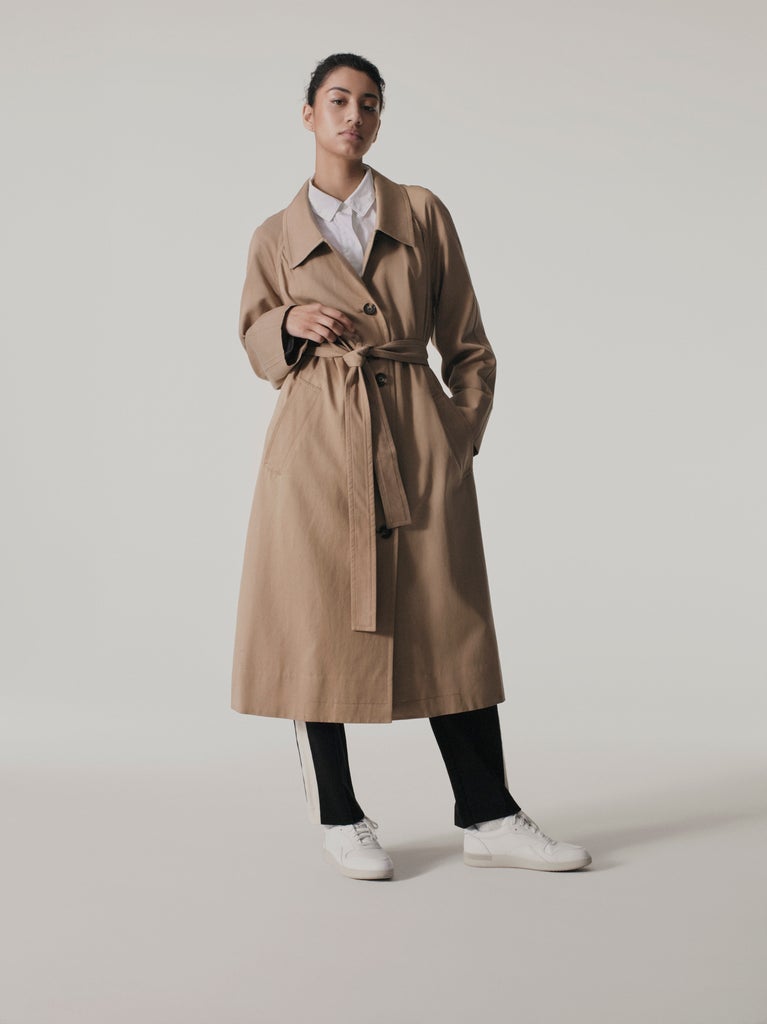 While this isn't Everlane's first rodeo when it comes to professional attire or timeless capsule wardrobe pieces, these suiting pieces seem to hit differently due to their unabashed 1980s bagginess. It looks like it was purposefully copped from the men's department — but made to tailor-fit a women's body. (We would like to believe Diane Keaton would highly approve of this.) "Our blazers, Way High Drape Pants, and the Drape Trench continue to be best-sellers, so we wanted to bring them all together for one cohesive, capsule collection," an Everlane rep told us. "We also updated these styles by incorporating new product details and proportions to add a modern flare. For example, our Gathered Trench will now feature a material gathering under the front shoulder seams for a hint of femininity, while a high back slit and storm flap add more volume." The brand plans to add new colorways and fabrications for all three silhouettes in the future.
The Way High Drape Pant, $98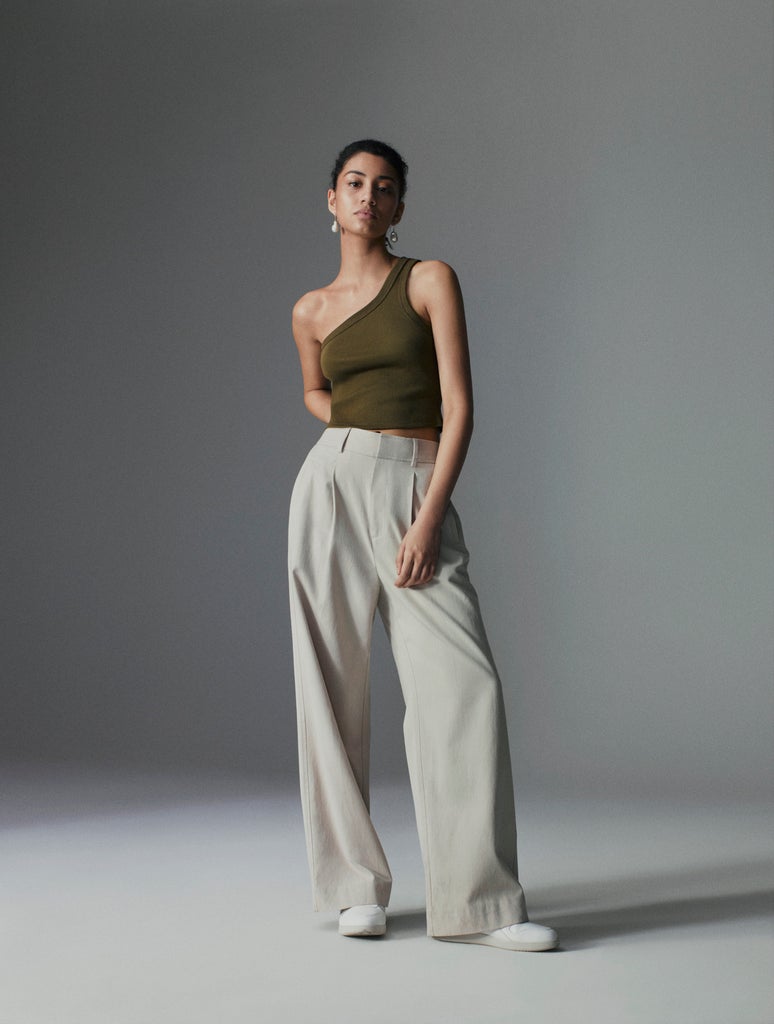 While suits always have a place at fancier events (hot tip: we recommend wearing a suit as a wedding guest outfit) or at a corporate-leaning office, it's also a real "power" move to wear one casually — and this easy-going Tencel suit allows for that without feeling like you're "overdoing it." And for the professional who seeks a new go-to workplace ensemble, the timing of acquiring these suiting pieces from Everlane couldn't be more ideal with many companies slowly announcing their office reopen plans. Whether it's for work or play, we think this look will suit you well (sorry, it was a low-hanging pun).
At Refinery29, we're here to help you navigate this overwhelming world of stuff. All of our market picks are independently selected and curated by the editorial team. All product details reflect the price and availability at the time of publication. If you buy or click on something we link to on our site, Refinery29 may earn commission.
Like what you see? How about some more R29 goodness, right here?