During the decrease in cases this summer, there appeared to be a semblance of normalcy so we took advantage of the opportunity to go on a trip. We decided on a family vacation cruising to Costa Maya and Belize. Now, I am not sure how many of you have ever cruised before, but if you have- you know how small the rooms can be. Even the cruise staff crack jokes about it, and with 4 of us to a cabin, plus all our luggage and its contents, you can only imagine the tight fit.
The funny thing is, on this particular ship, the bathrooms were quite spacious! My point of all this is it got me thinking that although travel is fun and relaxing, packing and what to wear can be a real source of frustration. We all want comfort and function in our travel clothes, but they need to still be fashionable, or at least look halfway decent in all those vacation photos. So, unless you travel Downton Abbey style, butler included, you are schlepping and packing your luggage yourself.
Capsule It!
Building a capsule wardrobe is one of the best ways to save space, lighten your luggage load, and still look great. Creating clothing capsules is a clever and easy way to travel with fashion versatility. Once you get the idea of how capsules work, you'll be able to plan your style and function around them and give yourself tons of options. Best of all, you'll save space in your luggage for all the shopping you will do on your trip!
A capsule is a group of 5-12 pieces that work in combination with each other.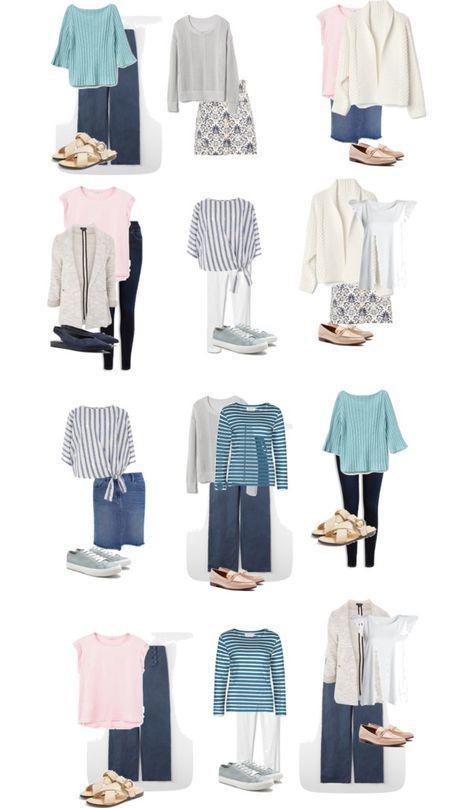 If your travel wardrobe is too cluttered, cleverly use the formula below to help pair it down, which will also make deciding what to wear so much easier.
Tips to Capsule Travel Clothes for Women Over 50
1. Start packing 1-2 weeks before your trip.
This gives you plenty of time to create your wardrobe and map out when you might be wearing each outfit. I personally will jot down each outfit for each day or activity. This is the key to not overpack. Look at your itinerary and plan accordingly.
We love the Pack This! Pad, from Knock Knock, $7, to be able to visualize your needs easily.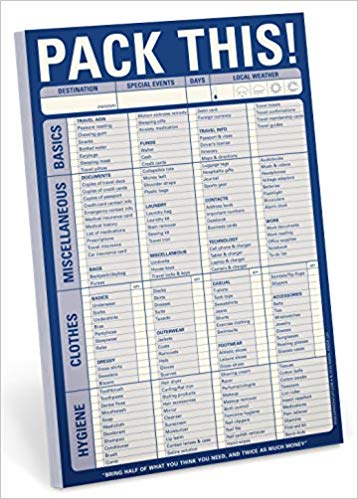 2. Packing for changing temperatures can be bulky, so unless you are heading to a cold-weather destination, my favorite piece to pack to ward off a chill is a cashmere wrap.
It packs lightly, can keep you warm, especially if you layer, and it doubles as a modesty piece that you can wear to cover your shoulders when visiting cultural churches, temples, or other sacred places.
3. Take 1 medium/large carry-on tote with essentials such as a book, electronics, I.D., and other items you do not want to chance left in your checked luggage, and a small crossbody bag that you can use as your day bag on your sightseeing excursions.
This way, you can leave your larger bag in the hotel and only carry the bare minimum out and about for the day. The smaller crossbody can double for your wallet in the larger tote.
4. Let's talk neutral shoes, as these little beauties are essential to a great trip.
Shoes are necessary for every vacation, but they can take up a lot of space in your luggage – and comfort is a must! I opt for shades of neutral, specifically nude, so they go with everything, or you can do a pop of color if you are keeping your outfits neutral. For the heel-loving ladies like me, the best bet is a wedge, as they can easily pair with dresses, shorts, or pants. Nude or black walking wedges and Gladiator Wedges are two great choices. If flats are more your style, then look for something that can easily transition from your all-day outfits to dresses for your evening dinner. This pointy toe Vionic flat makes a great choice, and with so many colors and space-saving styles, you can easily fit a few pairs in.
5. Lastly, choose pieces from your travels that you love to be in and that are comfortable.
Think of items you would wear at home. While I'm traveling, I love to find shawls and pashminas or a unique piece of jewelry as a useful memento of my trip – it saves space in my luggage on the way there, it is an easy keepsake to bring home. It is also something you can wear back home to remember your trip.
How to Create a Capsule Wardrobe
1 x Jacket/Cardigan/Pashmina
4 x Pants/Skirts/Shorts
4 x Tops
3 x Shoes (heel, flat/walking shoe, workout/sport)

Stay neutral, so they go with each outfit. I love nude or tan shoes.

Accessories are a great way to change up your capsule, and they don't take up a lot of space, so have fun here!
Don't forget to add other essentials such as swimwear, workout wear, coat, or even gloves depending on your destination/weather.
Substituting a dress instead of a top or bottom will reduce the total number of outfits. You may want to add a dress in as an additional piece to increase your variety, but remember it must work with the jacket/cardigan.
Look to find a common color in patterns, so mixing is easier. Bottoms in shades of neutral such as black, navy, or tan can go with everything. Each piece should be able to be mixed and matched with at least 3 other pieces in your packed wardrobe (except for the accessories).
Read Next:
Capsule Wardrobe for Women Over 60
Top 25 Experiences of the Well Traveled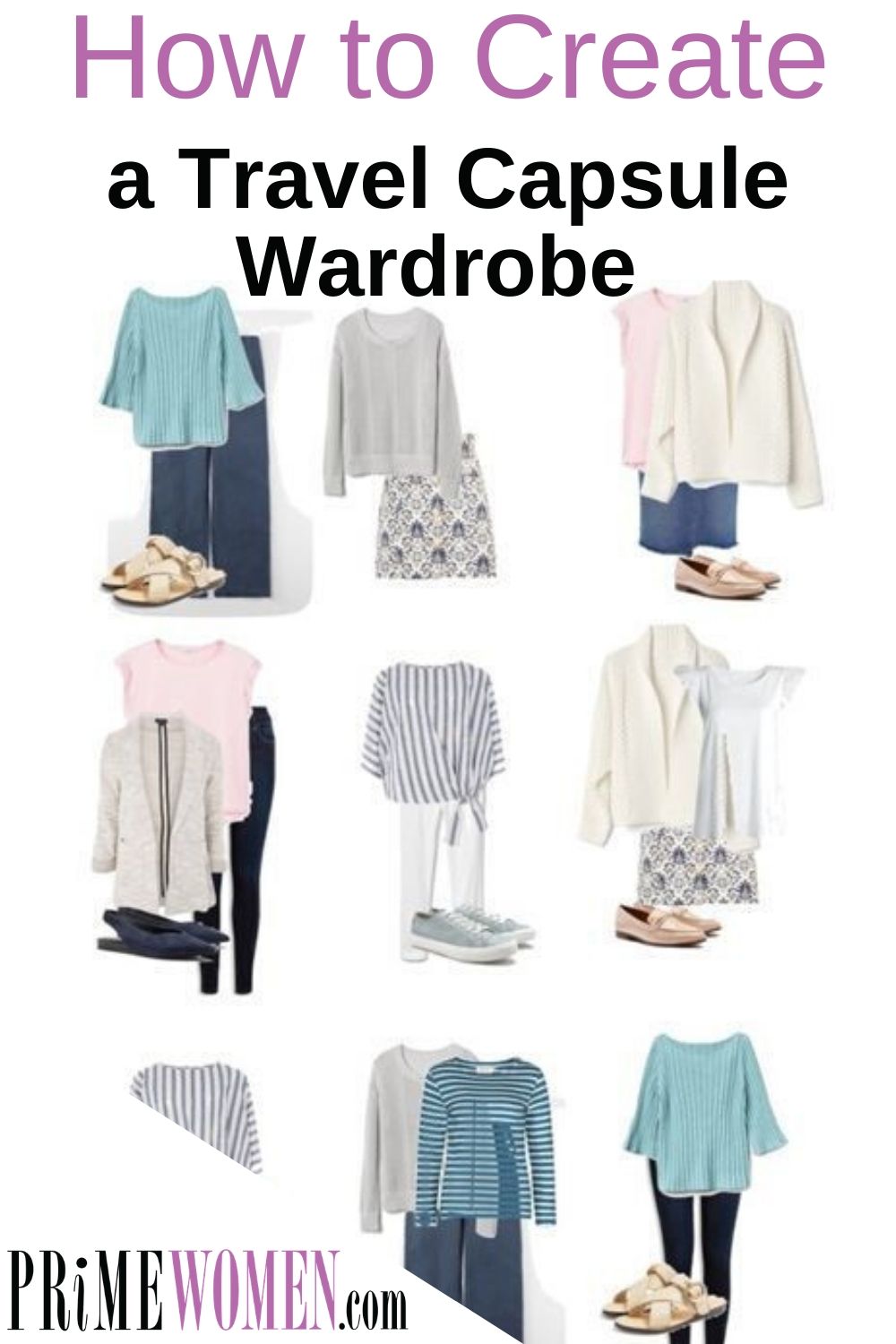 The post Clever Capsule Wardrobe: Stylish Travel Clothes for Women Over 50 appeared first on Prime Women | An Online Magazine.