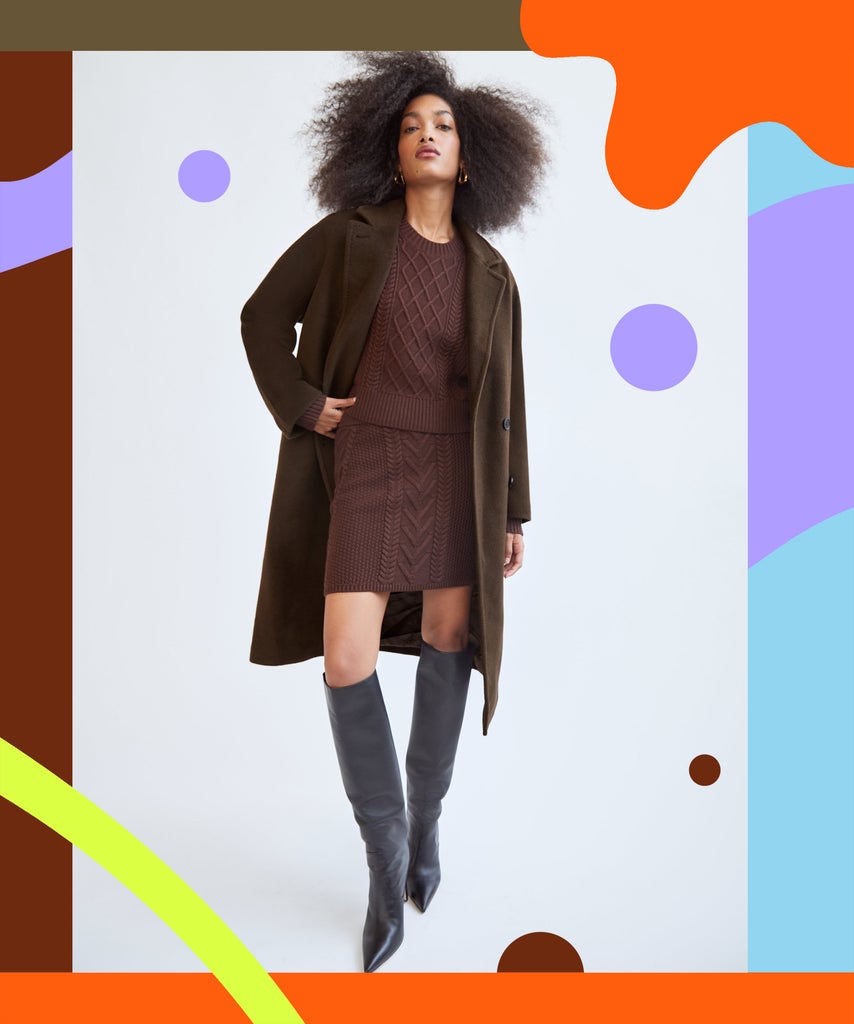 Very Peri may be Pantone's color of 2022 but this season we're all about the versatile and underrated power of brown. And you don't have to take our complete word for it — the brown color trend has already been reported by the likes of Vogue, Vox, In Style, and The Zoe Report for its calming groundedness and neutrality when it's worn with buzzier, brighter, or more out-there fashion pieces. Tyler, The Creator in an interview with style newsletter Blackbird Spyplane also praised the color, saying, "Brown really goes with almost every color. I wear a lot of pastels, and it's a great base for that," when speaking of his beloved honey-caramel Gucci pants. (Which is to say, if you're looking forward to copping some Very Peri pieces this year, you may want to consider pairing it with brown for a chef's kiss of a color block.)
Brown coats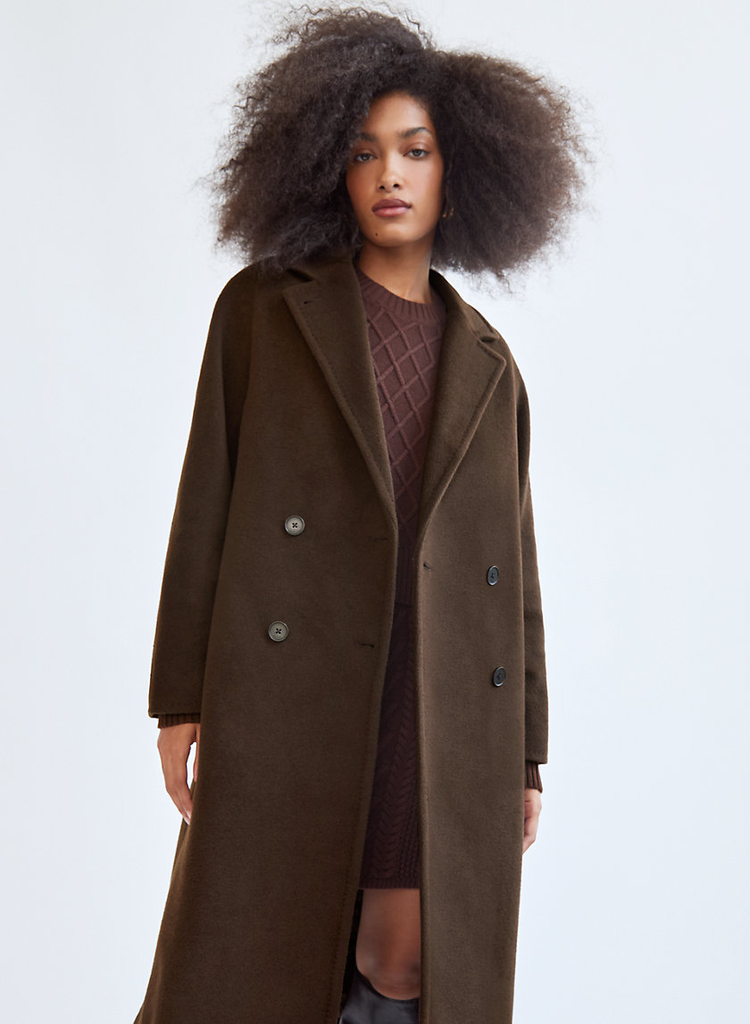 When you break down brown's status as a neutral, it absolutely makes sense why the woodsy color lends well to almost any kind of outfit scheme. As the "shades of brown" Wikipedia page says, brown is a composite color that's "produced by combining red, yellow, and black pigments, or by a combination of orange and black." The painter's resource website Art in Context takes it even further: "Orange and blue can make brown, and red and green can also make brown. The secondary colors can also be used to add variations to the brown shade created by the three primary colors [red, blue, and yellow]. For example, you can make a brown with underlying purple colors." While there's no one way to create brown from the color wheel, it's clear that it takes a village of colors to achieve certain brown-al tones. It's no wonder why brown so beautifully pairs with nearly the entire ROYGBIV spectrum. In other words, a brown coat is a no-brainer grab-and-go-with-any-outfit buy you won't regret.
Brown sweaters
"From earthy to rich and luxurious, brown feels more indulgent than black, and there is a shade to flatter every skin tone, from Dark Chocolate to Adobe," color expert Kate Smith, Chief Color Maven at Sensational Color Consultancy tells Refinery29 over email. When asked about brown's recent popularity, Smith suggests that pandemic life may have a hand in its uptick.
"Brown is nostalgic for those who wore it in the '90s when it was last trendy, but the shades are more complex and exciting this year. It is a color related to reliability and stability, which most people seek after living with uncertainty for long," she says. And there's science-backed data as to why brown is so closely related to comfort, too. "Brown is a relaxing color because it increases tryptophan (related to sleep and our immune systems) and serotonin (linked to mood). Brown typically gives us warm, settled feelings, reminding us of connections to earth, home, and family," Smith continues.
Brown pants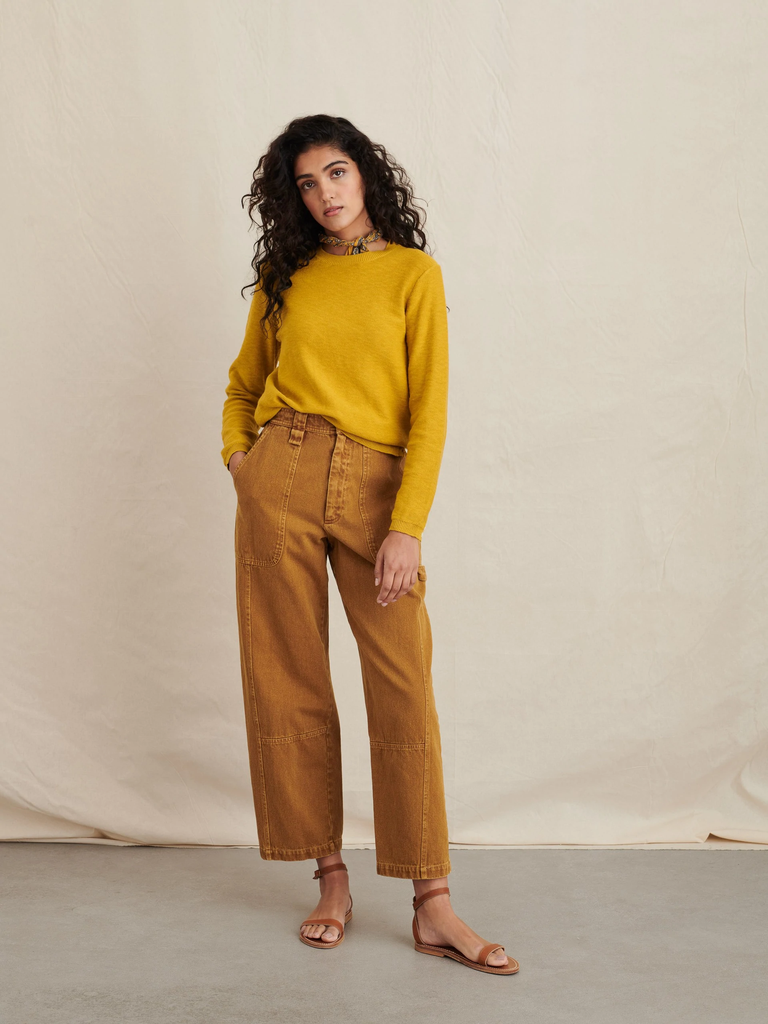 Personally speaking, when I think of the color brown, I'm too reminded of all things cozy or sentimental: log cabins, 1970s fashion, warm coffee with toast, nature. It also seems like brown, perhaps by default, has always been destined to be the ultimate neutral based on the sheer fact that so many people are living the brown life daily just by being brunette.
"Luscious brown worn head to toe is striking, or brown can function as a warm neutral, providing an earthy balance for more vibrant tones like green quartz, Ibiza blue, or fuchsia," Smith says of eye-catching color pairings. "Black worked in the past, but now it doesn't feel authentic. Brown is an alternative with an approachable, grounded personality."
Brown dresses
As for incorporating more brown into your wardrobe, the task isn't difficult to accomplish as we're seeing plenty of browns, ranging from milky latte camels to bitter dark chocolates. You can go the outerwear route of taking the classic camel coat a few shades darker. Or swap in a pair of corduroy or Carhartt workwear-style pants for your regular pair of blue jeans. The next time you shop for a sweater, opt for an earthy-brown winter knit as your new go-to that can be worn in a number of ways, like with cream-white or olive green trousers, draped over a pastel slip dress, or even with another brown pant. And as for dressing up for a fancy event, stand out in a sea of jewel tones by wearing lush velvet or satin chestnut instead. No matter your flavor, there's a brown that's sure to satisfy your palette (and palate).
At Refinery29, we're here to help you navigate this overwhelming world of stuff. All of our market picks are independently selected and curated by the editorial team. If you buy something we link to on our site, Refinery29 may earn commission.
Like what you see? How about some more R29 goodness, right here?