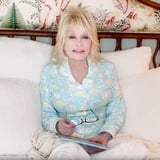 Need some bedtime reinforcements these days? Dolly Parton is the latest celebrity ready to tap herself in to homes across America with a new YouTube series, "Goodnight With Dolly."
The singer announced that every Thursday for the next ten weeks, she will read a different children's book to her littlest fans.
"This is something I have been wanting to do for quite a while, but the timing never felt quite right," she said in a press release. "It is pretty clear that now is the time to share a story and to share some love."
The series will feature Dolly – the self-proclaimed "book lady" – reading a series of books, all carefully chosen for their appropriate content at this moment in time, from her Imagination Library. (Since its inception in 1995, this library has donated more than 135 million books to children.) And to help viewers get in the mood, Dolly herself will be snuggled in her own bed, too.
Some of the books she'll be featuring include Llama Llama Red Pajama by Anna Dewdney, Pass It On by Sophy Henn, Last Stop on Market Street by Matt de la Peña, and even a few of her own children's books, like Coat of Many Colors and I Am a Rainbow.
"It is an honor for me to share the incredible talents of these authors and illustrators," she said. "They make us smile, they make us laugh, and they make us think."
Starting April 2, each installment will air at 7 p.m. EST on YouTube.