Pasta is one of my favorite things. So is cheese. So, of course I love myself a good Lasagna Fritta. What's a Lasagna Fritta, you ask? It's an Olive Garden appetizer dish that I adore. But, you know… fried stuff. Being as I've got a handy dandy air fryer, I thought I'd try my hand at a Lasagna Fritta copy cat dish that's made a bit more healthy!
This Air Fryer Lasagna Fritta got rave reviews from around the table. I literally got a thumbs up from my brother and was told that I should make it again sometime really soon. I too was surprised with how GREAT this Air Fryer Lasagna Fritta turned out. Air fryers can be one of the most amazing kitchen gadgets to have. For cooking CERTAIN things.
You can use this Air Fryer Lasagna Fritta as an appetizer or as a side for an Italian themed dinner. I served mine with an easy peasy Italian salad and called it a day. I also served mine with a marinara and a drizzle of a poblano alfredo sauce. Delish!
Like I said, this was an amazing dish and it will likely go into my usual dinner rotation!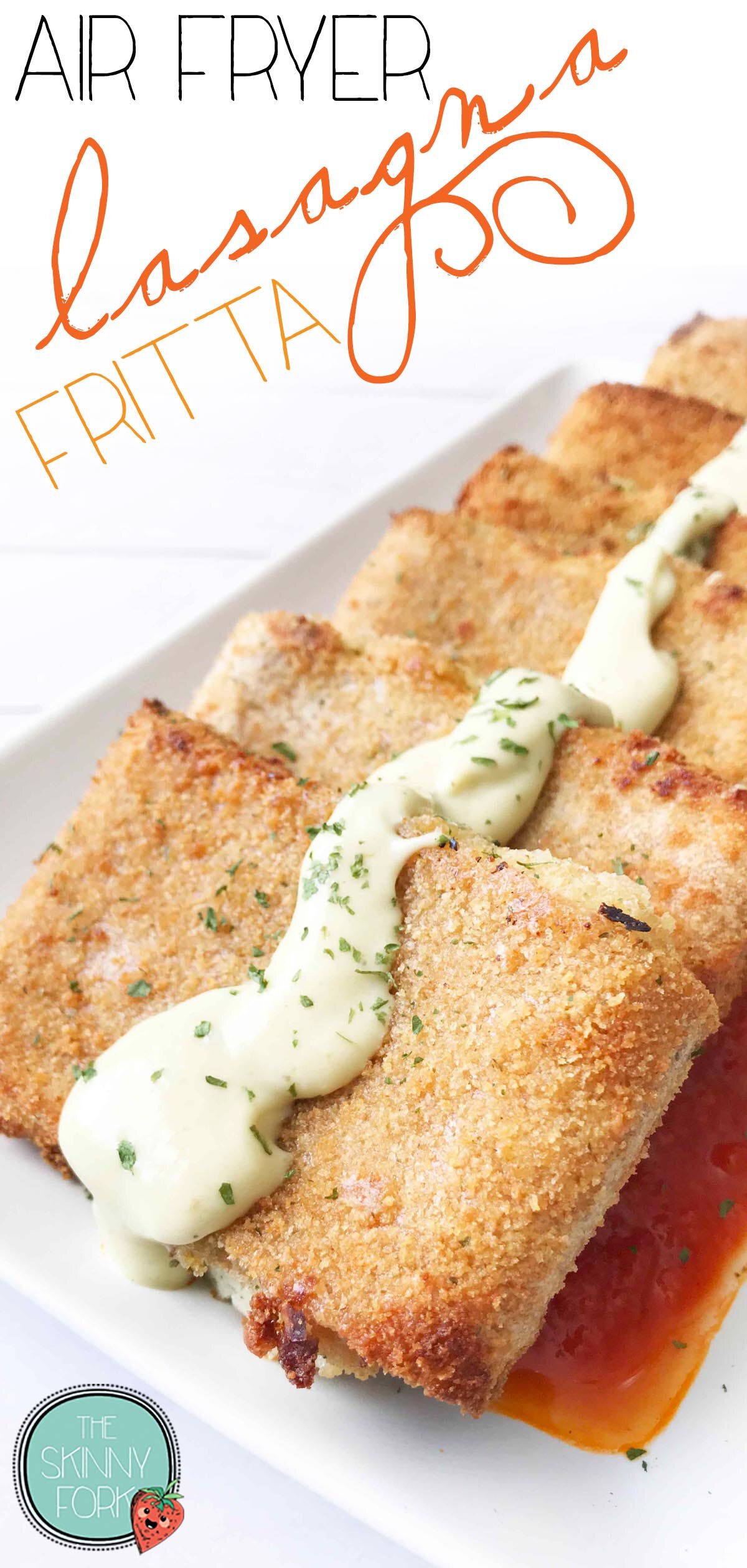 Air Fryer Lasagna Fritta
TheSkinnyFork.com
A healthier copy cat version of the restaurant favorite. Lightened up by using an air fryer, whole wheat noodles and breading, and still sooo much cheese!
Prep Time:
15 Minutes •
Cook Time:
14 Minutes
The Skinny:
Servings: 12
•
Serving Size: 1 Fritta
•
Calories: 301
•
Fat: 12 g
•
Saturated Fat: 6 g
•
Carb: 29 g
•
Fiber: 1 g
•
Protein: 19 g
•
Sugar: 2 g
•
Sodium: 427 mg
Ingredients:
Fritta:
•
2 Whole Large Eggs
•
12 Oz. Whole Wheat Lasagna Noodles, Cooked
•
15 Oz. Low Fat Ricotta
•
1/2 C. Shredded Asiago
•
1/2 C. Shredded Mozzarella
•
1/2 C. Grated Romano
•
1/2 C. Grated Parmesan
•
2 Tbsp. Italian Seasoning
•
Salt & Pepper to Taste
Batter:
•
3/4 C. Whole Wheat Bread Crumbs
•
1/4 C. Grated Parmesan
•
2 Whole Large Eggs
Directions:
Rinse the cooked lasagna noodles in cold water and cut the ribboned edges off of each of the noodles.

In a medium bowl, mix together the 2 eggs, 15 Oz. ricotta, 1/2 C. asiago, 1/2 C. mozzarella, 1/2 C. romano, 1/2 C. parmesan, and 2 Tbsp. Italian seasoning.

Lay the lasagna noodles out flat and cut off the curly edges. I promise it's not wasteful! The curly edges don't let the fritta seal together very well and they come undone!

divide the cheese mixture evenly over the top of each noodle and spread it out to coat evenly.

Roll the noodles into about a 2-3" length and place into a parchment lined container (to prevent sticking.) Freeze for about 1 hour.

Place the 2 eggs for the batter into a shallow dish and whisk them slightly.

In another shallow dish, mix together the 3/4 C. bread crumbs and 1/4 C. grated parmesan.

Remove the noodles from the freeze and dip them one by one into the egg mixture and then into the bread crumb mixture; shaking off the excess.

Lightly coat the inside of the air fryer basked with non-stick spray and place the prepared lasagna rolls in a single layer into the basket. Give them all a light spritz of non-stck cooking spray. Set the air fryer to 400 degrees F. and cook for about 8 minutes.

Flip the frittas over, give another light spritz of non-stick spray, and cook for another 6-8 minutes or until golden brown and crispy.

Once done, remove from the air fryer and rinse & repeat for the remaining frittas. Keep the cooked ones warm in the oven while cooking the rest.

Plate and enjoy warm with Italian sauces of your choice!
Step-by-Step Photos:
Nutritional Claims: Sugar Conscious • Vegetarian • Pescatarian • Peanut Free • Tree Nut Free • Soy Free • Fish Free • Shellfish Free • Pork Free • Red Meat Free • Crustacean Free •Celery Free • Mustard Free • Sesame Free • Lupine Free • Mollusk Free • Alcohol Free • Sulphite Free • Kosher