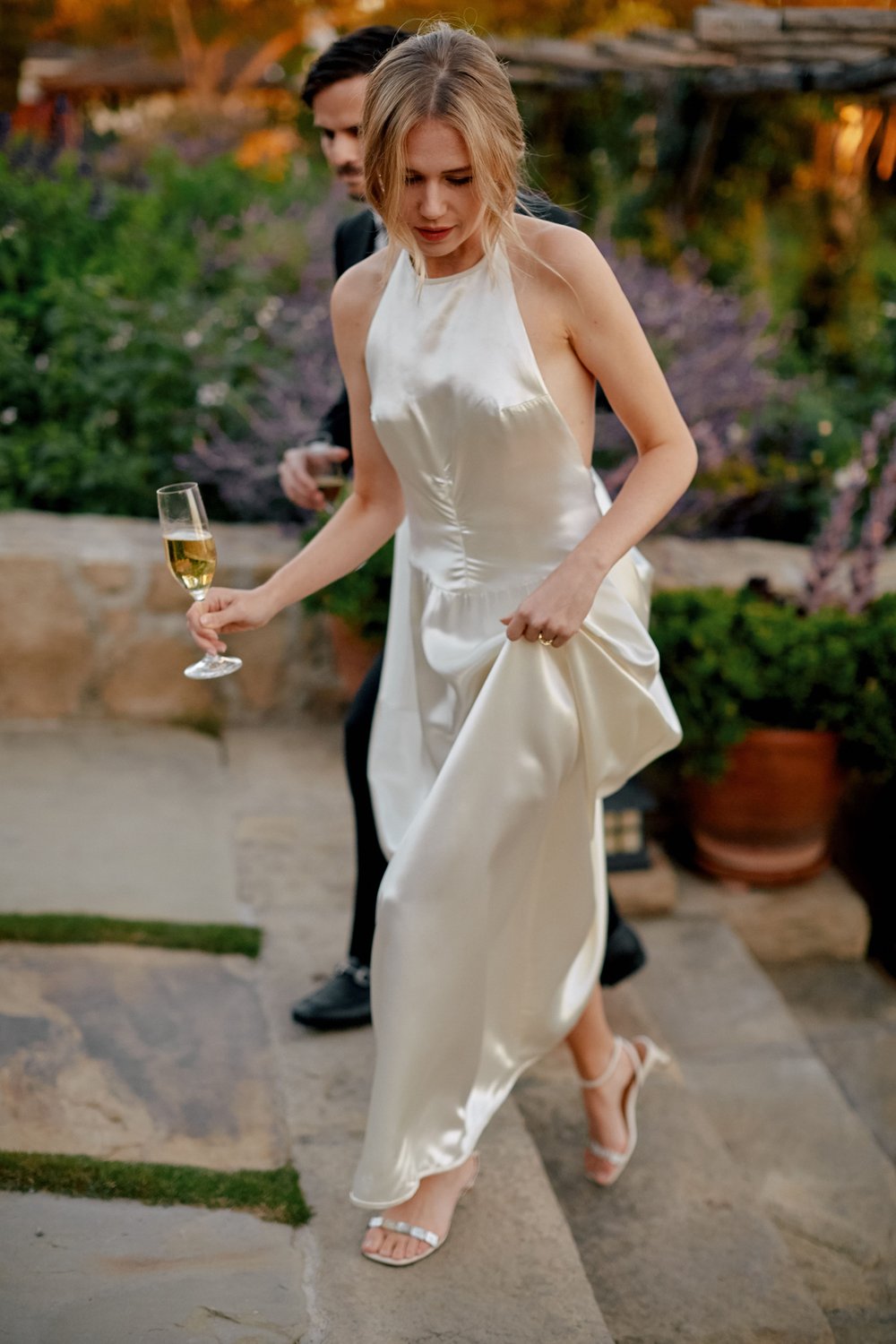 Finding Delight In The Details
When I first began planning my wedding back in 2019, I knew I wanted to wear a dress I could feel personally connected to, and that wouldn't be just an extravagant, one-time purchase I'd wear for a few hours and then let collect dust in my closet forever.
Conscious sourcing is at the heart of Ceremony, the line of commitment rings I co-founded in 2018—all our rings are designed using 100 percent recycled diamonds and post-consumer recycled gold—and I felt strongly about wearing a wedding dress that would align with both my personal values and the intention and sourcing philosophies behind Ceremony. 
These thoughts were in the back of my head when I unexpectedly discovered my grandmother's dress, which was sewn by her great aunt and worn at her own wedding in November 1946, exactly 74 years before my own. Squinting at the photos I have of her wedding ceremony, she's wearing the dress standing outside a Minnesota church—a coat is draped over her shoulders, hinting at a chilly Midwest evening. Next to her, my grandfather holds a cigarette; a true detail of the times.
Some of my best childhood memories are with my grandmother—painting in the garden, collecting rocks at the beach. But I had no idea her dress existed until I began planning my own wedding. I'd assumed it had been lost or repurposed years ago, but my mother had actually tucked it away in a cedar chest, where it had remained untouched for decades. A crisp, preserved relic, the heavy and luxurious satin was in near-perfect condition; it was unlike anything I'd ever seen before. 
When I first slipped the dress on, it fit but needed a bit of a rework to bring it up to date. I had a general idea of silhouettes that I liked but knew I wanted the help of a designer to really reimagine it. Through a past collaboration with my line Ceremony, I was familiar with LEIN Studio's non-traditional approach to wedding attire. So Meredith, their founder and designer, was my first call. 
We began by sketching options of how we could modernize the shape of the dress by cutting out the back and removing the sleeves, all while keeping core elements of the original design and structure intact. What seemed like a simple change actually required a good amount of technical finesse (and many fittings) to find the perfect fit while preserving the details of the dress—like the neckline, the unique front cinch detailing, and the hand-sewn, satin covered buttons that lined the entire back.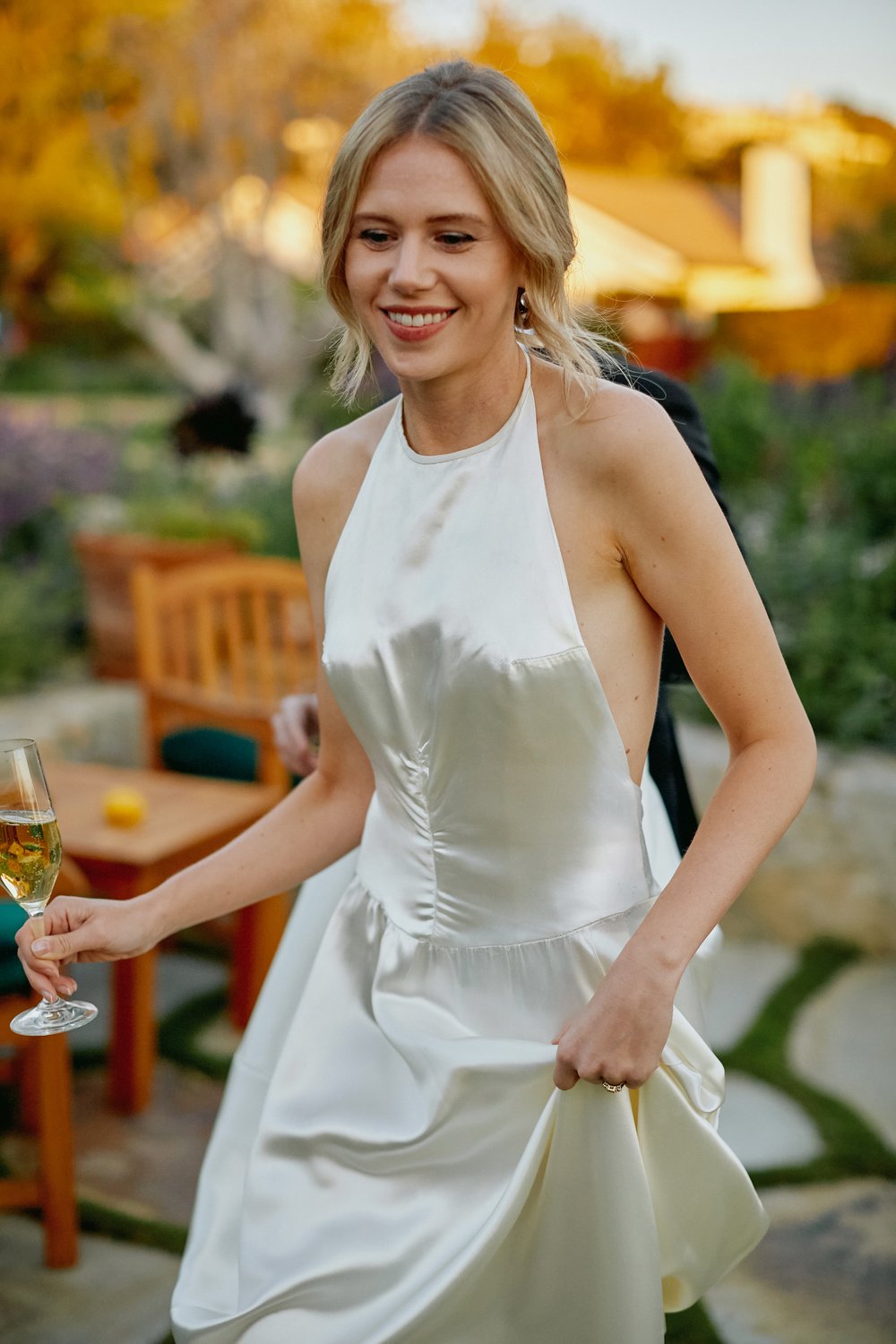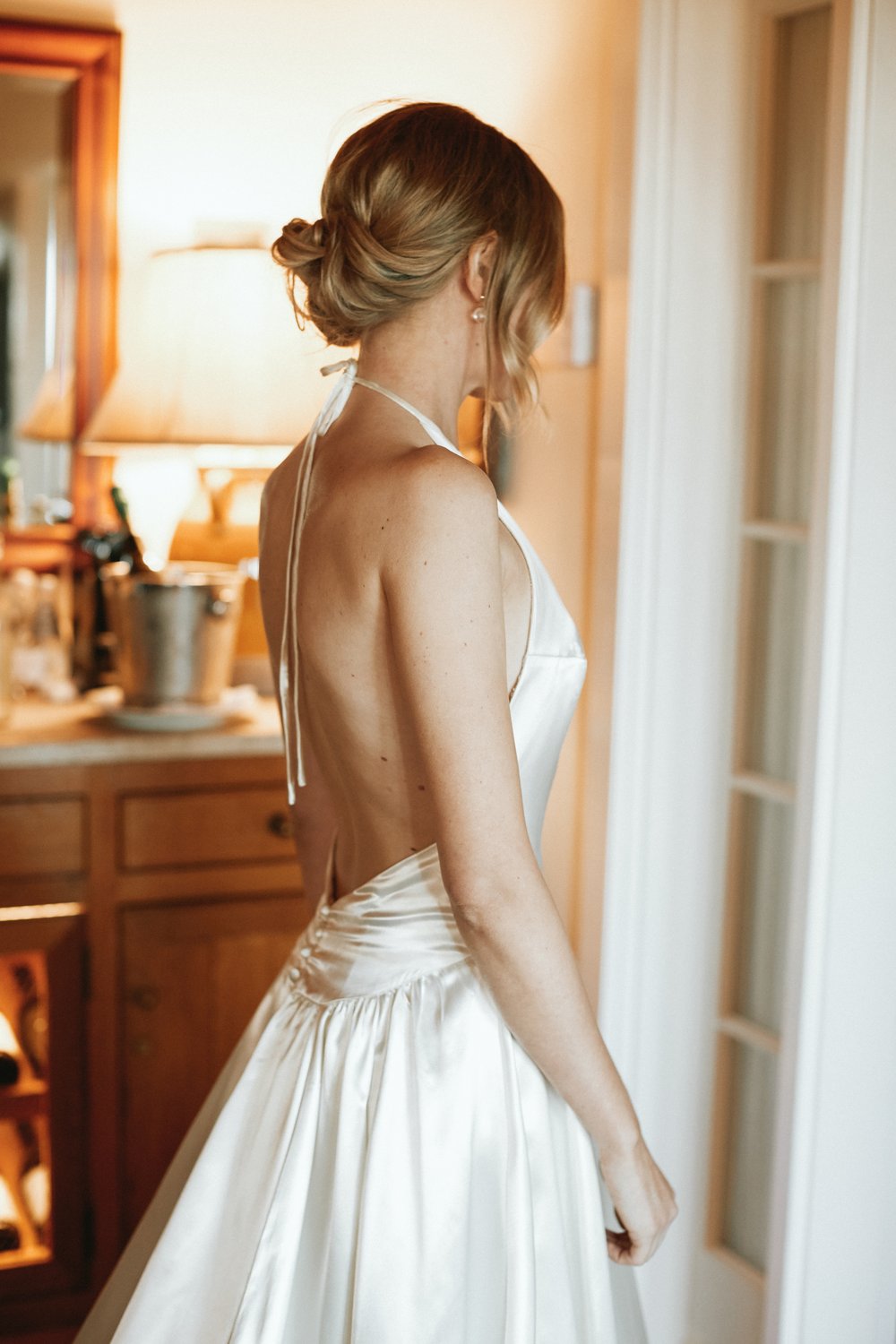 But shortly after our first meeting, the pandemic hit, and our plans for the wedding shifted. 
Originally we were to get married in July 2020, just outside of Bend, Oregon, where my partner and I grew up. We hoped to make an entire weekend of the event, including a ceremony on the lawn, a poolside reception, and two days of activities with our friends and family.
After weighing a million options, we sat down and outlined the parts of a wedding that felt important and personal to us. I realized that saying our vows in a beautiful place outside, with photos to capture and remember the day was all I needed and wanted. While it was disappointing not to have our families present, we were able to realign without any of the distractions of planning an "event." We decided on a "semi elopement," with just a couple of friends present (and a photographer to document!), with our family joining us virtually via Zoom. 
As we were packing the night before our ceremony, I opened the trunk that had contained my grandmother's dress one last time only to discover her original veil, which I'd somehow missed until that moment. It was a stunning, dramatic handmade crown sewn from the same fabric as the dress, embellished with tiny beads. We packed it with us, and I was able to wear the veil at our post-ceremony "after-party," which was, admittedly, popping champagne with our closest friends while we made many Facetime calls with family.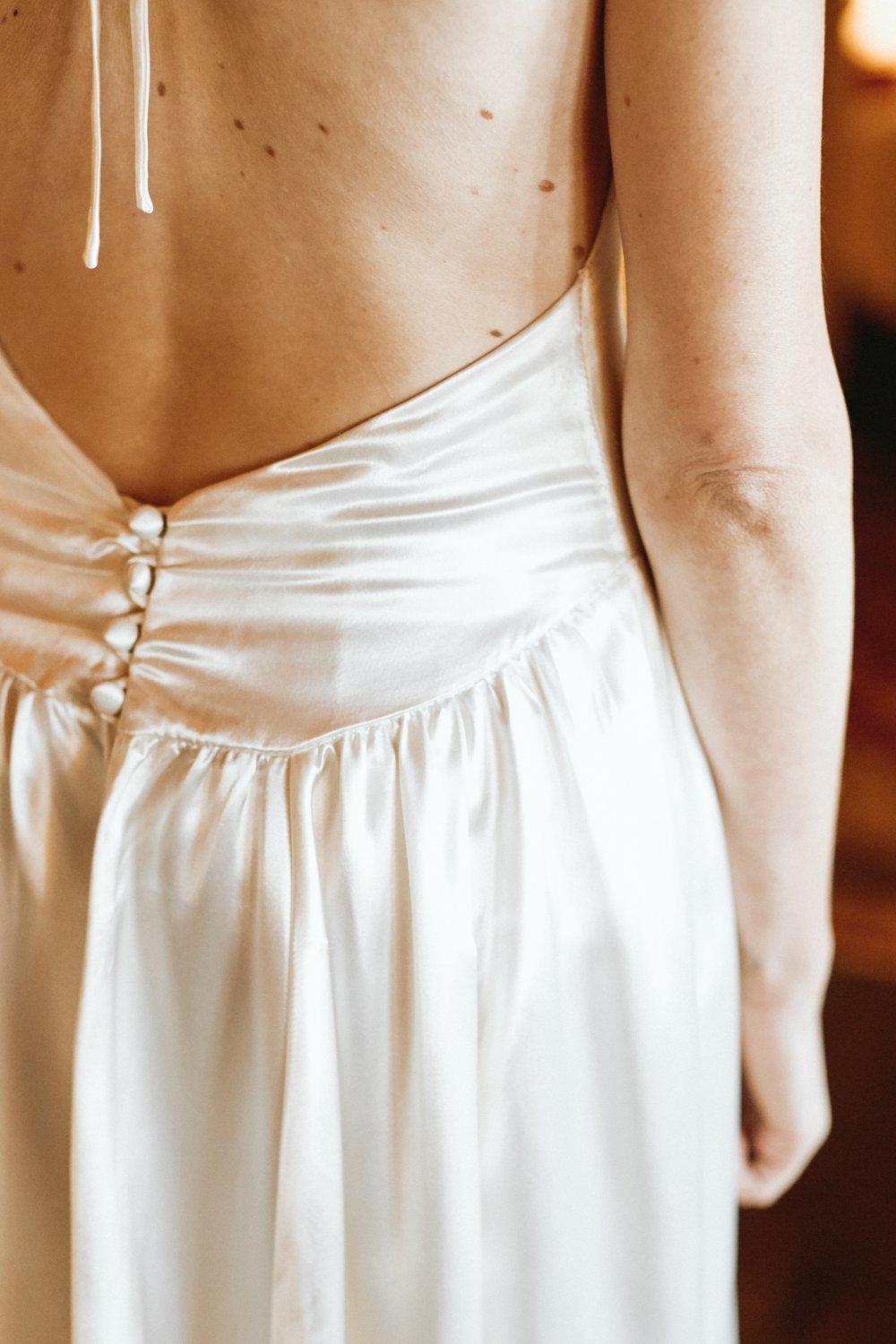 While my wedding was nothing like I imagined, in retrospect, its minimalism was a reminder of how important each detail can be—my grandmother's repurposed dress, her veil, photos to capture our love. Love looks however you define it, and a wedding can and should reflect what you find significant and sentimental.
While a dress is, after all, just a dress, to me, it represented much more than that. Repurposing and wearing my grandmother's wedding dress represented the idea that making more conscious choices as a buyer and consumer often means coming up with creative solutions and finding delight in possibilities you'd never before considered. It also means revising your original expectations when required. 
The dress and veil now hang in my closet, saved yet again for a future wearer. Fingers crossed their wedding planning will be a bit less chaotic!
---
Chelsea Nicholson co-founded and launched Ceremony in 2018 alongside jewelry designer Jess Hannah Révész, offering a modern edit of rings for treasuring, signifying, and commemorating love of all kinds and using only recycled materials. Prior to Ceremony, Chelsea co-founded and launched fine jewelry brand, Vrai. She has called Los Angeles home for the past 15 years, where she lives with her partner and their dog, Rosie.
---
RELATED READING
---
Photos by Kimberly Molina and Raphael Molina