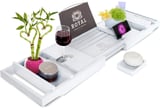 Whether you made formal resolutions or are just taking a healthier lifestyle approach for 2020 in general, you have to have to be set up for success. And that means having the right tools at your disposal at home to keep up with your good work.
For improvements from incorporating more self-care into your life and investing in an electric toothbrush that will force you to brush those teeth for a full two minutes to committing to getting those steps in even while you're watching Amazon Prime shows, Amazon can help.
We've scoured the site to find the best items to help you wake up earlier, juice more frequently, organize your coat stash, and more. Read on to check out our picks.