While trends come and go and closets will always have some pieces that seldom see the light of day, there are a core group of wardrobe staples that we find ourselves turning to time and time again. They're the ones that have the potential to be picked up even if the hottest item of the season is sitting next to it, begging to be worn. They're the starting lineup; the pieces we know we can trust.
No matter what year, decade, or day it is, there are certain items that have rightfully earned what's proven to be a permanent spot in our closets. They're on constant rotation and always pass the test of a new-year closet purge.
These are the 10 essentials our editors can't live without—and that will be making their fair share of appearances in 2022.
1. White Button-Ups
There's seldom a circumstance where a white button-up is the wrong choice. Be it on its own or layered under a favorite sweater or sweatshirt, our white button-ups will be seeing a lot of daylight in 2022.
2. '90s Jeans
Just about every one of our editors fell head over heels for Abercrombie's '90s jeans in 2021—especially since they expanded their size range. With their ultra-flattering full-length fit and just the right amount of straightness, they single-handedly ended our search for the perfect pair of jeans. We're predicting they're going to be our most-worn denim in 2022 too. 
3. Wool Coats
A good wool coat is much more than something to grab when you're dressing up; when you find the right one, it can become an everyday staple that elevates even your favorite athleisure set. Whether we're grabbing our tried-and-true camel ones or picking up a new one in a pop of color, the new year will be seeing wool coats on repeat.
4. Hoodies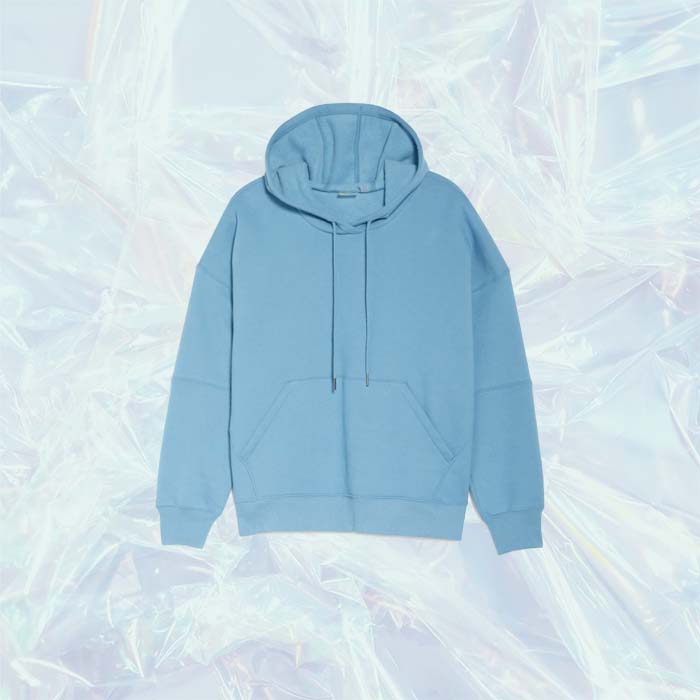 After years of crewneck-style sweatshirts being the only athleisure we reached for, hoodies have worked their way back into the rotation, and if the pandemic taught us anything, it's that there's something to be said for having high-quality loungewear that isn't a decade old. Whether it's underneath our aforementioned wool coats or on their own with leggings and Uggs on a day off, our hoodies are here to stay.
5. Sweaters that can be worn year-round
Sure, we love the sweaters that are an inch thick and begging to be worn on snowy, freezing days, but we also love the ones we can turn to year-round: soft, lightweight crewnecks that are staples in the winter but can be worn in the spring and on chilly summer nights too.
6. Relaxed trousers
Some days call for bottoms that aren't jeans, and 2021's relaxed trouser trend changed how we feel about legwear as a whole. With looser fits and full lengths, they give a casual-cool effect that jeans just can't, and we're not letting go of them this year.
7. Hair accessories
2021 was the year of hair accessories coming onto the scene and reinventing everything we thought about accessorizing, and now that we've started finishing our outfits with padded headbands and hair bows, you can't pry them away from us.
8. Matching workout sets
Another remnant of 2020, matching workout sets have gone from the clothes we throw on for an hour a day to exercise to pieces we live in. With a hoodie, sneakers, and our favorite jewelry, they're serving as part of the starting lineup of our work-from-home attire.
9. White sneakers
In our newfound life full of a lot less dressing up and a lot more casual days, our white sneakers are serving as a year-round staple—and if we had to guess, 2022 will be full of more days wearing them than not.
10. Baguette bags
While we'll always hold our beloved crossbody bags near and dear to our hearts, baguette bags have the capability to give our outfits something that other bags just can't. This year, we're prioritizing ones in fun colors and patterns to add into our accessory rotation.
The post 10 Wardrobe Staples Our Editors Are Bringing Into 2022 appeared first on The Everygirl.