Up Your Manicure Game This Year, try one of these trendy manicures for the new year.
Are you ready to talk about the top fall nail trends for fall? Because I am! I always feel so much more together when my manicure is on point. It's a form of self-care really. I'm not too high maintenance, I promise. I just need at least one thing on my person  to feel somewhat put together before I leave the house. 
And nicely painted nails always make me feel that way! Keeping up with the season's trending nail colors is pretty easy actually. The TikTok kids will show you the way, bwah. Or you could just bookmark this post! I mean you're already here...wink, wink.
I definitely have my old faithful manicures that I will never turn my back on, hello Old Hollywood red, but I also always love to pick out a few new nail colors each new season. And with fall nearly here, now is a great time to talk about which nail trends you should try this year. 
Show out in the school pickup line with some on-trend nails clicking against your Stanley tumbler and nobody will notice your messy hair and yoga pants. That may have been too many basic references in one sentence, haha! You don't have to succumb to all the trends, but to me manicures are worth carving some time out for.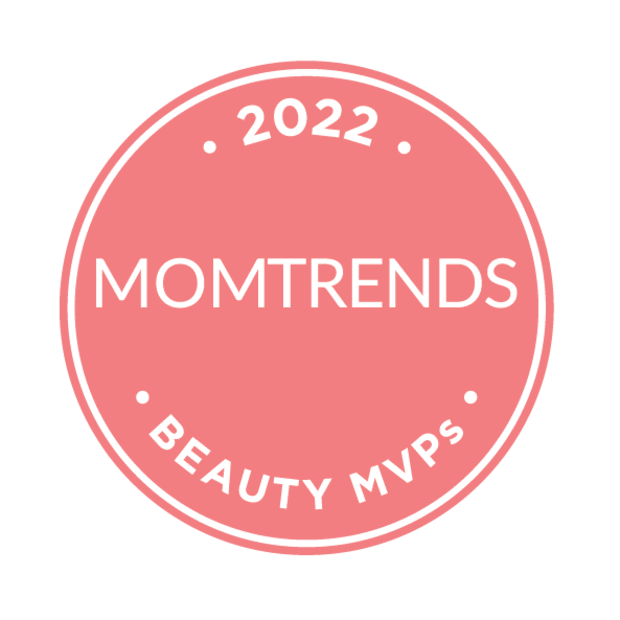 Making Time for Manicures
Whether I splurge and head to the nail bar or go the DIY route at home, taking care of my nails simply makes me feel good. If the last couple years have taught me anything it is that it is ok for me to set that time away for myself. On that note, let's talk about manicures, lots of manicures.
The latest nail trends are too fabulous not too try! And there really is something for everyone! Whether you like bold colors, low-key neutrals, or luxe glam, there are so many cool manicure ideas for you here.
Top 10 Nail Trends to Try This Year
I've rounded up the must-try mani trends because I think you should join in this self-appreciation ritual and make your standing weekly nail appointment. Remember, most of these nail trends can be achieved at home if you don't have the time or simply don't want to get them professionally done.
The Best Nail Stickers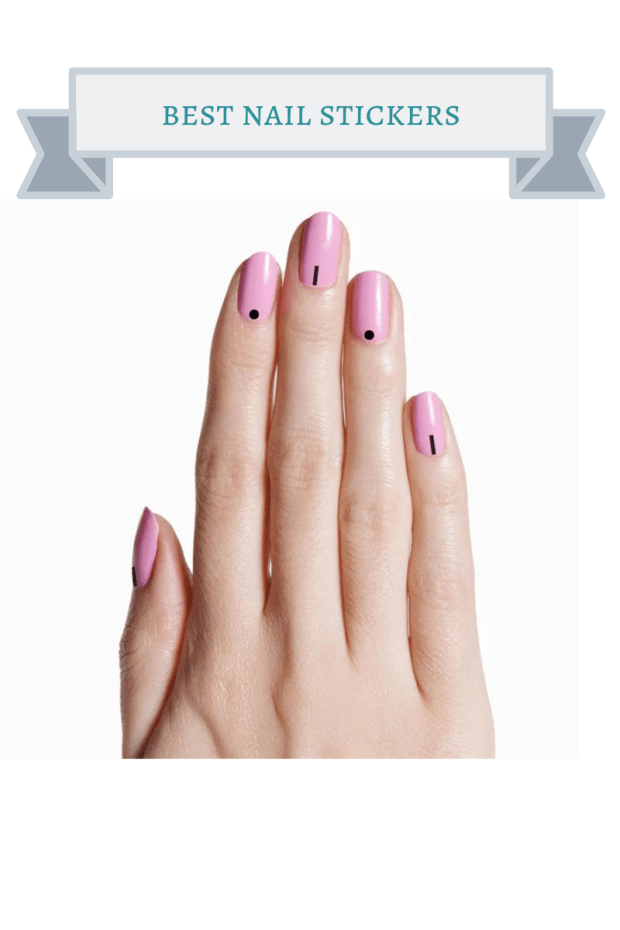 If you don't have a super steady hand nail art might be a daunting trend to try. Thank goodness for nail stickers! They let you rock a super cool nail design with minimal effort.
I'm a big fan of minimalist nail designs myself. You can really elevate something like a neutral colored manicure with an uncomplicated black design! And when that design comes in easy to apply nail stickers form, even better!
My best friend turned me on to Olive & June during the pandemic and I must say I think they are the bee's knee's when it comes tot DIY manis. Their Mani System is the easiest DIY manicure system out there, but I digress...
I just love the simple geometric shapes in their Simple & Shiny nail art stickers! They are perfect for fall 2022 nails!
Get Olive & June Nail Art Stickers here.
The Best Glazed Donut Nails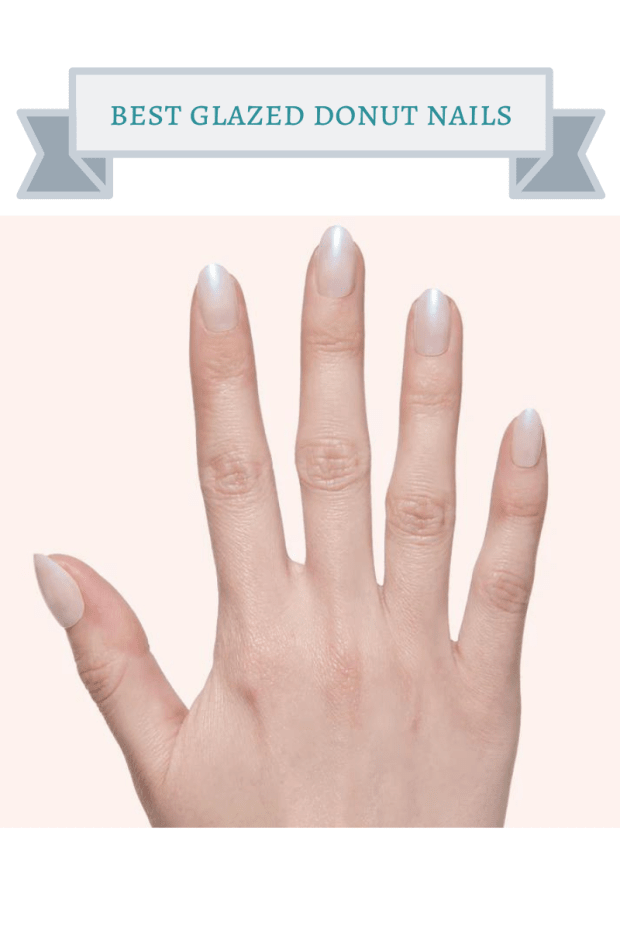 I am about to admit something that is somewhat embarrassing. I follow Hailey Bieber to see her take on the current trends. I know I'm an almost middle aged mom, but I really like her look and her glazed donut nails are no exception. 
You won't find me sporting nails as long as she does, but if you can function with them, they are gorgeous! Or if you're like me, you can settle for rockin' your shorter nails with a light colored neutral and that super hot OPI powder to achieve the glazed look!
*Here's a tutorial if you're ready to try to create glazed donut nails yourself with OPI Tin Man Can.
Or you could go the press-on route with another Olive & June fine. The Pink Goldfish Press-Ons will give you a very similar look and are a great glazed donuts nails dupe!
Get Pink Goldfish Press-Ons here.
The Best French Manicure with Color Tips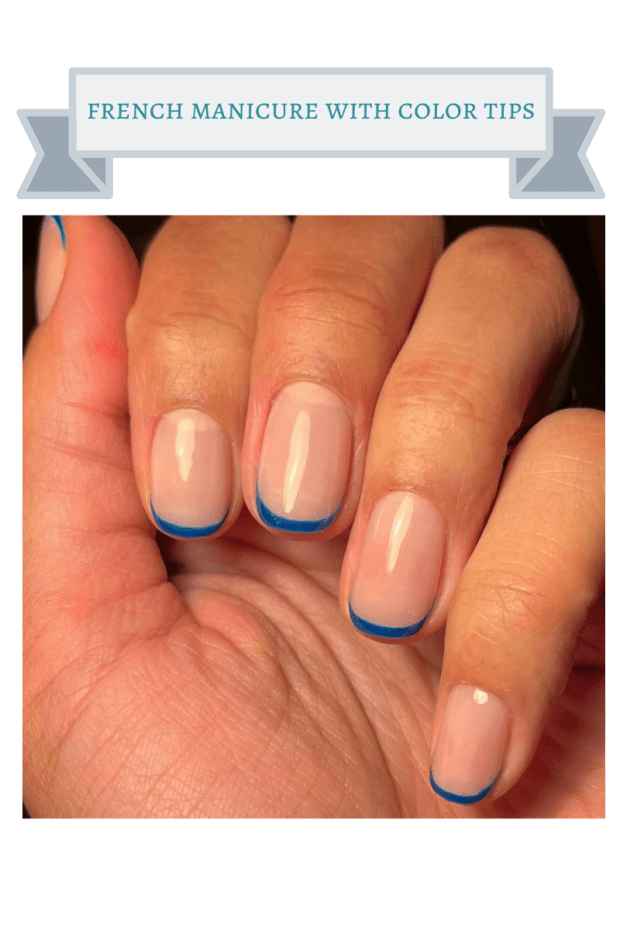 French manicures are a tale as old as time, but you can make yours more current by swapping out the white tips for color. 
Just go with whatever color makes you happiest. The simple fact that the tips are pigmented will make them on-trend!
I'm partial to blue nail tips myself and Essie Style Cartel would be perfect for your at-home mani!
Get the Essie Style Cartel polish here.
The Best Moody Manicures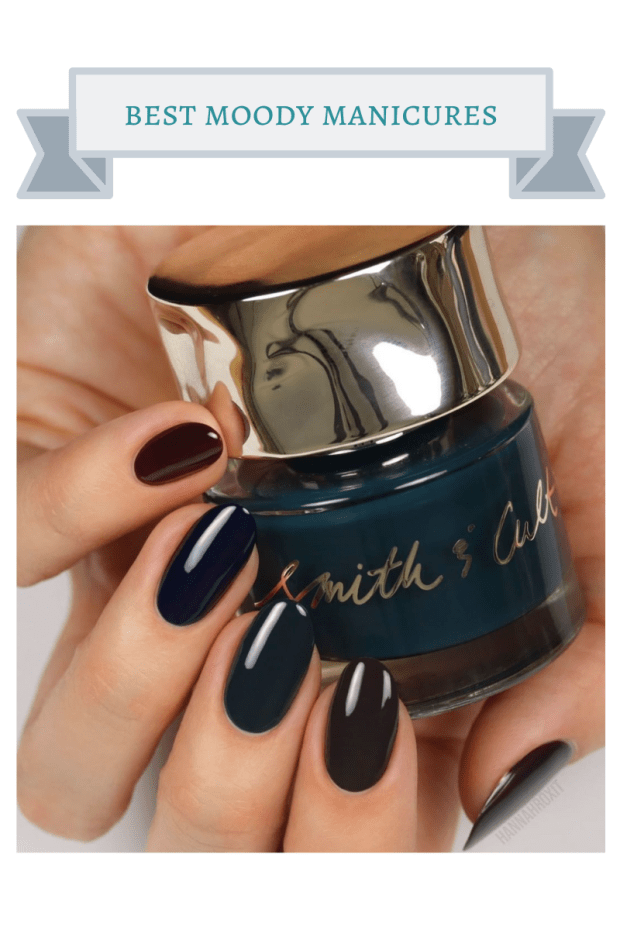 Deep, moody colors are big for fall. Frankly, I have worn colors like dark green, burgundy and midnight blue every fall season for years, so they're more like classics than trendy to me.
Some of my moody favorites over the years have included OPI Malaga Wine, Deborah Lippman Fight the Power and Essie Caviar Bar all of which you can easily find on Amazon (note these are all Amazon Affiliate links).
But if you want all the moody colors you could want in one collection, the Smith & Cult Cities and Starless Skies collection is for you! I'm talking about burgundy, navy, plum, espresso AND dark green! Plus, if you buy their bundle you get a super sweet hoodie with it! 
Get the Smith & Cult Cities and Starless Skies Bundle here.
The Best Barbiecore Nails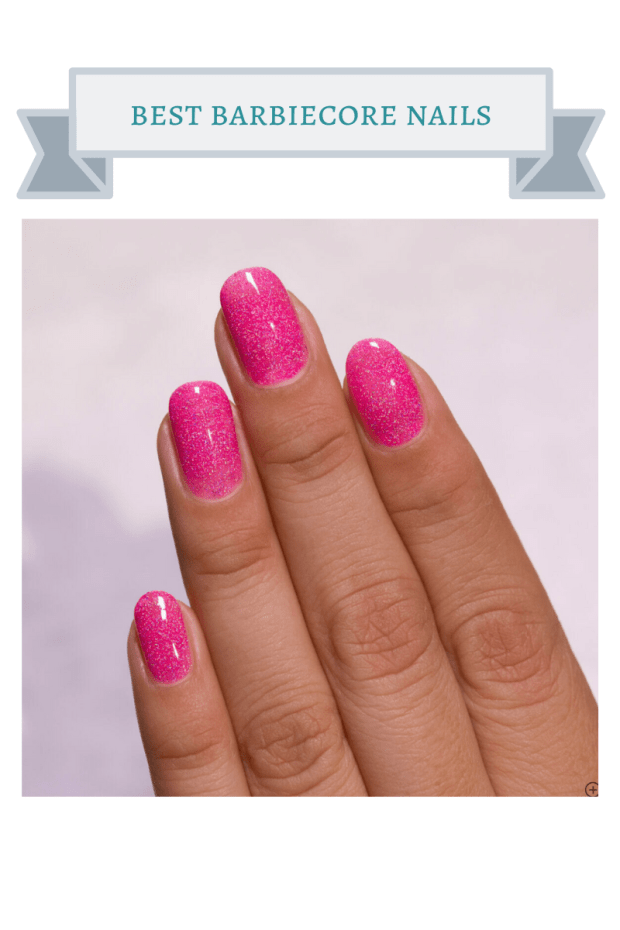 I am sure you have heard about the new live action Barbie movie with Margot Robbie and Ryan Gosling right? Well, apart from it looking hysterical it appears to have brought about aesthetic known as Barbiecore to the forefront.
Think pink...lots and lots of bright pink. Sure you can rock Elle Wood's signature color in your fits, but what about your nails? Statement nails make as fabulous an accessory as statement clothing!
I am currently loving Misbehaving from ILNP. It is the perfect shade of Barbie pink and it sparkles like a disco ball!
Get the Misbehaving ILNP polish on Amazon here. (note this is an Amazon Affiliate link).
The Best Gray Nails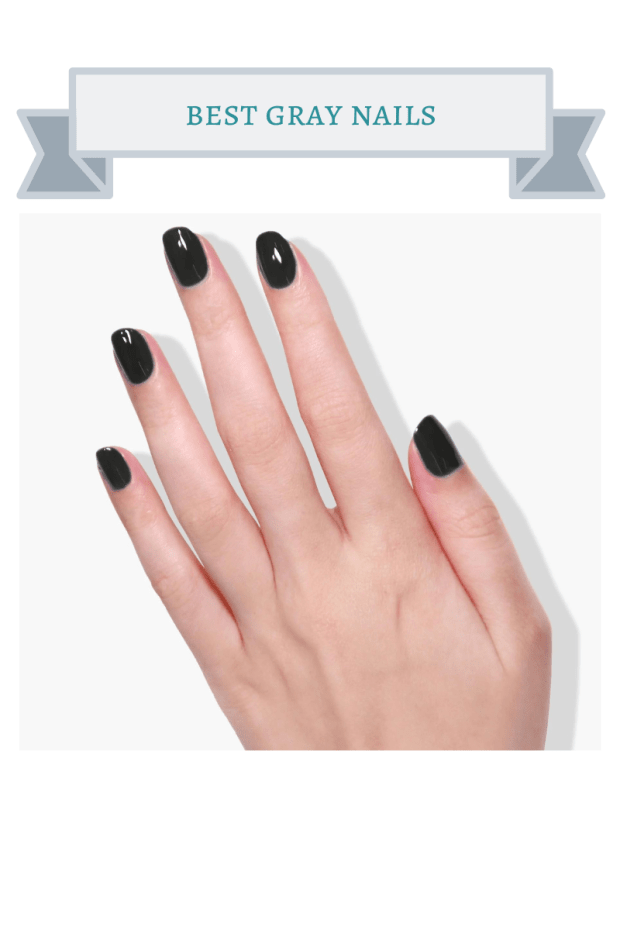 There was a time in my life where practically every piece of clothing I owned was gray. I may have more color in my wardrobe these days, but gray still has a starring role in my fall outfits...and so do gray nails.
Gray is the perfect neutral nail color in my humble opinion. It goes with so much and looks great on so many people! And you can play with so many different shades of gray from dove to gunmetal.
Londontown Lakur's Put the Kettle On is one of my favorite gray nail polishes because it's a darker gray and a fresh alternative to black which is also one of my go-to fall nail hues. Plus, Londontown Lakur's formula is gloriously shiny which is a look I always gravitate to!
Get Londontown Lakur Put the Kettle On polish here.
The Best Coffee Nails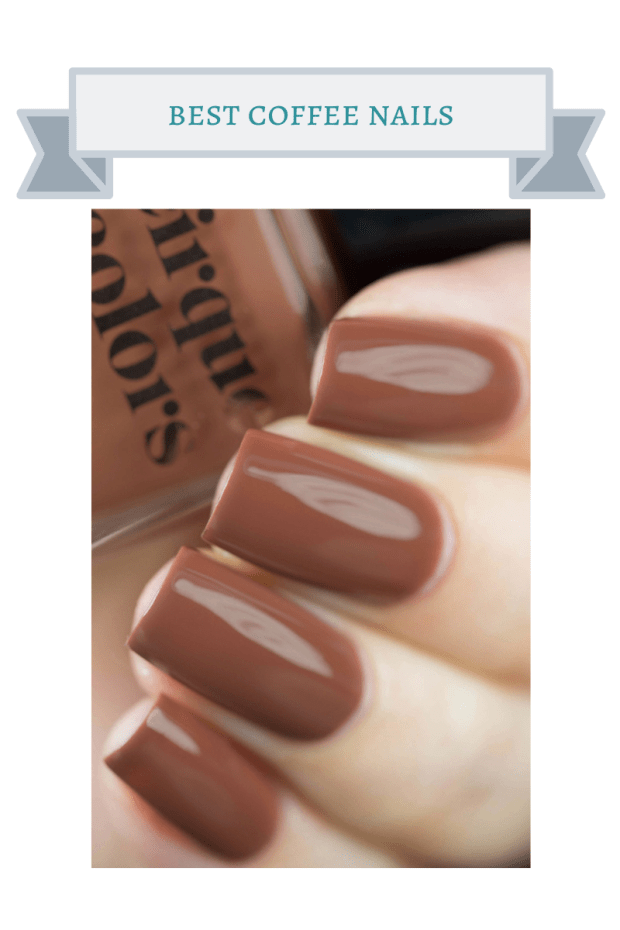 Coffee colored nail colors are all over the place fo fall and similar to gray you can rock this look in so many different shades! Being that coffee is one of my very favorite things in life, this nail trend is a no-brainer.
I went real literal with this top trend. The color is literally called coffee talk, bwah! But it made the list because it reminds me of my favorite cup of cafe con leche from a local coffee shop. 
Cirque Colors really nailed it, pun intended, with this creamy chocolatey coffee inspired color. It oozes fall flavor!Get 
Get Cirque Colors Coffee Talk on Amazon here. (note this is an Amazon Affiliate link).
 The Best Glitter Nails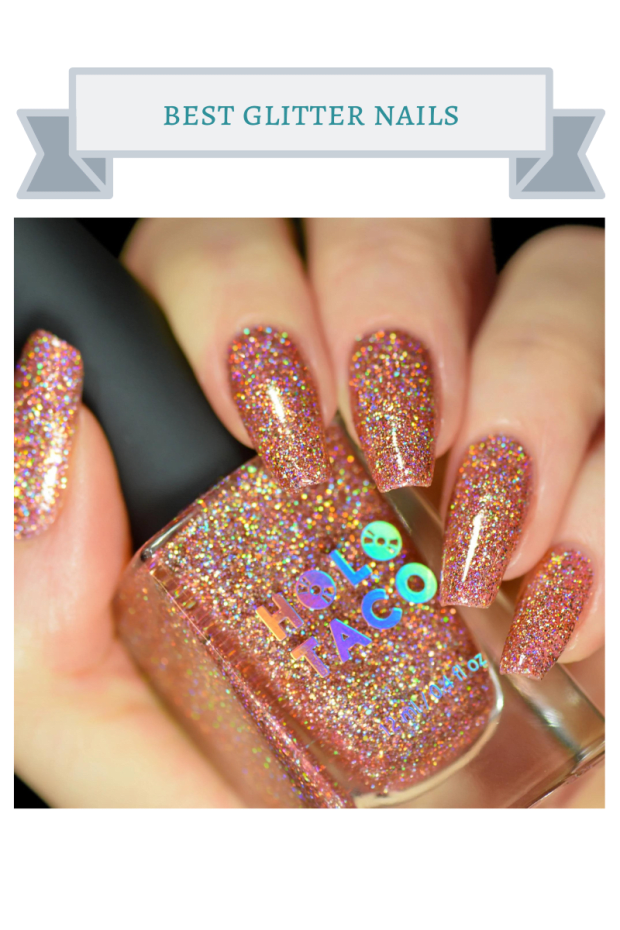 There are a lot of ways to interpret this trend. You can get a sparkly pro manicure Go complete with some bling like crystal bedecked or glitter dipped tips, or you can simply rock some glittery nail polish. I choose the later.
I swear by sparkles because I have long beloved that type of polish lasts longer. So, I will more often than not turn to glitter polish.
And one of my current favorite nail polishes to get the glitter look is part copper, part rose gold and a whole lotta glitter!
Get Holo Taco Play Rosé polish here.
*Some more of my favorite glitter options include Karma Organic Nail Polish in Glitter Bomb and Deborah Lippman Rule Breaker. Just sayin'. (note these are all Amazon Affiliate links).
The Best Half Moon Manicure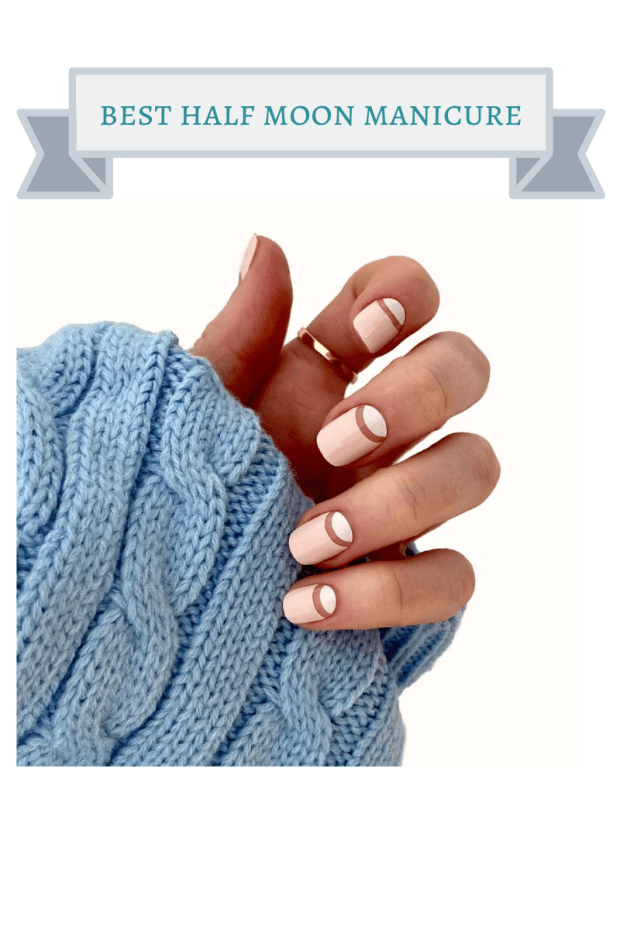 Unless you are very talented with the brush, this vintage nail style might best be left to the pros. Just bring your favorite polish. I love a nice deep old fashioned feeling red nail polish for this look. (this is an Amazon Affiliate link)
But then again, I also love a more neutral take on the half moon mani and that is where Paintbucket makes your life so much easier!
Their Crescent Blush Nail Wrap Kit comes with super easy to apply nail wraps that give you that dreamy half moon look in much less time than traditional polishing would! Just wrap, file and throw on the top coat. Easy peasy!
Get the Paintbucket Crescent Blush Nail Wrap Kit here
The Best Chrome Nails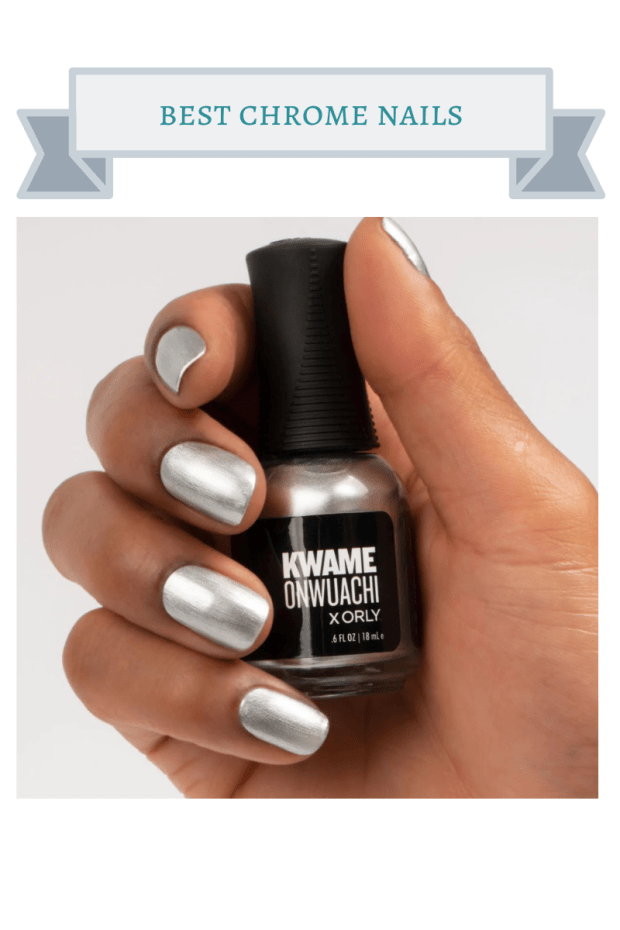 Metallics have been around for ages and their another type of polish that lasts really long on me! So, I always have a silver polish in my collection. 
I'm happy to see it's popular with the kids, haha! Their getting chrome tips on their coffin nails whereas I feel fancy by just painting my short little nails silver.
And a chrome polish that I can't get enough of right now is Kwame x ORLY Sauté. It's a super shiny silver that gives you a nice, metallic mirror-ball effect!
Get Kwame X ORLY Sauté here.
And that, my friends, brings us to the end of my take on the top ten nail trends to try this season. I can't wait to hear which ones you decided to test out first. And for more of our favorite beauty recs, makes you check out the Momtrends MVP's below...
Pin It!
And don't forget to save our favorite beauty tips and follow along for more with our Pinterest beauty board!
How We Pick Our Winners
Momtrends MVP's is a non-sponsored series. Brands must meet our strict standards to be included. When naming winners we take several factors into account, including expense, convenience, and style.
We make our picks annually based on editors' research. In some instances, we may request and receive samples so that we can more thoroughly assess products. Our opinions are our own, and our goal is to help our community of moms make more informed decisions on everything from baby gear to beauty products to vacation destinations and more. We scour the abundant options and painstakingly hand-pick our favorites, so you don't have to. Our hope is that our most valuable players become your most valued purchases.