I met Tiina when she messaged that I influenced her to get a wall bed (and smalllot shoes) and it changed her life. And let me tell you, flattery will get you everywhere with me, ha! Then after she showed me her set up, I went about begging her to share her home here. And despite the inescapable vulnerability that comes with sharing photos of your home on the internet, she agreed! And I couldn't be happier! Leave it to a therapist to get right down the heart of small living. A couple dear friends of mine have recently become therapists and it really gives me bit of hope that women like them (and Tiina) are focusing their life's work on supporting other's mental health. It can be challenging to feel good about things these days but empathetic, intelligent women choosing to go back to school to become therapists to help others, well maybe everything is going to be ok after all. Thank you Tiina! I'll leave you with her and her Brooklyn apartment here…
Intro
Hi! My name is Tiina and I'm a therapist (https://tiinatreasure.com/) and writer (https://tiinatreasure.medium.com/) in Brooklyn, New York.
How big is your home and what is the layout ?
We live in a prewar 1 bedroom apartment in Brooklyn, New York. It's about 750 square feet.

Who lives there?

Myself, my husband (a high school teacher), our 2 year old son, and a geriatric cat.


Tell me about your choice to live small. Was it a conscious decision or did it just evolve?
We purchased our apartment in 2016 and at that point of time a baby wasn't on the agenda, we just wanted a large one bedroom apartment with an eat in kitchen and good light. Our home was a sponsor unit and needed to be renovated so we took that on in 2017/2018. I became pregnant in 2019 and the thought of moving right after completing the renovation was just not going to happen. So we doubled down on the apartment and have just decided to rethink how we use space to make it work for us.
I felt a lot of pressure to move after my son was born (March 2020) when everyone was leaving New York. Honestly, if I had more energy we may have. But moving is hard work and financially it felt like a risky decision. I'm so glad that we decided to stay put and just let our home evolve with us rather than run towards the greener pastures of "more space" when we didn't in fact need it. We just needed to be more creative with what we had.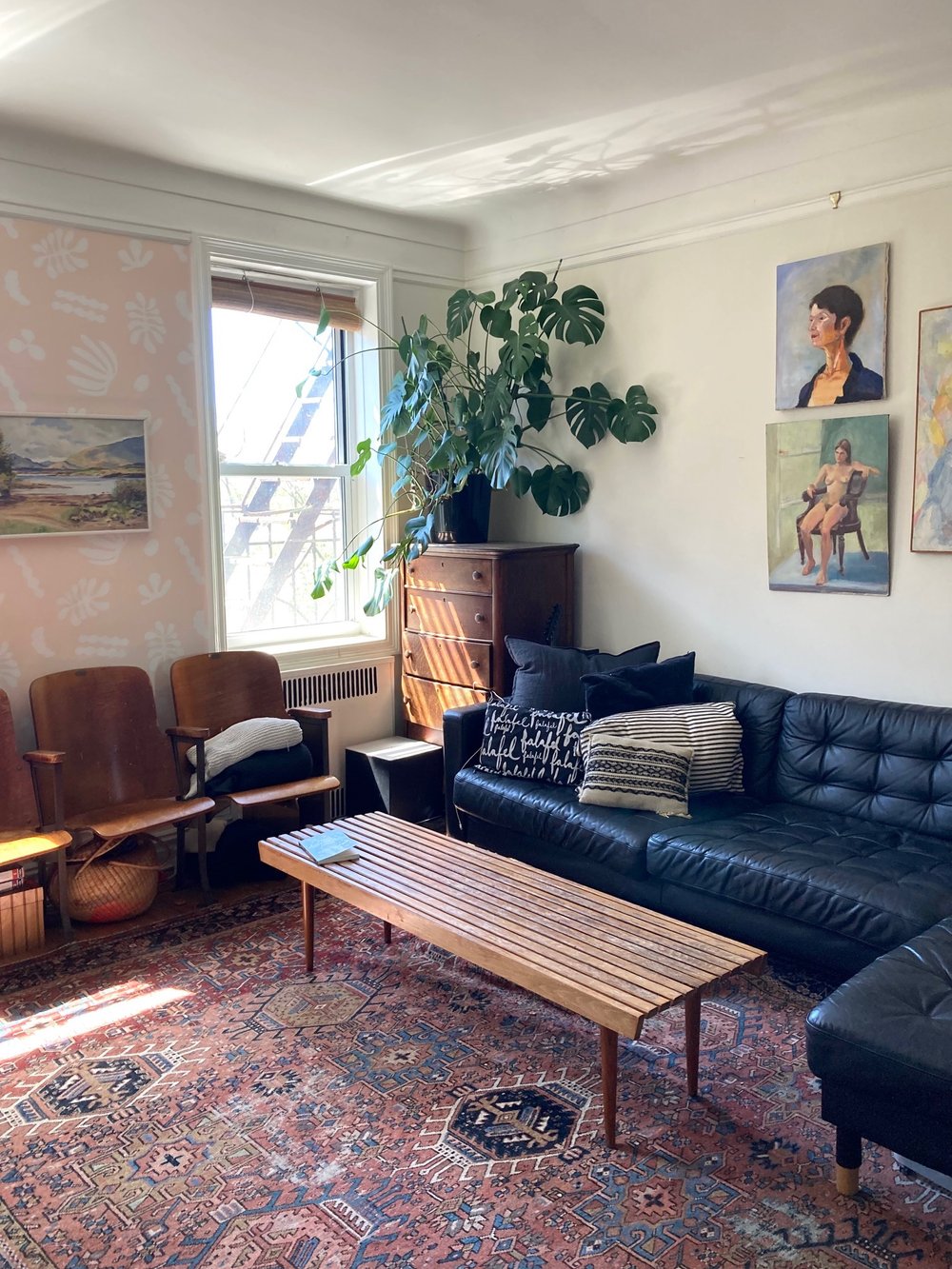 How would you describe your home style? ex) modern, minimal, bohemian, vintage?
We're definitely not minimalists! We love vintage and eclectic pieces. Overall though I'd say our style is "weird traditional" and if that's not a style it should be. We love repurposing and reusing in general. The pennants above my son's crib hung I originally made for our wedding. I love when things get more than one life.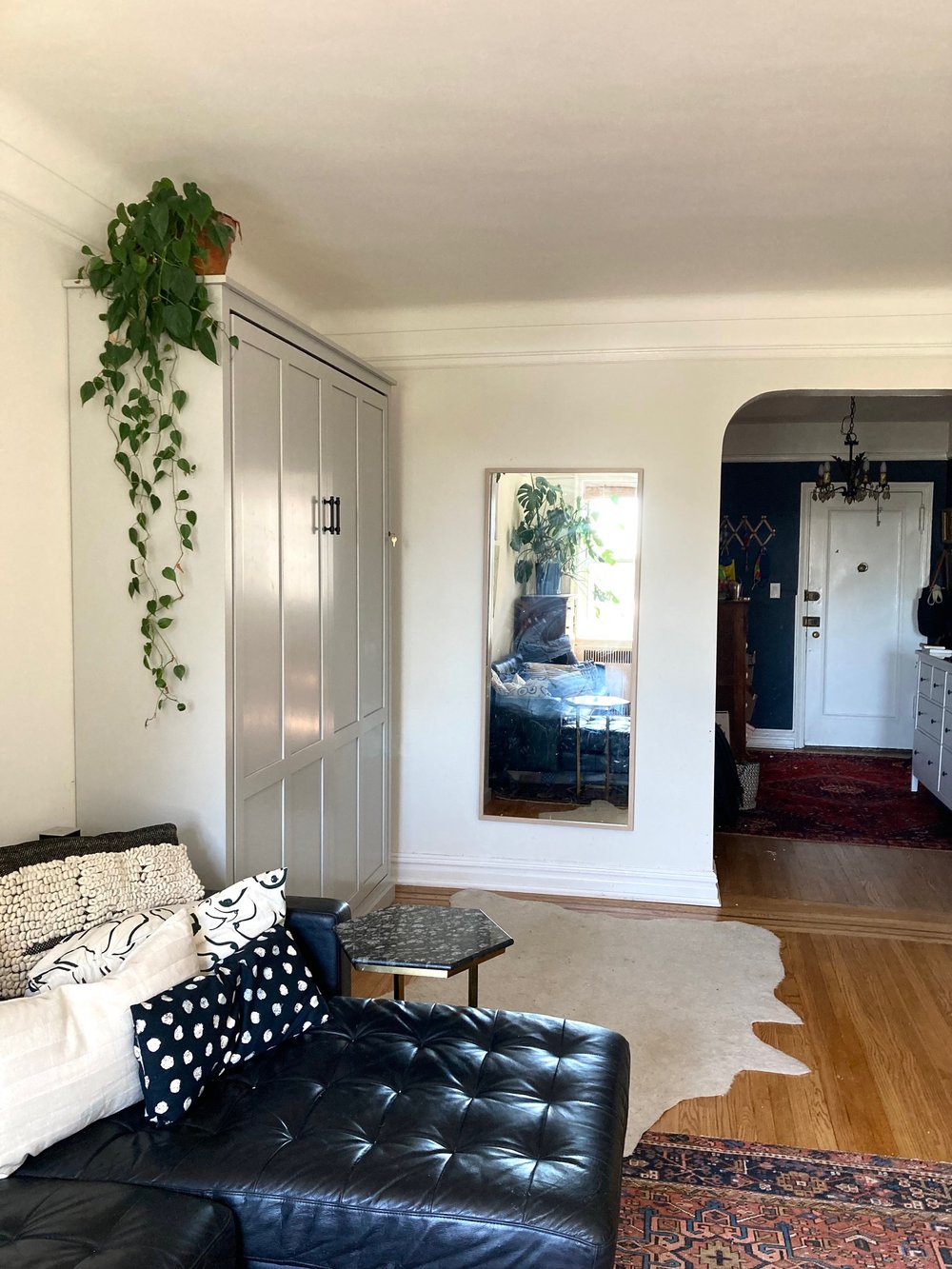 Is there a piece of furniture or accessory that you couldn't live without that makes living in your space easier?
We purchased our murphy bed in May 2021, it has been an absolute game changer. Prior to having that we all slept in the bedroom with a heavy curtain dividing the room. When our son was about 9 months old that stopped being doable as we basically couldn't turn over in bed without him asking for us. So we moved our bed to the living room and slept on the floor to see if that could work out. Thankfully I sleep like the dead and have no problem going to bed a couple of hours before my partner while he plays video games and does his best not to yell out loud when he dies. Once we realized that this sleeping arrangement could work out it opened up so much possibility for what our apartment could look like.
We decided to conceptualize the two rooms in the apartment as living spaces vs bedrooms, one for adults and one for kids. Both rooms have sofas and we just each sleep in our respective living spaces. This allows me to close the door to all the toys and chaos of the playroom at night and watch TV in peace- without a bunch of farm animals looking back at me. It also means that my son's toys don't have to fit in "my aesthetic" because they're not overwhelming the adult living spaces. Having this division of space has definitely helped us feel less overwhelmed by our lack of square footage.
One of the downsides of our wall bed set up is the lack of permanent end tables. I made the curtain hanging in the wallbed cabinet to address this issue. The bottom of the curtain has pockets for our cell phones, books, and just all the odds and ends debris that I manage to bring to bed with me (hair clips, glasses, etc.) every night. Our wall bed cabinet is 17 inches deep so even with a 12inch mattress and our pillows/duvets the bed still closes easily with the curtain inside.
What is something you love about living small?
I opened my virtual private practice in September 2021. I never would have been able to do this if we were spending more money on rent/mortgage. It just wouldn't be financially viable for us to take the risk of me starting my own business while managing all of our other expenses. Living small allows us both to feel less pressure to hustle and earn money. By living with less, we need less to live- and I find that I reap those benefits every day. I'm glad that I can pass them on to my clients as well and price my services more affordably than others because I have less overhead and don't rent a separate office. It's amazing how much living small can positively impact your overall quality of life in all sorts of ways.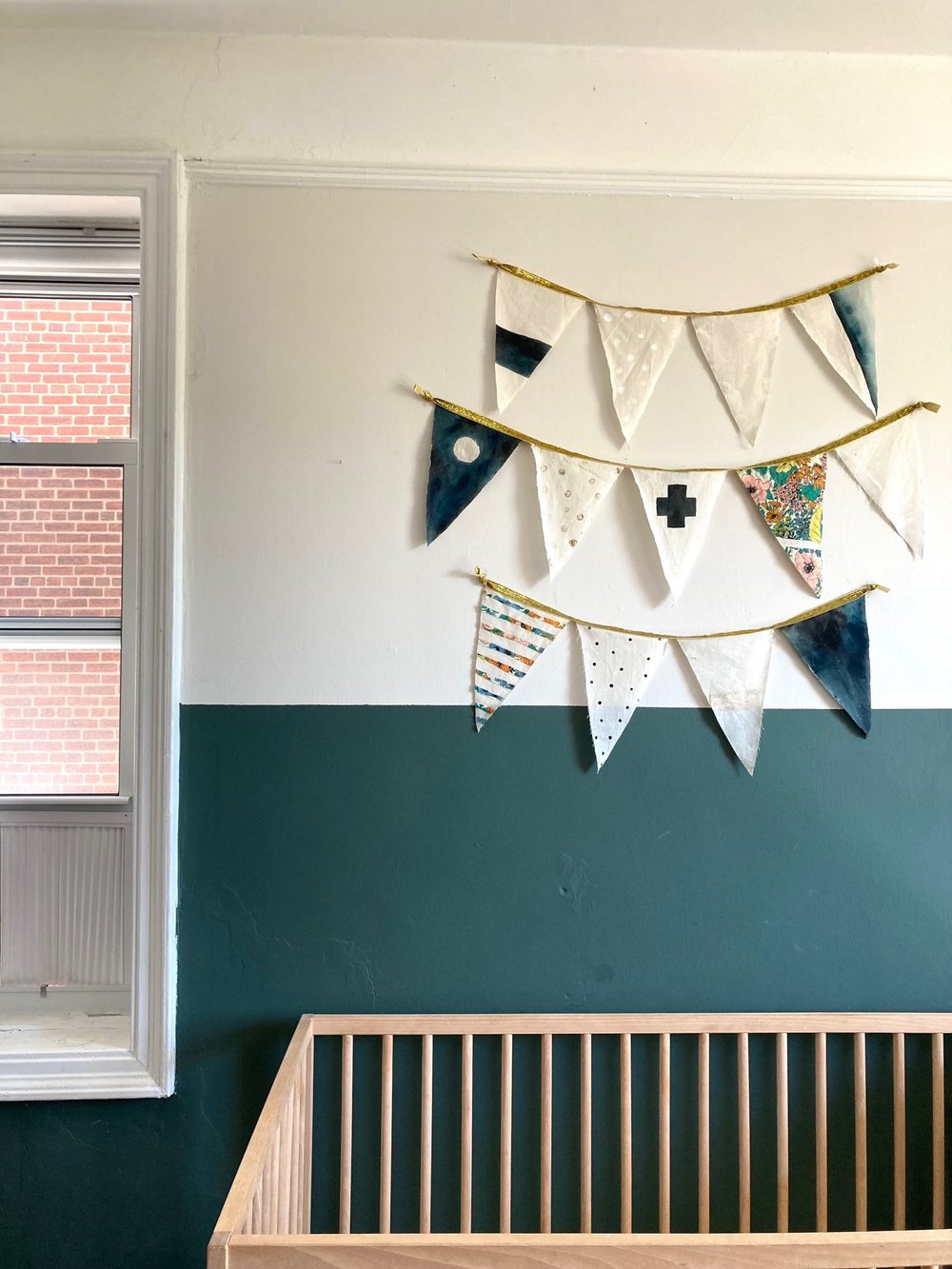 What is something you hate?
I have a deep gnawing desire to grow a tomato plant. We have no access to private outdoor space so I will likely continue to have a deep gnawing desire to grow a tomato plant. Maybe one day. (ed.note. I want this for you too! Could you try a tomato plant in a windowsill? I found this old NYTimes article that recommends Tiny Tims in a windowsill)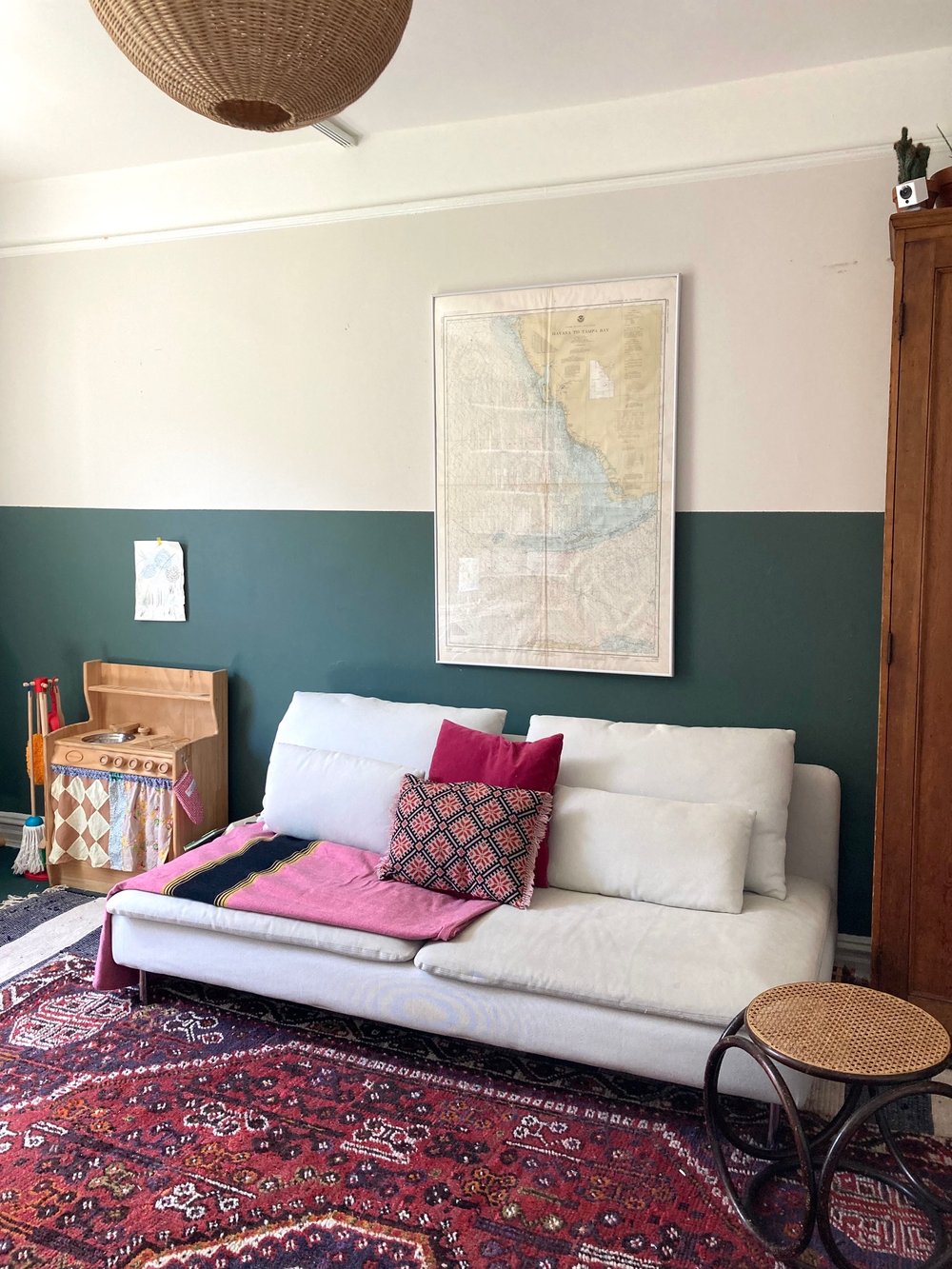 I think Small Space-ers need to stick together and share all their best tricks. Do you have any storage or organizational tips you want to share?
Throw the floorplan out the window! Those definitions may not serve you when it comes to how your family actually lives in your space. Right now my son's room (we call it the "playroom") is huge but guess what? Two year olds need space. It makes sense that he has this big room to run wild and demolish every day. Eventually I'm sure (I hope?) his impact will shrink and then we may think up how we divide the rooms again. I can actually see us staying here for quite some time and eventually renovating the bedroom into two rooms once he's at the age when he just wants to stare at an iPad all day. He certainly doesn't need that much square footage to do that.
People are always dumping dressers on the curb. We have 4 dressers in our apartment and they are our holy grail for storage solutions. My favorites tend to be wooden vintage tallboys. We keep everything from video game systems, to crafts, to decor, to clothes, to board games in our dressers. They're great and easy. Oh and really old vintage ones are hard for kids to open. Bonus points for built in child safety.
If it's pretty, store it in the open. If it's ugly, hide it away. All my wooden and metal utensils are on the counter in the kitchen but the plastic ones live in a cupboard. It's a ruthless yet effective way of deciding what to store where. Like all small spacers I love using baskets to hide everything. This is the way of our people.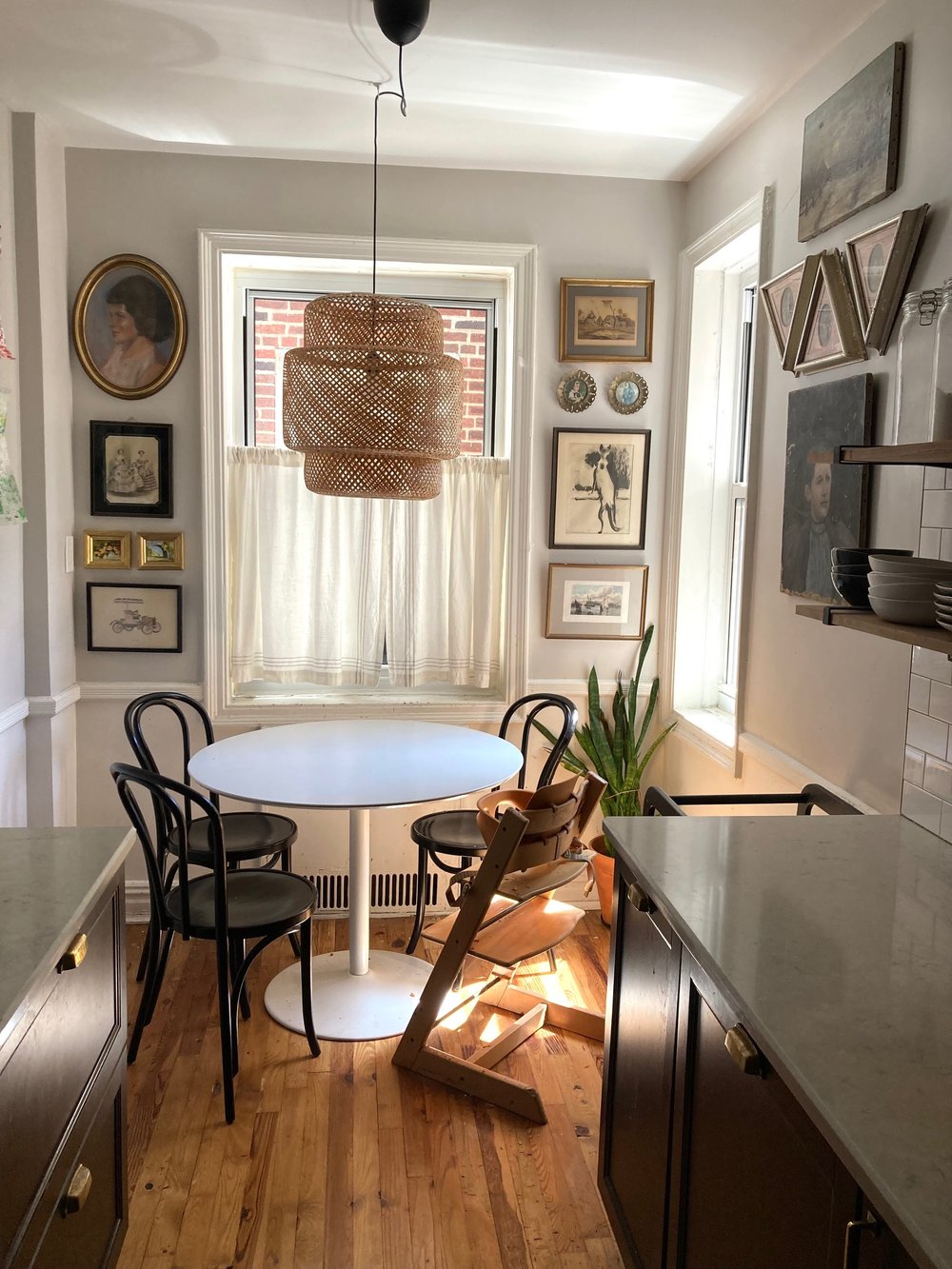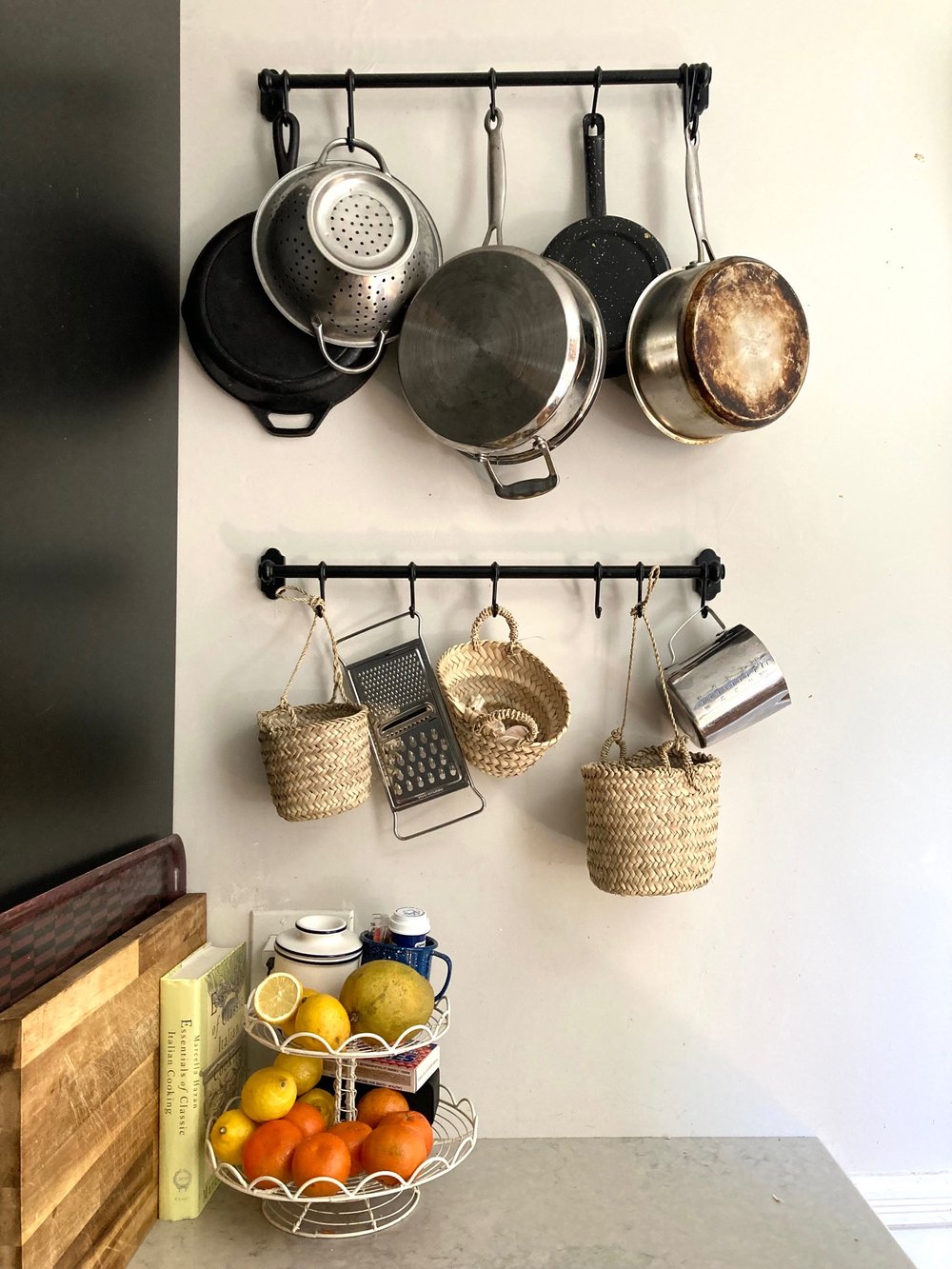 These past couple of years have been particularly challenging for reasons I won't summarize as we all have lived through them to varying degrees. How have you survived or even thrived in your small space that might help others (and if you haven't that's ok too)?
My son was born at the beginning of the pandemic in New York City (ed note. Tiina wrote this beautiful piece about pandemic parenting that I recommend to read when you have a moment). My husband and I worked from home for the next year and a half and divided our work schedules to accommodate childcare and space issues. It was absolutely wild but it really showed us what is possible. In September 2021 my son went to daycare and my husband returned to work. Now I'm the only one working from home, and it's caused the apartment to feel really really big to me. After all of us being jammed in here together for so long it seems WILD to think of renting an office for my practice. SO MUCH WASTED SPACE. Instead the playroom becomes my office during the day. I have a folding desk that goes under the sofa and I steal a chair from the foyer. Everything has multiple purposes and the pandemic really taught us to not take any space for granted.
Of course I would love a dedicated office but the 10 minutes I spend setting up my desk and tidying the playroom affords me so much more flexibility in life than an office would. There has been so much loss over the past two years but I'm endlessly grateful for what I've learned and how much it's caused me to question "what I need" vs "what I want".

Can you share some of your favourite NY spots that support living small? For me it's nearby parks, community gardens, coffee shops, science world.. love to hear of others favourites in their cities.
Prospect Park and Green-Wood Cemetery are both a short walk for our apartment. These green spaces absolutely help to take the edge off living small. We're basically never in the apartment if the weather is good. The outside is just too exciting to explore. I mean it's NEW YORK. You don't deal with that cost of living to not soak up the city each day. We love to go to Industry City for a kid friendly spot that allows us to grab some good food while he runs wild. The playgrounds in the city are incredible and plentiful. Brooklyn Bridge Park is phenomenal and has something for everyone. Strollering around, grabbing a coffee, and hunting for stoop sales is my favorite thing. It's amazing how delightful the simple things can be.
Thanks again Tiina for opening your home to us. In a challenging time to be a parent in the city I am so pleased to hear that small living has been a welcome challenge and even a gift to you. Oh and because I know there will be questions their wall bed was from Here.