If you ever looked into the best subscription boxes for kids, you probably came across KiwiCo and their products numerous times. What's in the crate? Does it live up to the hype?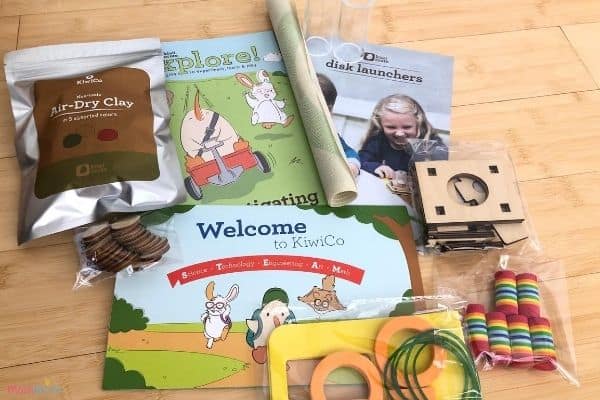 I am here to give you my honest and unpaid review of KiwiCo. We have been a member for a couple of years now, and my kids have graduated from the Koala crate to the Kiwi Crate. 
Below, you'll find details about the KiwiCo product lines and a guide to decide which box is right for your child. Also, you'll find pictures of us unboxing one of the monthly Kiwi Crates we received and decide for yourself if it's worth the investment.
Be sure to scroll to the bottom to get a promo code for 30% off your first box!
What is KiwiCo?
In case you've never heard of KiwiCo, it is a subscription service that brings creative, hands-on projects for kids to your home every month. 
The projects focus on science and arts and aim to help kids develop confidence in their creativity and problem-solving skills. They are designed to be fun and engaging for the whole family all the while encouraging kids to find their own unique way to come up with the solutions.
Depending on which product line you choose, you can get a subscription for as low as $15.50 per month with free shipping. 
My Unbiased Review of the Kiwi Crate
As someone who does STEM activities with my kids all the time, I was looking for a subscription service that provided projects that I could not do at home. I also wanted something that could teach my kids concepts about different science topics from a different perspective. 
Kiwi Crate has met my expectations and more! Designed for kids ages 5-8, it includes projects that allow kids to be creative and explore their curiosity. My kids not only spend hours on one box alone, but they also go back to the contraptions that they built and play with them more than they ever played with any store-bought toys.
The crate came with a welcome booklet, an instruction manual for putting together the disk launchers, and a simple comic book explaining the concepts behind the projects. Everything is neatly packaged so that you and your child can easily get started building. 
As a homeschooling mom, my favorite part of the entire crate was the mini-comic book. The drawings were adorable and the story was heartwarming and funny. It's really difficult to explain inertia and forces to young kids, and this comic was able to explain those concepts very well. My son loved it and not only did he learn more about the physics of motion, but he also learned the importance of why we wear a seatbelt.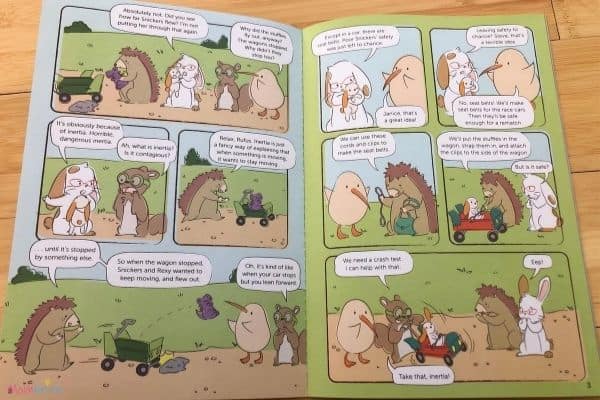 The instruction manual was full of descriptive pictures and explanations to help you construct the disk launcher. For the most part, my 6 years old was able to build it by himself, but I did have to help out here and there.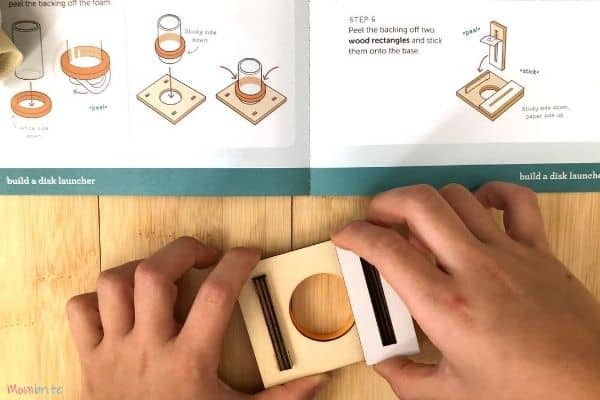 This Kiwi Crate came with two disk launchers, which I was very grateful for since my 4 years old could play with one too. One epic fight, avoided! The disk launchers were better quality than expected, and they withstood my kids playing with it nonstop for a couple of hours after building them.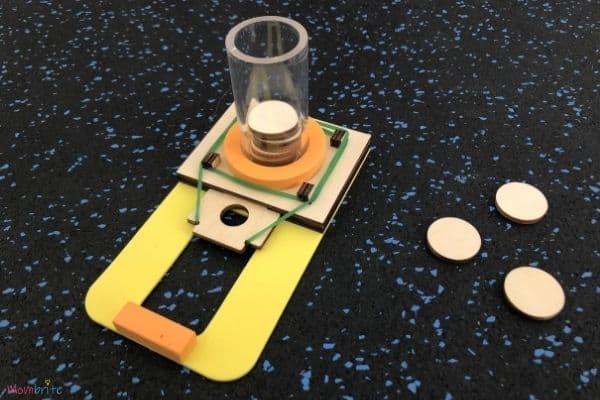 One of my main concerns was that I was going to spend money on this monthly subscription box, and my kids would play with it once for an hour and that's it. KiwiCo made sure that the crate was worth your money. 
The disk launcher came with several different ways to play. For example, inside the crate was a long mat with a target at one end. You can use your disk launcher to shoot for the bullseye and whoever scores the highest wins.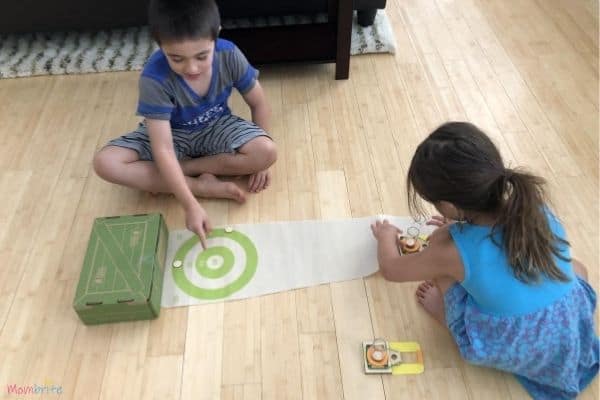 The crate also came with these little, colorful game pieces for us to knock down with the disk launcher. This one was my son's favorite. We would line up the game pieces and compete to see who could shoot down the game pieces the fastest. The person who won would have to move back a little to make things harder for the next round.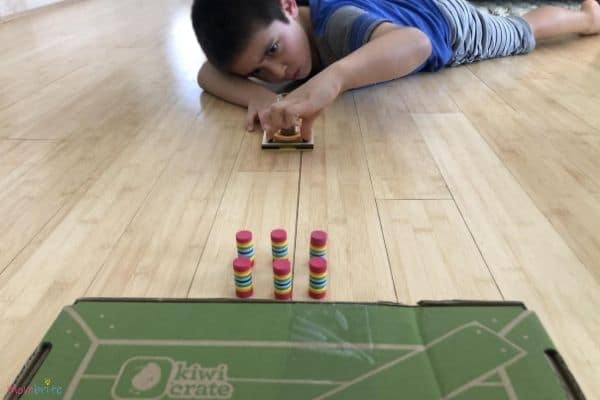 Another activity you could do with the disk launcher was to put the disks between two rows of books and shoot between the books. This is to demonstrate the transfer of energy as one disk crash into another.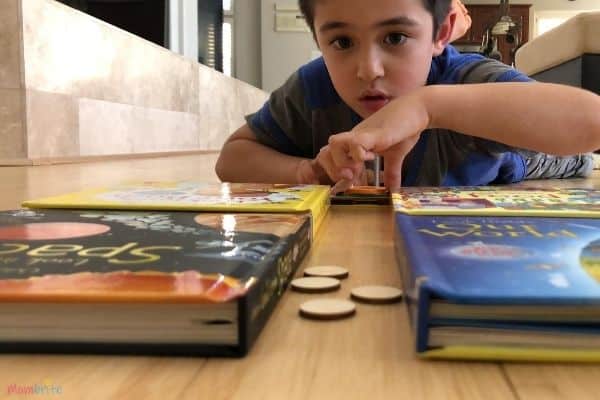 One activity I am saving for a rainy day is to build obstacle courses out of air-dry clay. You can make arches to shoot the disks through, or obstacles to block you from shooting into the goal. Since at this point we already spent hours on the Kiwi Crate, I figured I would save the clay and bring it out when the kids are having one of those "I am bored and nothing amuses me" type of days.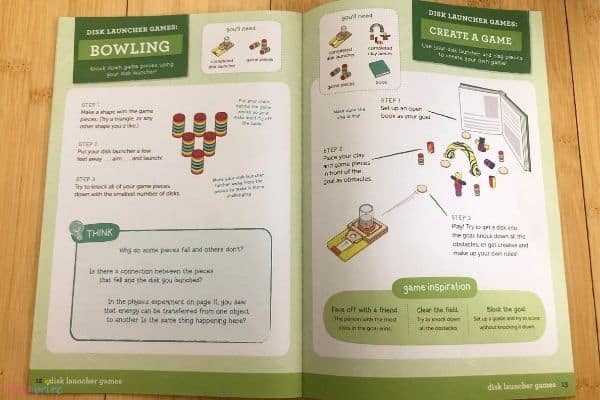 Besides the disk launcher and the various projects that came with it, the Kiwi Crate's instruction manual had other STEM activity suggestions. For example, you can do an inertia experiment using a piece of the Kiwi Crate cardboard box and a disk. I love how there were multiple uses for the cardboard box so we could upcycle it instead of throwing it out.
Overall, we think the Kiwi Crate was awesome! Sure, the disk launcher didn't always shoot out the disks correctly and you had to make small adjustments occasionally to fix it, but that didn't stop my kids from playing with it.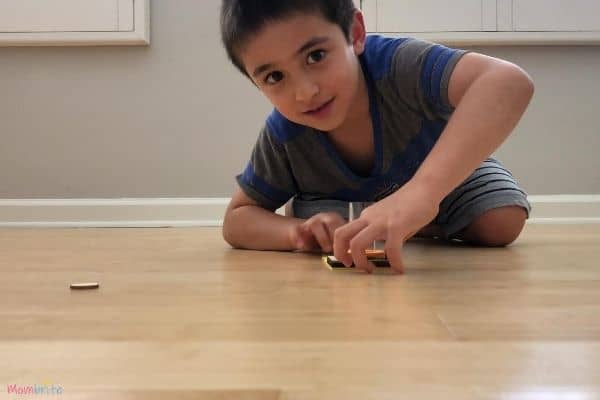 Here is a summary of the Kiwi Crate review:
What We Like:
Multiple projects per box
Easy to read instructions with detailed illustrations
Fun and cute comic that teaches the kids science concepts
Upcycle the cardboard box for additional STEM activities
Innovative design so you don't feel like you are doing projects you could have done by yourself at home
The projects are reusable and your kids might like them better than store-bought toys
What We Don't Like:
If you are looking for activities for your kids that they can do 100% independently, the Kiwi Crate is not for you. 
The quality of the products, though not bad, could be slightly better
How Do I Get Started?
Especially if you are homeschooling or doing distance learning, the KiwiCo monthly crate subscriptions are great supplements to your curriculum. My kids are so excited when we receive the crate in the mail every month and we have such a good time building and playing with the projects. 
You can get 30% off your first box with the code SHARE30 as a Mombrite.com reader when you shop through this link. 
By the way, you can cancel a monthly description anytime after the first crate ships. So there is no risk in trying the crate to see if it's a good fit for your kids. I have a feeling you wouldn't want to though after you receive the first box!
YOU MAY LIKE:
The post My Honest and Unpaid KiwiCo Review [+ Detailed Kiwi Crate Review] appeared first on Mombrite.