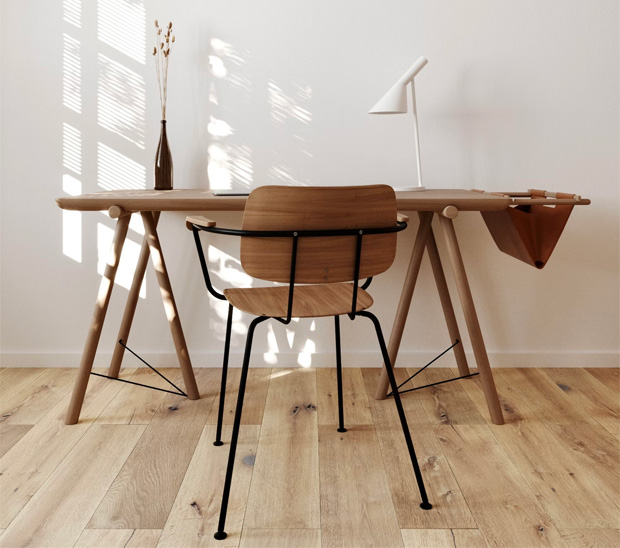 Laminate Flooring Review: Is it Really Worth the Hype?
If you're looking for new floors for your home, you've possibly heard about laminate flooring. But if the term doesn't ring a bell to you – no worries; it's not that hard to understand its essentials. 
You should know that you've seen it before in movies, restaurants, stores and houses and that they can provide significant benefits. As prime as they look, they're not that expensive. They're pretty easy to install, clean and maintain, and if you choose high-quality laminate floors, you'll live stress-free.
It's not enough to enumerate some basics about the type of covering, so you should keep reading to find out if this coverage suits your needs. 
What are laminate floors?
Laminate flooring must not be underrated – they can be a long-lasting, cost-effective, and easy-to-install floor covering for your home. They weren't heard of until the '70s, but now they're a mainstay in millions of homes, including luxury ones. They were originally installed primarily as a type of economy flooring. These consist of a particle board wood base, image and transparent wear layer. The process behind them is simple: pressure, binding chemicals and heat press waste wood. 
Many advancements have been done, so they continue to hold their place as functional, inexpensive and stylish flooring. They go well in areas like bedrooms, living-rooms and hallways. Manufacturers and home décor designers work to find new styles and improve the end product so that you can enjoy a variety of models affordable for any budget.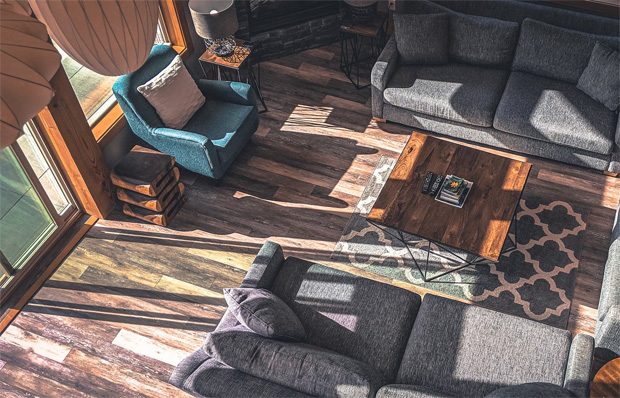 What are the advantages of laminate floors?
These unique floor coverings have also made their way into luxury homes because they provide a series of advantages hard to equal:
Beauty. While many laminate floors look like stone or hardwood, the options for colours and styles are endless. You can match the floor to your room's exact design with various patterns and nuances, whether you like it to be cool and contemporary or rich and elegant.
Low-maintenance. If you're not into house cleaning, choose a qualitative laminate flooring. Some are virtually protected against moisture damage, stains and fading. This feature can make spills and the like messes easy to clean, support scented cleaning products, and there's no need for additional varnishes or waxes to look great. 
Durability. A laminate floor is more scratch-resistant, impact-resistant, stronger and long-lasting than any carpet, vinyl or hardwood because it's covered by a tough external layer and resin topcoat. It can resist pets, children, and even high heels.
Affordability. Laminate flooring is cost-effective because it's not as expensive as other hard surface floors. Considering its durability and longevity, it can prove a profitable option in the long term.
Are there downs to consider?
No product is 100% perfect, and you should acknowledge each of your purchases' features to know how to manage and keep them in a good state for as long as you can. Laminate floors are not authentic wood, as much as they might look alike. Still, their low maintenance and cost can be a big plus for families with kids and pets. 
The DIY installation is a pro to this flooring, but it can lead to noise issues if not done correctly. The incorrect installation can lead to improper acclimatisation, tapping damage and buckling. It's recommended to ask for an installer's help, should you find the task of doing it on your own hard.
To avoid warping, don't allow excessive water exposure and wipe spills as soon as you notice them, especially if your laminate floor isn't high-quality. If you're installing in areas prone to moisture, consider glueing planks at the joints for increased moisture protection. 
As technology evolves, so does laminate flooring – some offer 24-hour protection against water damage. It's a big advancement and will guarantee you that the floor in your kitchen stands up to excessive moisture. However, if you want some extra-safety, you can always choose vinyl covering for the heavily-used rooms in your house.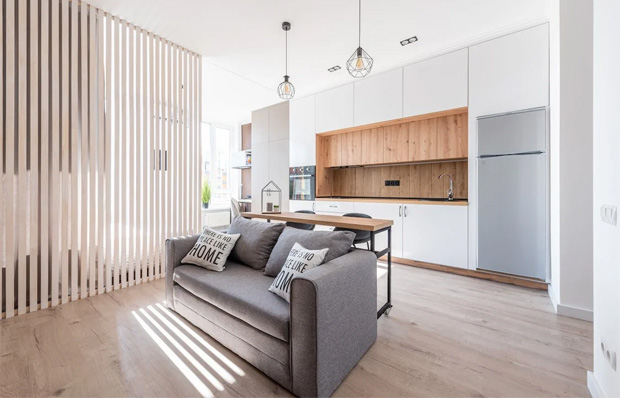 What's a vinyl covering?
There are many ways to cover your floors. Yet, it's best to choose a popular variant, should you want to go with something other than laminate. 
Vinyl floors are made entirely of vinyl; they resist water and are flexible. They're also a close cousin of laminate, as they're equally easy for DIY to install, are competitively priced and have a similar look. 
If you don't spend much time at home, your kids like to spill around, you have water leakages, or you splash when cooking and showering, vinyl flooring might prove the key to all these issues. You'll keep your mind at ease, knowing you don't have to worry about the water on your floor.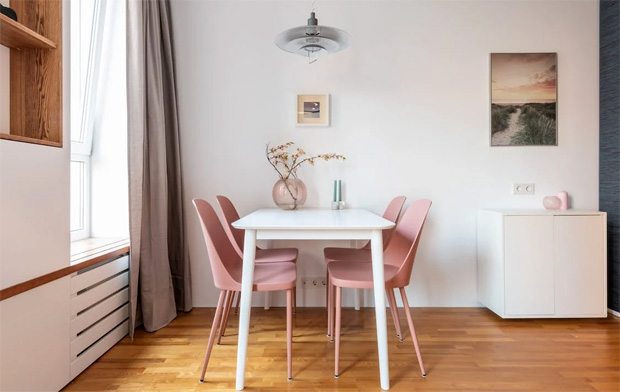 What are the advantages to vinyl flooring?
These offer many other benefits, and are a great option for kitchens and bathrooms. Here are some of the best features of vinyl flooring: 
Low-maintenance. Vinyl floors require the least amount of energy to clean. Because vinyl is resistant to water, you can mop your floors and use water, detergents and disinfectants without fear of warping. The lack of seams prevents bacterial growth, dust and particles, unlike carpets or several planks of wood, making this type of floor a good option if a family member suffers from allergies or asthma. 
Easy DIY installation. Installing vinyl floors by yourself should be easy, considering you have the right tools and proper instalment guide. You must ensure that the floor beneath is smooth and flawless because any lump or bump will be noticeable once you lay the vinyl. It's recommended to reach an experienced vinyl layer to ensure no gaps or peeling corners and to prepare the surface.
Affordability. Vinyl is one of the most cost-effective flooring options available nowadays. Prices vary according to brand, pattern and thickness, and with little research, you can find good and reasonably priced vinyl floors on the market.
Appearance. These floors are durable, resilient and can cope with heavy traffic. If there's a lot of moving in your home, vinyl may prove the best solution, as a steady stream of toys, feet, or pets won't affect its appearance.
You should conclude that doing household chores can be stress-free, and playing with kids and pets an effortless pleasure. Laminate and vinyl floorings are game-changers, and you shouldn't neglect the importance of durable, health-friendly floor coverings in your house.
Guest Article.
The post Laminate Flooring Review: Is it Really Worth the Hype? appeared first on A Mum Reviews.