We shared some fun and easy ways you can help adoptive parents get their footing!
I recently learned that a friend who had been patiently awaiting a child became a parent practically overnight. When I heard about this loving couple bringing home their first baby, it really got me thinking about how to celebrate adoptive parents. We have experience with adoption in my own family. A beloved family member came to us courtesy of adoption and I wonder if her parents were celebrated in the way they should have been. I was just a baby then, but if her arrival happened today, you can bet I would be on their doorstep with special surprises and offers of help. 
Related: DIY design for nursery bedding
How to Celebrate Adoptive Parents
Since I'm sure many of you have people in your lives who have been down that road or embarking on their own adoption journey, I thought I would share some thoughts on how to celebrate adoptive parents with you...because all new parents should be celebrated in my book. With the short notice that can come with adoption, there isn't always time to have a shower beforehand. That doesn't mean you can't celebrate adoptive parents right away with some kind, helpful gestures. I shared a few ideas below...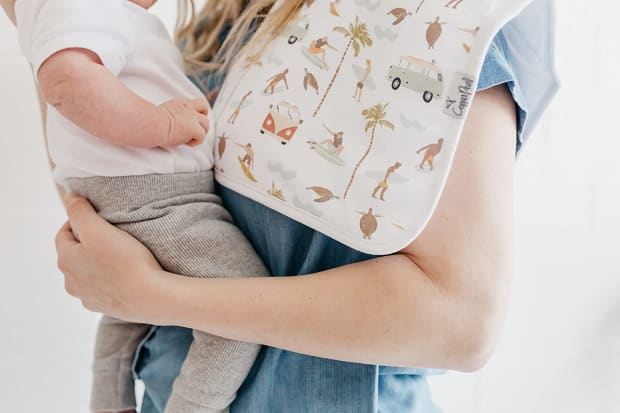 Shower Adoptive Parents with Kindness and Your Time
Gear them up...You can put together a proper shower once the new parents have their footing, but in the meantime, reach out to your friend or family member and ask them what's on their wish list. And if you're a seasoned parent yourself, it wouldn't hurt to throw in a few of your go-to baby products. Then show up on their door with your collection of goodies and let them know you're there if they need you. I've included a few of my favorites below.
Onesies: New parents won't believe how many onesies they will go through. They can never have too many in my book! Gerber Childrenswear (note this is an Amazon Affiliate link) can always be counted on for cute and comfy onesie and bib options. At the affordable prices, they won't mind the inevitable stains. Haha! I used to go through several onesies a day!
Burp clothes: I always used Gerber cloth diapers for my everyday at home burp pads, but I liked to keep a few special burp clothes on hand for when company came over or we left the house. Copper Pearl burp cloths (note this is an Amazon Affiliate link) come in gorgeous prints and are super absorbent thanks to an inner fleece layer! They also offer changing pad covers, hooded towels, blankets and more!
Baby towels and bathtub: Absorbent (yes absorbent again, it's important!), towels and a portable bathtub are must haves. I love Just Born towels (note this is an Amazon Affiliate link) because they aren't too thin and are super soft. You want a towel that's going to dry baby quickly and not irritate their delicate skin. And as far as the bath goes, the Skip Hop Moby Smart Sling 3-Stage Tub is amazing! 
Diaper Bag: I've been using Skip Hop (note this is an Amazon Affiliate link) since my first baby was born and I've returned to this brand for diaper bags again and again. The updated Duo Signature bag is a good price point for a gift, yet doesn't skimp on function at all! You can easily wipe of spills and store all your necessities in all the oh so useful pockets.
Playmat: Some of my favorite times with my babies were lying down next to them watching them play with all the doodads on their playmat. The Tiny Love Gymini Deluxe (note this is an Amazon Affiliate link) is a great one! This engaging activity mat comes outfitted with adujustable arches, lights, sounds, music and it's even machine washable. Those two words are like music to a mam's ears!
Travel System: They can shop for the fancy stroller, if they want one later, what's really helpful right away is a reliable travel system. Being able to seamlessly click the car seat into the stroller is clutch. The Safety 1st Riva Travel System (note this is an Amazon Affiliate link) is a super solid choice. It's lightweight, compact and comes with machine washable fabric! And the infant car seat is top rated for safety which is, obviously, of utmost importance!
Baby Monitor: Peace of mind is priceless and that's just what a baby monitor gives you. If the new parents can pry themselves away from the baby for a bit, they can rest easy thanks to a monitor like the Safety 1st HD Wifi Baby Monitor (note this is an Amazon Affiliate link). The wide angle lens and digital zoom are game changers! And thanks to the streaming, they can check in on baby from anywhere!
Baby Gate: It's never too early to think about babyproofing. Safety 1st has always been a trusted source in baby safety for me and their gate is no different. In fact, Clint Harp, Spokesperson for Safety 1st and Craftsman, Author, Husband and Dad, has some incredible baby safety tips that would be perfect to pass on to those new parents you're celebrating as would the Safety 1st Easy Read Forehead Thermometer. No new parent wants to fumble with a traditional thermometer in the middle of the night, but I digress...Let's get to those safety tips!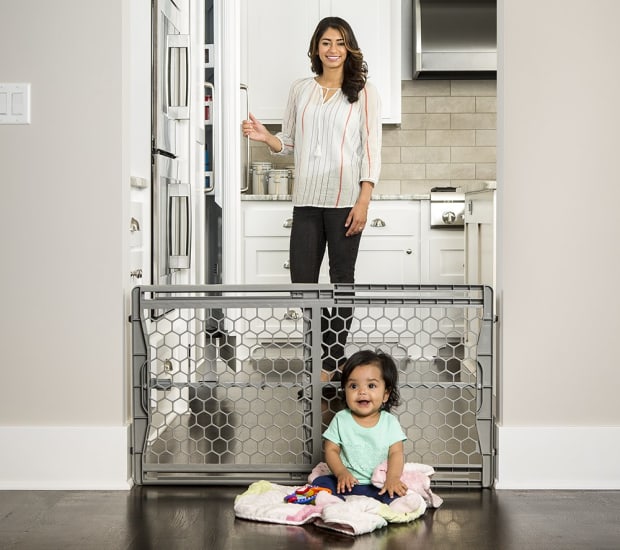 New Parent Babyproofing Tips
I teamed up with the Safety 1st, a leader in child home safety products, to develop quick tips to help you baby proof your home like a pro.
Young children are endlessly curious and unfortunately that curiosity can sometimes be the cause of injury. Although babyproofing can seem overwhelming, it's important to not wait until after an accident to do your due diligence – instead, start well before your kids are on the move. To help, here are a few of my tried and true tips for childproofing your home:
Let's start in the kitchen – it's the heart of the home and a high-traffic area filled with hazards. With all of the drawers, knobs, cabinets and appliances (essentially a playground for toddlers), it's important to secure these items with safety locks and latches that are strong enough to withstand the pulls and tugs of children. The Safety 1st OutSmart™ Flex Lock (note this is an Amazon Affiliate link) has been rigorously tested to outlast determined toddlers and features a decoy button– the prominent, pushable button distracts, but doesn't actually do anything. In fact, it hides the actual secret opening. 
Now on to the bathroom, which is a room that many parents overlook when it comes to babyproofing. Believe it or not, the bathroom is the most dangerous room in a home. The best way to keep young children out of the bathroom is with an exterior lock on the door. Another important measure is to install a toilet strap to keep them away from the water. And of course, make sure to store any medications, cleaning supplies and grooming items out of reach of your child.
The family room is one of the busiest rooms in the home with some less obvious dangers for little ones. In fact, one of the most important measures is to securely strap furniture to a wall to prevent it from falling forward if toddlers hang or climb on it. Nothing is more curious to a toddler than a television. And they will touch it! The most secure strap should have a 3-point configuration to anchor the TV to furniture and then to the wall. 
Once your baby is on the move, stairs can be extraordinarily dangerous place in the home. Gates (note this is an Amazon Affiliate link) are a child safety device that need to be installed properly in order to keep kids protected. Pressure mounted gates, which are best at the bottom of stairs or to close off any room, lose pressure over time and require parents to regularly adjust for a secure close and fit. Hardware mounted gates are a must for the top of stairs where pressure-mounted options just aren't a safe option.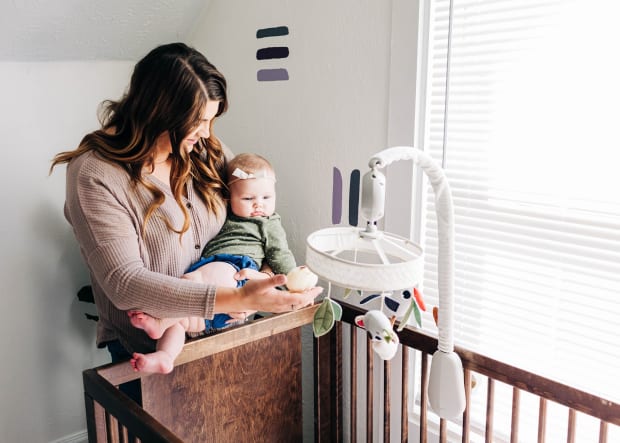 A Few Final Parenting Tips
Well, I think that gives you plenty of gear ideas to share with the adoptive parents in your life, don't you? Haha! Let's move on...
Feed them...One of the best things my loved ones did was show up at my house with food. When you're over tired and trying to get a hang of this whole parenting thing, the last thing you want to do is cook. This is a universal truth for all new parents. I don't think I had to cook a single meal the first two weeks after my baby came home and it was beyond glorious!
Help with the nursery...Many adoptive parents have their nursery already set up, but that's not always the case. Sometimes things happen to fast to finish up those last minute nursery to dos. So, if there are walls to be painted, gear to be assembled or closets organized, make yourself available! Let bonding with their baby be the only thing on their plates right now! And if the nursery still needs some serious help, these tips from design expert, Veronica Valencia, courtesy of Tiny Love, are worth passing along too.
In conclusion, the most important thing you can do for new adoptive parents is follow their lead. Give them space if they need space or hunker down with them if that's what they prefer. No matter what just make them feel loved and supported because becoming a parent for the first time is one of the scariest, most emotional experiences a human being can have. Feeling like your village has your back means everything! Once the celebrating is over, knowing how you can support adoptive parents as they continue on with their parenting journey will be all the more important!
MORE MOMTRENDS FOR NEW PARENTS
PIN IT!
Use Pinterest to save your favorite gear for baby. Be sure to follow our Baby Things to love board here.
We were not paid for this post.