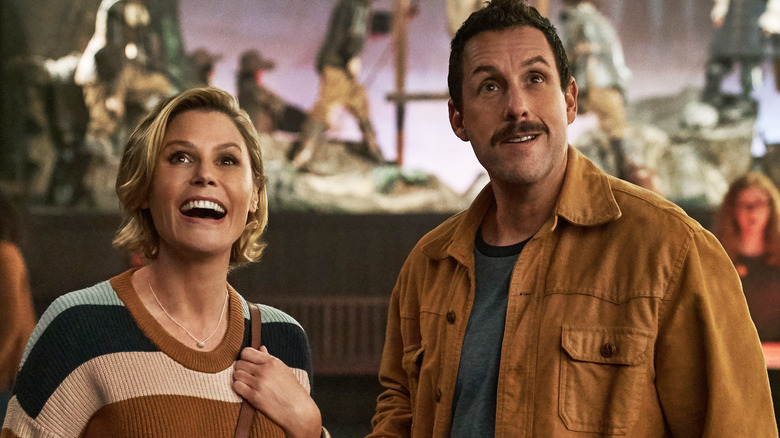 Adam Sandler is a polarizing figure among film fans, partly due to the odd pendulum swing of the later stage of his career. He'll make a few shaggy comedies (often so that he can go on vacation), follow those up with a well-received turn in a more prestigious film, and then start the whole cycle over again. There's nothing inherently wrong with making goofy movies with your friends and getting Netflix to pay you to visit beautiful locations — it's an opportunity most people would likely jump at, given the chance. 
However, the racism, homophobia, transphobia, ableism, fatphobia, and misogyny that run rampant through Sandler's comedies make it hard to celebrate the times when he proves how talented he actually is as an actor. Sandler has a Teflon quality produced by a combination of his general affability and many viewers' nostalgic goodwill for his tenure on "Saturday Night Live" and his early comedies on which they grew up. Sandler has made some genuinely good films, but separating the good from the bad can take quite a bit of digging. This list examines his original Netflix films in order to do just that.
The Ridiculous 6 (2015)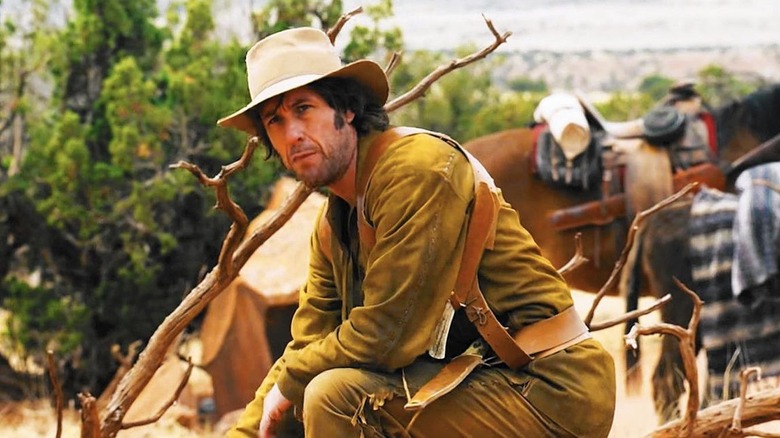 Playing off the title of the classic 1960 film "The Magnificent Seven," Adam Sandler's attempt at a Western parody is the bottom of the barrel when it comes to his original Netflix output. Sandler plays a Caucasian man named Tommy, or "White Knife," as he is known to the Apache community that raised him after the death of his mother. When his biological father Frank Stockburn (Nick Nolte) shows up and gets kidnapped by a gang, Tommy sets out to steal the money the gang is demanding in exchange for his father's life, and he encounters five other men along the way who also claim Frank as their biological father.
Ranking Sandler's films can be an exercise in listing them in order from most to least bigoted, as "The Ridiculous 6" demonstrates. The film is filled with distasteful Indigenous stereotypes: two female characters are named "Never Wears Bra" (Jackie Sandler) and "Beaver Breath" (Dana Goodman), and Sandler's character taps into the "mystical" powers he learned under Apache tutelage to do things like turn into a tumbleweed or translate the indecipherable grunts of his half-brother Herm (Jorge Garcia). While the racism in Sandler's other films is often sprinkled on top of the story as throwaway jokes, it is woven into the entire fabric of "The Ridiculous 6," making it the worst film on this list. In fact, several Indigenous actors, along with a cultural consultant, walked off the film in protest of its racism.
The Week Of (2018)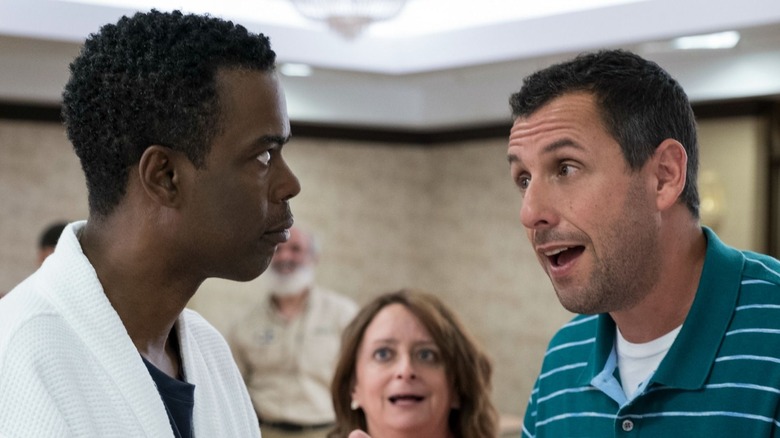 Adam Sandler plays Kenny Lustig, a doting father with financial troubles whose daughter, Sarah (Allison Strong), is getting married in a week. Her fiancé's father, Kirby Cordice (Chris Rock), is a wealthy but distant parent who tries, and fails, to convince Kenny to let him pay for the wedding. On paper, "The Week Of" is probably the least convoluted of Sandler's Netflix comedies. Typical wedding hijinks ensue: too many family members from both sides are packed into Kenny's small house, causing tension and misunderstandings, and the wedding venue incurs damages, leading Kenny to scramble to find a last-minute replacement. However, since this is a Happy Madison production, the complications spiral out into increasingly ridiculous plot developments, like weaponized bats being released into the local mayor's office and the replacement venue bursting into flames.
"The Week Of" is long and aimless, largely ignoring the legitimately moving reason for Kenny's refusal to let Kirby pay for anything — he sees the wedding as his last chance to provide for Sarah before she starts a new family with her fiancé, Tyler (Roland Buck III) — in favor of "trigger" jokes and an extended subplot about a relative whose legs were amputated due to diabetes. Just when you think the movie can't make another joke about Uncle Seymour's (Jim Barone) legs, suddenly Chris Rock is fondling them, having mistaken them for a woman's breasts. There's the potential for a funny, touching movie hidden in "The Week Of," but Sandler and company speed past that potential in favor of puerile and offensive humor.
The Do-Over (2016)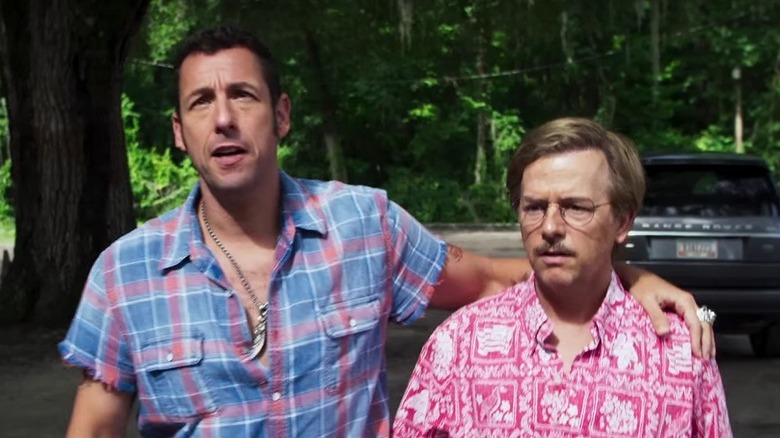 "The Do-Over" sees a return to the convoluted plot familiar to Adam Sandler comedy aficionados. Charlie (David Spade) hates his life. His wife is cheating on him with her ex, whose twins bully Charlie relentlessly. When Charlie runs into Max (Sandler) at their high school reunion, Max invites Charlie to spend the weekend with him to get away from it all. Unbeknownst to Charlie, Max is actually offering him a permanent vacation from his life; Max fakes both their deaths and they head to Puerto Rico under assumed identities. Those identities catch up with them, though, as a labyrinthine web of assassins, bikers, and FBI agents threatens Max and Charlie's good time.
Even for a Happy Madison venture, the misogyny and homophobia in "The Do-Over" are startling. Dakota (Stan Ellsworth), one of the aforementioned bikers, was in love with the man whose identity Max stole, and his sexual overtures toward Max are played for the worst kind of laughs. Max's mom (Renée Taylor), whom Max and Charlie spied on in the shower when they were teenagers (a fact that the film accepts as totally normal and good, actually, since Max's mom winked at Charlie while he violated her privacy), appears topless at the end of the film with "hilariously" saggy breasts. In another disgusting scene, Max's wife Becca (Kathryn Hahn, trying her best to salvage the movie) battles secret villain Heather (Paula Patton) as Madonna's "Crazy for You" plays over the slow-motion "catfight" that Max and Charlie watch with glee. Female characters rarely fare well in Sandler comedies, but the objectification and casual "women are crazy, amirite?" is still difficult to watch even with already low expectations.
Sandy Wexler (2017)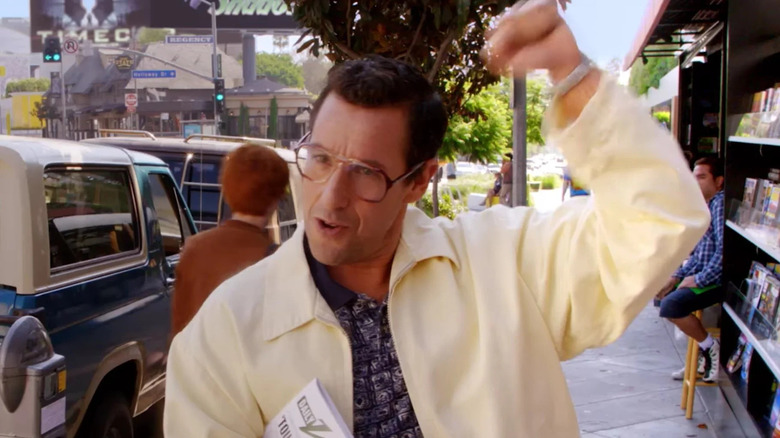 Even for his fans, 131 minutes is a long time to ask someone to sit through an Adam Sandler comedy. "Sandy Wexler" is the most bloated movie on this list, featuring what has to be one of the highest "as themselves"-to-fictional character ratios in movie history. Stuffed with famous faces in a documentary-style framing device, the movie tells the story of Sandy Wexler (Sandler), a bumbling talent agent working in Hollywood in the mid-'90s. When Sandy discovers Courtney Clarke (Jennifer Hudson), a talented singer toiling onstage at a theme park kids' show, he knows he's found his big act. He also falls in love, and the excruciating runtime follows Sandy as he builds Courtney's career, says goodbye to her in an attempt to let her flourish in the big leagues, and ultimately reunites with her.
"Sandy Wexler" leans hard into its '90s setting (dropping harmless Fruitopia jokes in among the unfortunate O.J. Simpson and Robert Blake references), and it will test the patience of viewers who don't think "Adam Sandler does a funny voice" is the height of comedy. Sandy mumbles across Hollywood for the majority of the film, ineptly finagling deals and lying to his clients about their chances of success. Hudson is the movie's only saving grace. Her amiable, wide-eyed performance and her musical numbers earn the film more goodwill than it deserves, and she does her best to sell the romance between Courtney and Sandy. Sandler is fond of making beautiful, charming women fall in love with his rude and awkward characters with supposed hearts of gold, and the inexplicable romance at the heart of "Sandy Wexler" fits right in with the Happy Madison love formula.
Murder Mystery (2019)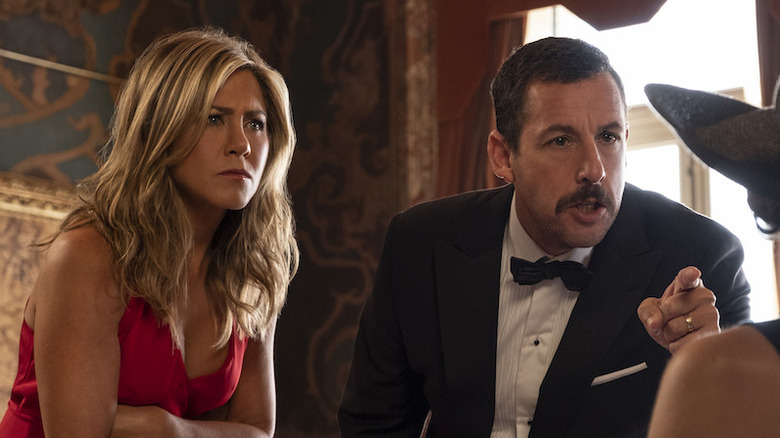 Though "Murder Mystery" still features the Adam Sandler standbys of racism, body-shaming, and misogyny, it doesn't lean as hard on its offensiveness, which automatically qualifies it for the top half of his Netflix catalog thus far. Nick (Sandler) and Audrey Spitz (Jennifer Aniston) are a married couple who, 15 years after their wedding, are finally going on their honeymoon. Nick books a bus tour of Europe, but when Audrey befriends bored aristocrat Charles Cavendish (Luke Evans) on the flight, they become guests on his uncle's yacht and suddenly find themselves embroiled in — you guessed it — a murder mystery. Charles' billionaire uncle, Malcolm Quince (Terence Stamp, who brings a deliciously incongruous gravitas to the role), dies just before signing a new will that would leave his entire fortune to his new bride, Suzi (Shioli Kutsuna), and suddenly everyone on board the yacht becomes a suspect.
Murder mysteries, especially those featuring dramatic will-signings, are a delightfully fun premise, and Sandler and Aniston are clearly having a great time traipsing through Europe as dead bodies keep dropping around them. They have an easy chemistry that works well for the playfully bickering Spitzes; in fact, the real-life friends have already wrapped the upcoming sequel. "Murder Mystery" isn't the cleverest comedy or mystery, but, graded on the sliding scale of Sandler's Netflix oeuvre, it's a breezy bit of fun that is easier to recommend than the previous entries on this list. 
Hubie Halloween (2020)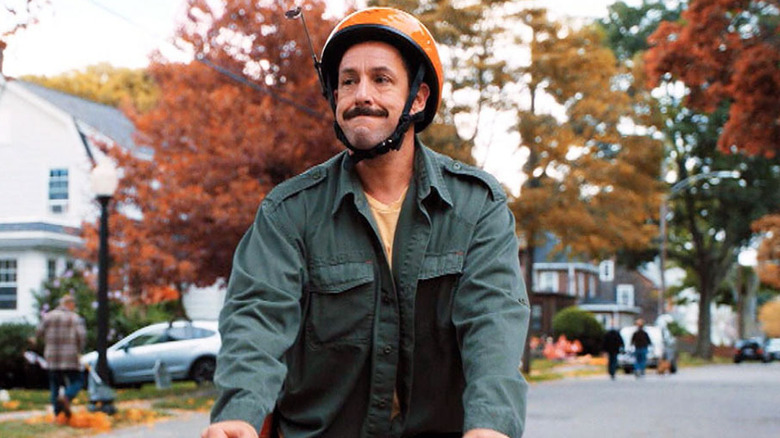 This spooky season offering is the perfect litmus test for Adam Sandler's comedic appeal: either June Squibb wearing a t-shirt that says "Boner Donor" makes you laugh or it doesn't. Sandler plays Hubie Dubois, a well-intentioned resident of Salem, Massachusetts, who faces bullying everywhere he goes. Squibb plays Hubie's kindly mother, who sports an array of thrift store shirts with increasingly silly slogans emblazoned across them. Hubie serves as the official "Halloween Helper" every year, despite the fact that nearly every Salem resident seems to despise him. When a kidnapper menaces the town, Hubie has to put his helper skills to the test to save his beloved Salem.
Celebrity cameos are nothing new in Sandler comedies, but "Hubie Halloween" shines above most of his other films with the casting of Ray Liotta as Pete Landolfa, one of Hubie's biggest bullies. Liotta commits to the bit with everything he has (which is a lot; Liotta was a rare screen presence and is dearly missed), and watching Pete, who recently lost his father, discuss the grieving process while wearing a rainbow clown wig is an unexpected delight. There's a sweetness to "Hubie Halloween" that's missing from many of the other films on this list, along with an uncharacteristic attempt at visual flair, as director Steven Brill injects a tiny bit of horror into this spooky comedy with fun jump scares and a clear love for Halloween aesthetics. "Hubie Halloween" is still a silly Adam Sandler comedy featuring funny voices and gross-out gags, so it won't be to everyone's taste. Still, it should delight Sandler fans and ranks as the best of his Netflix comedies.
Hustle (2022)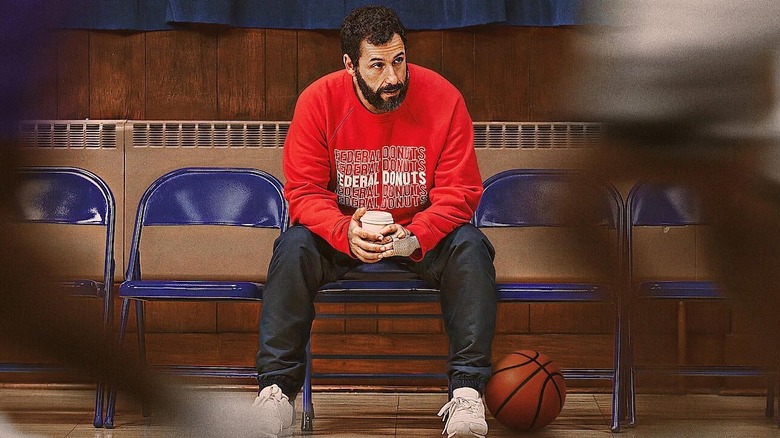 Adam Sandler is widely known for his love of basketball, and that passion shines through in the terrific movie "Hustle." He plays Stanley Sugerman, a talent scout for the Philadelphia 76ers who discovers an unknown Spanish player named Bo Cruz (NBA player Juancho Hernangómez). When the 76ers' new co-owner, Vince Merrick (Ben Foster), passes on Bo due to his troubled past and his inability to keep his emotions in check, Stanley quits the team and starts coaching Bo on his own. Featuring many famous players and other sports figures, including Julius Erving, Doc Rivers, and Anthony Edwards as Kermit Wilts, Bo's biggest rival, "Hustle" is a rousing underdog story that thrills and inspires.
Hernangómez actually turned down the role several times, but luckily he reconsidered; he's a natural on camera, and his gentle chemistry with Sandler really sells Bo and Stanley's mutual redemption. The camera work is perfect for a sports movie: dynamic cinematography and crisp editing make the basketball scenes sing, especially the viral "Boa Challenge" where Bo challenges street players in an attempt to raise his profile for the NBA draft. Sandler's obvious love for the game makes "Hustle" feel like a deeply personal film for him. When he's invested, he does great work, and he is great in this movie.
The Meyerowitz Stories (2017)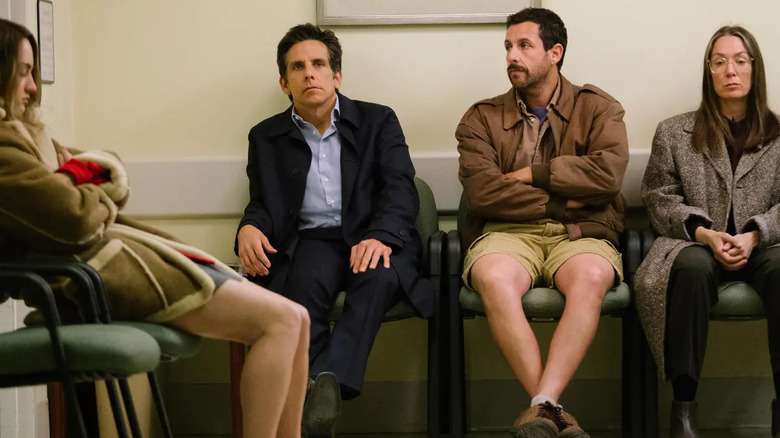 The best movie on this list is, perhaps not coincidentally, the only one not produced by Adam Sandler's Happy Madison Productions. Written and directed by Noah Baumbach, "The Meyerowitz Stories (New and Selected)" examines the myriad dysfunctions of the Meyerowitz clan. Patriarch Harold (Dustin Hoffman) is a sculptor who never achieved much fame and never made much time to take care of his children, either. When he is hospitalized with a subdural hematoma, his adult kids — Danny (Sandler), Matthew (Ben Stiller), and Jean (Elizabeth Marvel) — must reckon with their father's place in their lives and what it might mean to lose him.
"The Meyerowitz Stories" is a nuanced and incisive exploration of family trauma. It examines the devastation that comes, not from a single horrific instance of abuse, but from the gradual yet consistent "drip, drip, drip" of parental betrayal and neglect. Each of Harold's offspring experienced their own uniquely malnourished childhood, and it's bracingly cathartic to watch them realize that they may never get their own catharsis or closure due to the thorny peculiarities of family life. Sandler is remarkable in the role, capturing the torturous push-pull dynamic that comes from seeking connection and validation from a parent who can give you neither. The final scene between Sandler and Hoffman, who also gives a tremendous performance in the film, is a hard one to forget, and it will make many viewers wish this was the kind of art Adam Sandler put out into the world every time he stepped in front of a camera.
If you or someone you know may be the victim of child abuse, please contact the Childhelp National Child Abuse Hotline at 1-800-4-A-Child (1-800-422-4453) or contact their live chat services.
Read this next: The 15 Best '90s Comedies Ranked
The post Every Adam Sandler Exclusive Netflix Movie Ranked appeared first on /Film.