Parts of the country have seen enough cold weather this winter that many popular winter destinations and ski resorts will be able to maintain excellent snow conditions well past spring break. But what if you don't ski or board? The good news is that many ski resort destinations offer plenty to do for folks who aren't inclined to whip down a mountain with one or two slippery planks fastened to their feet.
These types of destinations plan ahead for spring activities that appeal to non-skiers. From snowshoeing and snowmobiling to hiking and biking, there are plenty of outdoor activities that allow families to explore the beautiful scenery.
Not a fan of the cold? There are a ton of apres-ski activities even if you skip the skiing beforehand. Spas, dining and pool time can make these resorts the perfect place for a family spring vacation.
Here are some places to check out:
Want more travel news and advice from TPG? Sign up for our daily newsletter.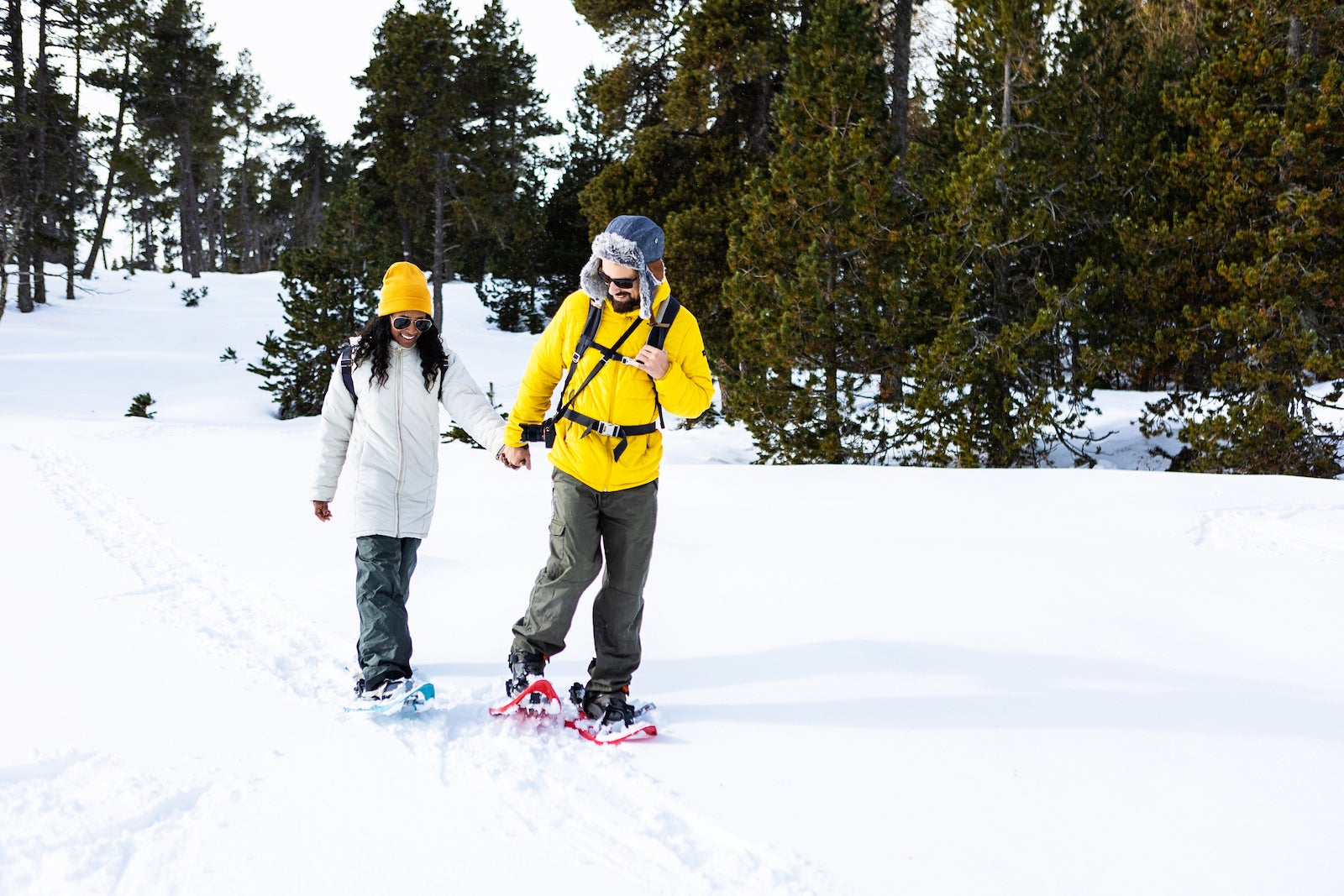 North Lake Tahoe, California
Snow can be fun even when the ski season is done, which usually happens in early April. The North Lake Tahoe area is full of spring activities for everyone and offers a picturesque mountain escape. As days lengthen and the California sun shines, families can enjoy fun activities like ice skating, fire pit marshmallow roasts, hiking, ropes courses, zip lining, outdoor yoga, cold water fishing, kayaking and much more. Flying in? The Reno-Tahoe International Airport (RNO) in Nevada is about an hour away and the Sacramento International Airport (SMF) is only a 2.5-hour drive away. Both are gorgeous, scenic drives.
Where to stay: The Ritz-Carlton, Lake Tahoe
Once ski season ends, families can enjoy a host of activities at the luxury hotel's Northstar California Resort location. This family-friendly retreat boasts a variety of accommodations including two-, three-, and four-bedroom residential suites ideal for a family getaway. When the ski season is finished, families can take advantage of snow tubing, helicopter tours, snowshoe hikes, geocaching and more.
Access the Village at Northstar California from the hotel by an intermountain gondola to take a spin on the giant ice skating rink, roast marshmallows at the fire pits and enjoy a variety of shopping, dining and entertainment. The hotel is as posh as you would imagine a Ritz-Carlton property to be and costs accordingly. As this is a Marriott Bonvoy Category 8 property, guests will redeem between 70,000 and 100,000 points per night for a standard room.
Big Sky, Montana
Come to Big Sky for the winter wonderland adventure everyone envisions, even if the ski slopes have closed (which typically happens in mid-April). Big Sky caters to all types of visitors with plenty of activities like horse-drawn sleigh rides, snowshoeing and snowmobiling through the seemingly endless snowy forests. This is the place to try cross-country skiing, dog-sledding or taking a Snowcoach or snowmobile tour to Yellowstone National Park. Visitors can ice skate or play a family-friendly game of hockey at the Town Center.
Other activities include yoga classes, trout fishing and recharging at one of the many luxurious spas with signature treatments for mind and body. For those interested in local history, check out the Historic Crail Ranch homestead museum to learn about early settlers and their lives after the Lewis and Clark Expedition charted this area.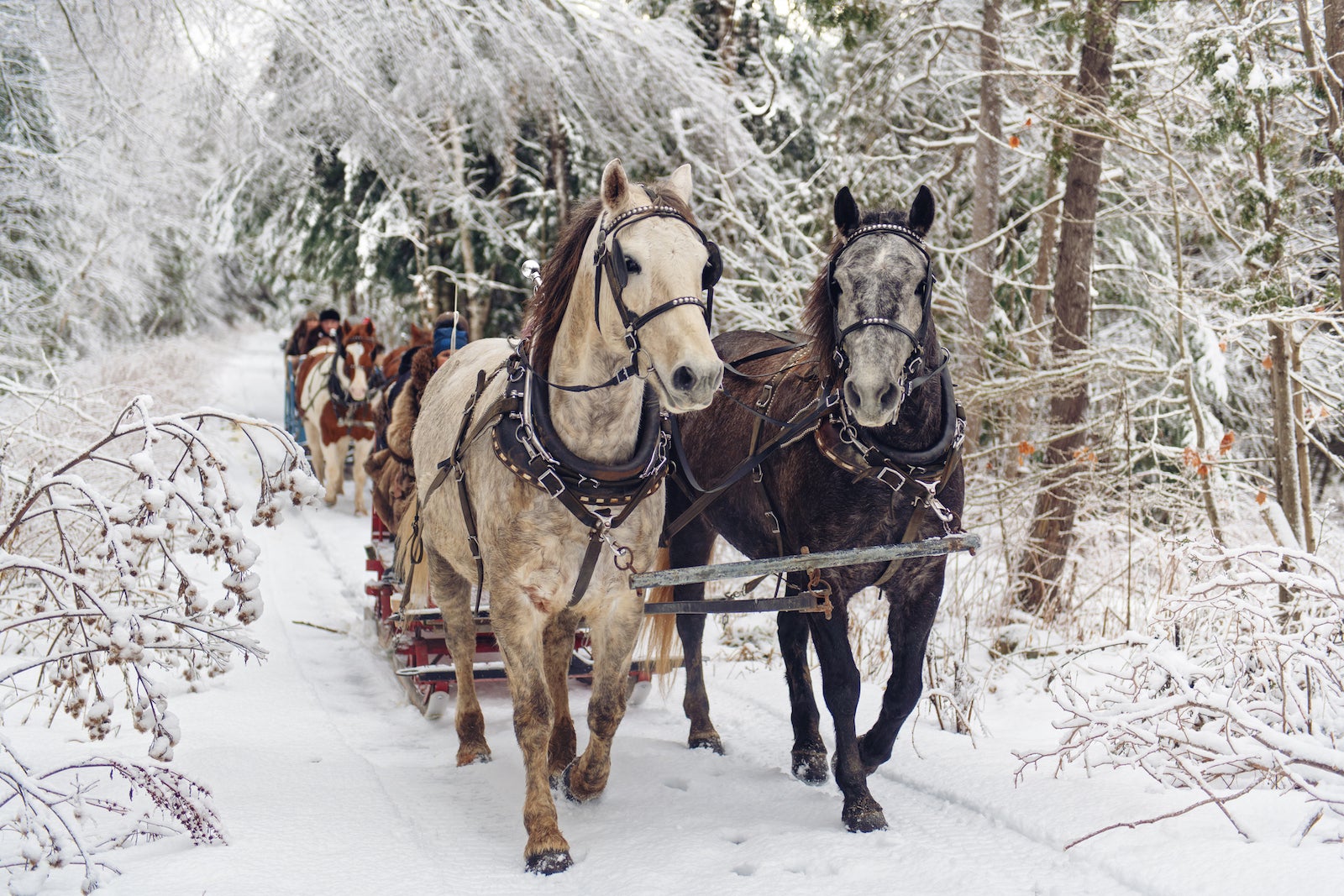 Where to Stay: The Wilson Hotel
 The Wilson Hotel is one of Marriott's Residence Inn properties and is the newest hotel in Big Sky. The location is hard to beat. It's situated just a few miles from the Big Sky Resort and one hour from the west entrance to Yellowstone National Park. Step outside the hotel to enjoy the best of Big Sky's local shops, restaurants and town center activities.
Visitors can hop on one of the customized bikes or use the complimentary shuttle to explore the area's hiking trails — or just relax with a dip in the heated pool or hot tub while soaking in the awe-inspiring views of Lone Peak Mountain. With studio and one- or two-bedroom suites, this Marriott Category 5 hotel works well for most size families. Guests will need to redeem between 30,000 and 40,000 points per night at this hotel.
Santa Fe, New Mexico
You may know about the fantastic family-friendly skiing at Ski Santa Fe. However, there's more to explore once the season ends at the beginning of April. With an average of nearly 300 sunny days each year and an average of 26 inches of fresh snow during the winter, Santa Fe is a breathtaking paradise. Magnificent hiking amidst juniper-covered landscapes await visitors to the Galisteo Basin Preserve, which edges the Sangre de Cristo Mountains in Santa Fe County.
Visitors can spark their own creativity in a hands-on art class to learn pottery, watercolor painting and even glass-blowing. Heritage Inspirations tours provide guided electric bike tours of Santa Fe's most iconic places, like Bandelier National Monument. With beautiful panoramic mountain vistas, there are endless ways to have fun beneath the New Mexican winter sun.
Where To Stay: La Posada de Santa Fe – A Marriott Tribute Portfolio Property
La Posada de Santa Fe is situated in downtown Santa Fe, giving guests easy access to the Santa Fe Plaza, a National Historic Landmark, as well as the magical half-mile of art galleries known as Canyon Road. Upscale rooms may include optional extras like cozy fireplaces and scenic views. After ski season ends, enjoy the on-site spa or make a splash in the outdoor heated saline pool and whirlpool. The hotel offers boutique charm and plenty of Southwestern personality. This is a Marriott Category 6 hotel which means guests will need to redeem 40,000 to 60,000 points each night.
Durango, Colorado
Durango might not be known as a top-tier ski destination, but its location in the San Juan Mountains is spectacular in the winter. The area's Purgatory Resort draws enthusiasts from across the West, and the snow-covered views and variety of activities are heavenly. Enjoy a tour aboard a steam locomotive on the Durango and Silverton Narrow Gauge Railroad. It's the same one used in the early 1800s to transport people from Silverton to Durango. Snowshoeing along the Colorado Trail and hiking the Mesa Verde National Park are popular activities. Adventurous travelers can take part in ice climbing outings on the frozen Cascade Falls. Stunning, peaceful and full of opportunity, Durango is quickly growing as a must-see winter or spring destination in the West.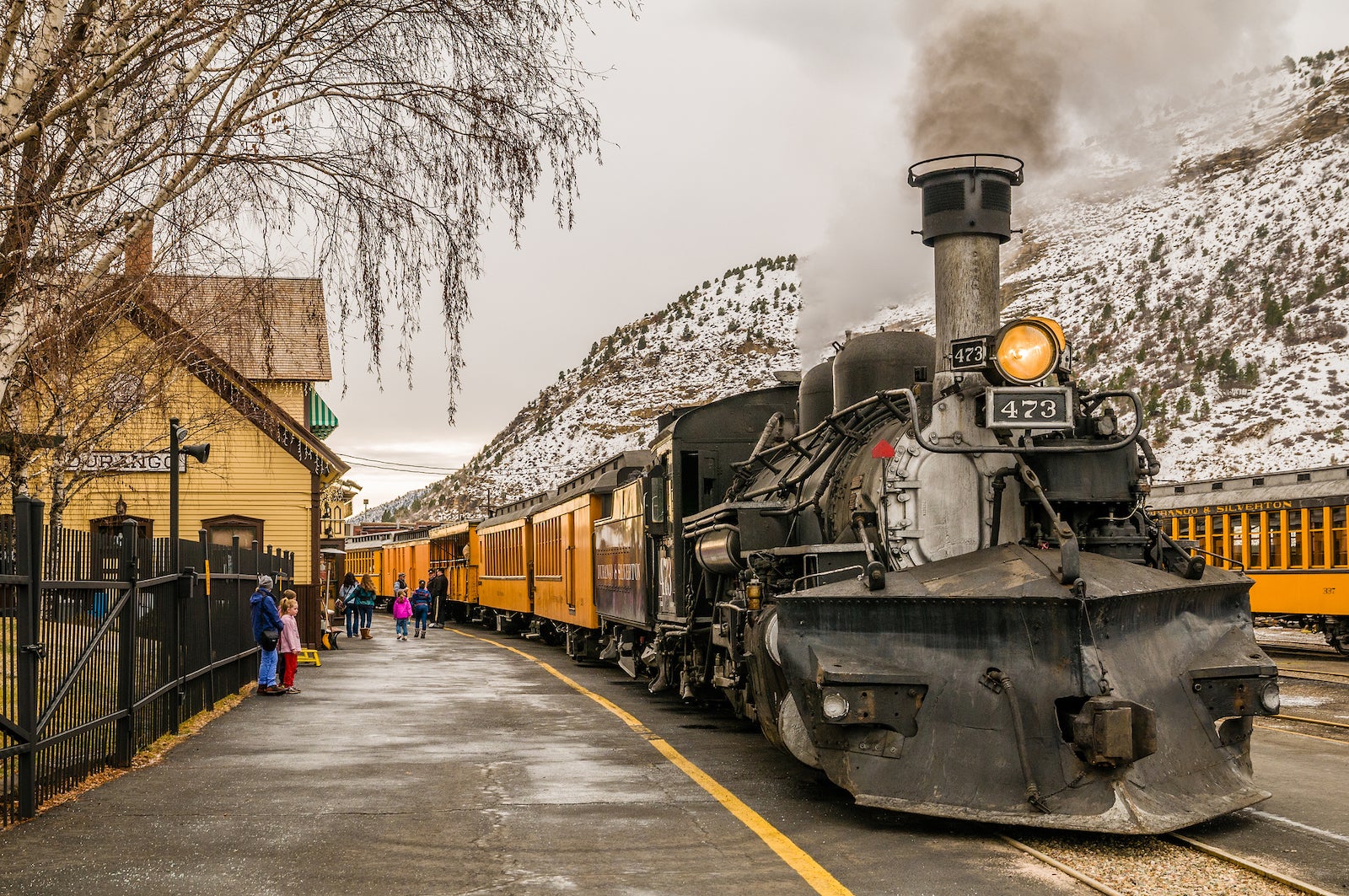 Where to Stay: Club Wyndham
This mountainside Durango resort offers one-bedroom suites in an Old West setting. Once the ski season ends in early April, families can make use of the soothing outdoor hot tubs and absorb the stunning views of the San Juan National Forest. Nearby hiking trails are open year-round for adventurous souls. While the snow still covers the area, these trails are also perfect for snowshoeing and snowmobiling. Shoulder season is especially affordable here, with nightly stays as low as 15,000 Wyndham reward points per night.
Pocono Mountains, Pennsylvania
Travelers don't have to turn west for a spring adventure. They may be 60 million years old, but the Poconos are an energizing destination for modern Mid-Atlantic fun-seekers. The destination is a mere two hours from New York City and only 90 minutes from Philadelphia. Families can soak up the fresh mountain air and wide-open spaces, regardless of whether the slopes are open. Local activities here include a plethora of hiking trails, a challenging ropes course and the thrill of downhill mountain biking.
There's much more than snow sports in the Poconos. For the real deal outdoor adventurer, Blue Mountain slopeside camping and glamping opportunities are the ticket. Guests can also view springtime natural wonders from Double Barrel 1,000-foot zip lines or the challenging 4,000-foot Zip-Flyer, Pennsylvania's longest zip line.
Where to Stay: Camelback Resort
For those looking for a way to spend their Chase Sapphire Rewards points, the family-friendly Camelback Resort in Tannersville, Pennsylvania, might be just the place to do it. The year-round resort features spring escapes for outdoor enthusiasts of all ages.
Thrill-seekers will love Pennsylvania's only mountain roller coaster, Appalachian Express Mountain Coaster, which reopens in April. Once guests have had enough of the outdoors, they can take a dip in Camelback's Aquatopia Indoor Waterpark, voted USA Today's #1 indoor waterpark.
Park City, Utah
With 9,000-foot mountain ranges towering nearby, Park City, Utah, takes family fun to new heights. In addition to the fantastic skiing the area is known for, there are thrilling zip lines, an alpine coaster and even dog sledding. Visiting nearby Utah Olympic Park and the quaint yet posh Historic Main Street should also be on any visitor's agenda. Shops, restaurants, galleries and interesting local businesses line the downtown streets, ready to transport visitors to a bygone time. Only 40 minutes drive time from the Salt Lake City International Airport (SLC), Park City is a playground for kids and adults all year long.
Where to Stay: Waldorf Astoria Park City
For those with Hilton Honors points burning a hole in their portfolio, a stay at the uber-luxurious Waldorf Astoria Park City is a simple splurge. Nestled among the trees, the resort is adjacent to 400 acres of scenic hiking and biking trails, ideal activities when the ski season is finished. Additionally, the year-round, heated alpine pool allows guests to enjoy Park City in any kind of weather. Always set to 80 degrees, the open-air pool is perfect for a dip even as the snow falls.
The Waldorf Astoria concierge can arrange whiskey and wine tastings, guided fly-fishing excursions, ATV tours in the high Uinta Mountains, golfing, spa treatments and other diversions. Guests should expect to dedicate 72,000 to 89,000 Hilton Honors points per night for a stay here.
Sun Valley, Idaho
Sun Valley, Idaho, is a charming, genteel and under-the-radar family-friendly destination. The Sun Valley Resort isn't as crowded as some of the other well-known U.S. ski resorts, yet still offers similarly posh amenities. The area doesn't get as much snow as other ski areas. However, Sun Valley boasts the largest automated snowmaking system in the world.
Sun Valley offers art galleries galore, along with extensive dining and entertainment options. For a town of only 5,000 people, there's a surprising amount of ways to explore Sun Valley like hiking, snowmobiling and fat biking (with wide tires that can ride through the snow).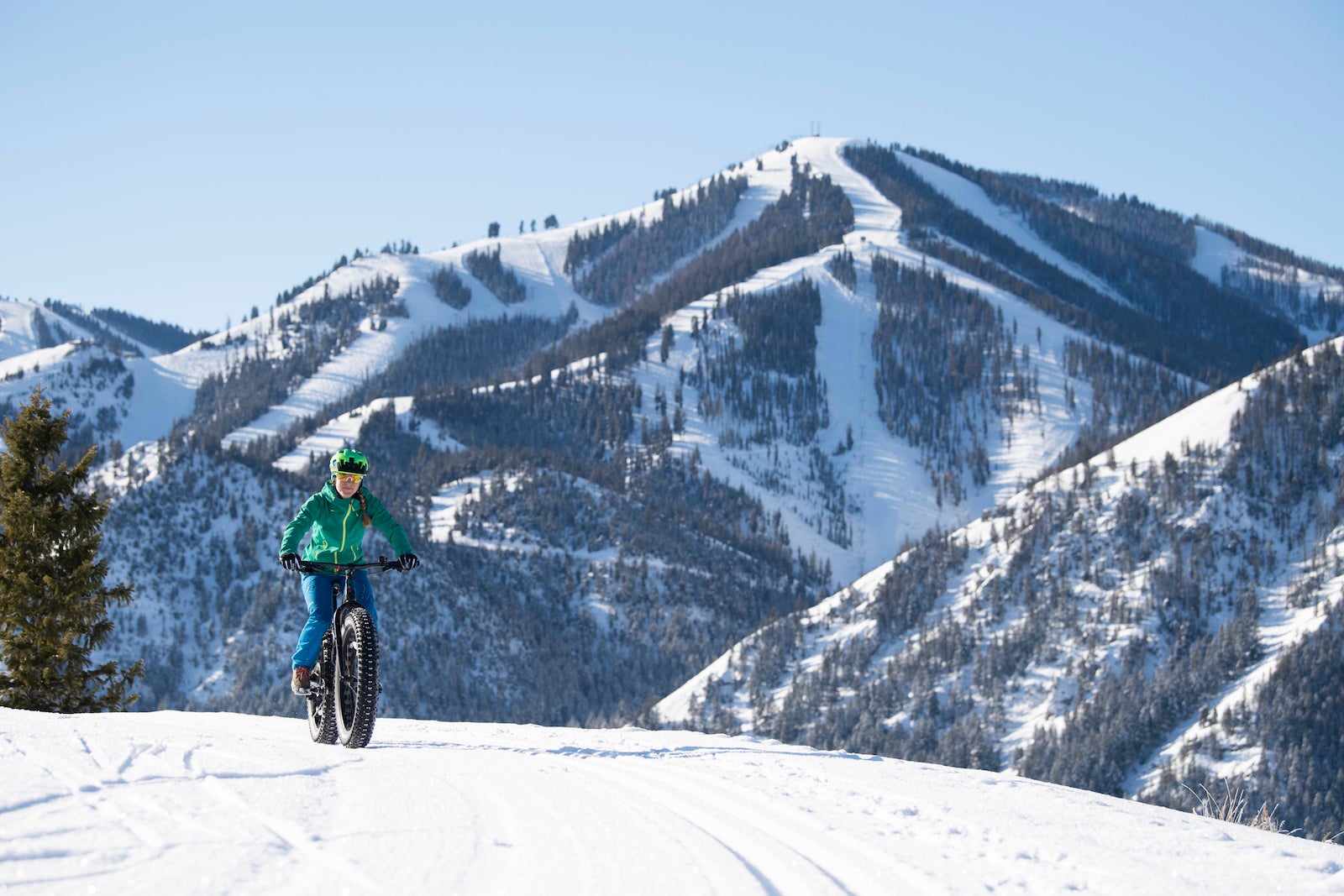 Where to Stay: Fairfield Inn & Suites Hailey Sun Valley
Want to vacation where the rich and famous stay, but not pay what celebrities dish out? The Fairfield Inn & Suites offers a warm alternative. This affordable boutique, 75-room, 3-story hotel is located along the west side of Main Street in downtown Sun Valley. The property is close to a supermarket, movie theater and several local restaurants.
Guest rooms showcase views of the rolling hills around the Big Wood River Valley. They're also equipped with family necessities like a microwave, refrigerator and sofa bed. The hotel offers an indoor pool and a free hot breakfast. The Fairfield Inn & Suites is a category 5 Marriott property, and guests will redeem between 27,500 and 40,000 points per night for a standard room.
Heading to these posh resort towns during the shoulder season in late spring can be more affordable than you think — so use those points and let the fun begin.
Featured photo by Halfpoint/Getty Images.