Editor's note: This is a recurring post, regularly updated with new information and offers.
---
It's beginning to look like busy airports, festive travelers all around and that familiar holiday travel season.
The most wonderful time of the year can very quickly become the most stressful time of the year at the airport, and many travelers will have little ones along for the journey.
A logjam of holiday flyers can result in crowding, lines and some tense moments, especially if winter weather doesn't cooperate and delays or cancellations become an issue.
But your family doesn't have to be the one succumbing to stress at the check-in counter with an overweight bag, dealing with banned items in the Transportation Security Administration line or racing through the terminal frantically trying to catch a flight.
Instead, you and your loved ones can be the travelers that are relaxing in an airport lounge and expertly avoiding bag fees — with a solid backup plan in the event of an issue with flight operations.
Related: How to save serious cash on holiday travel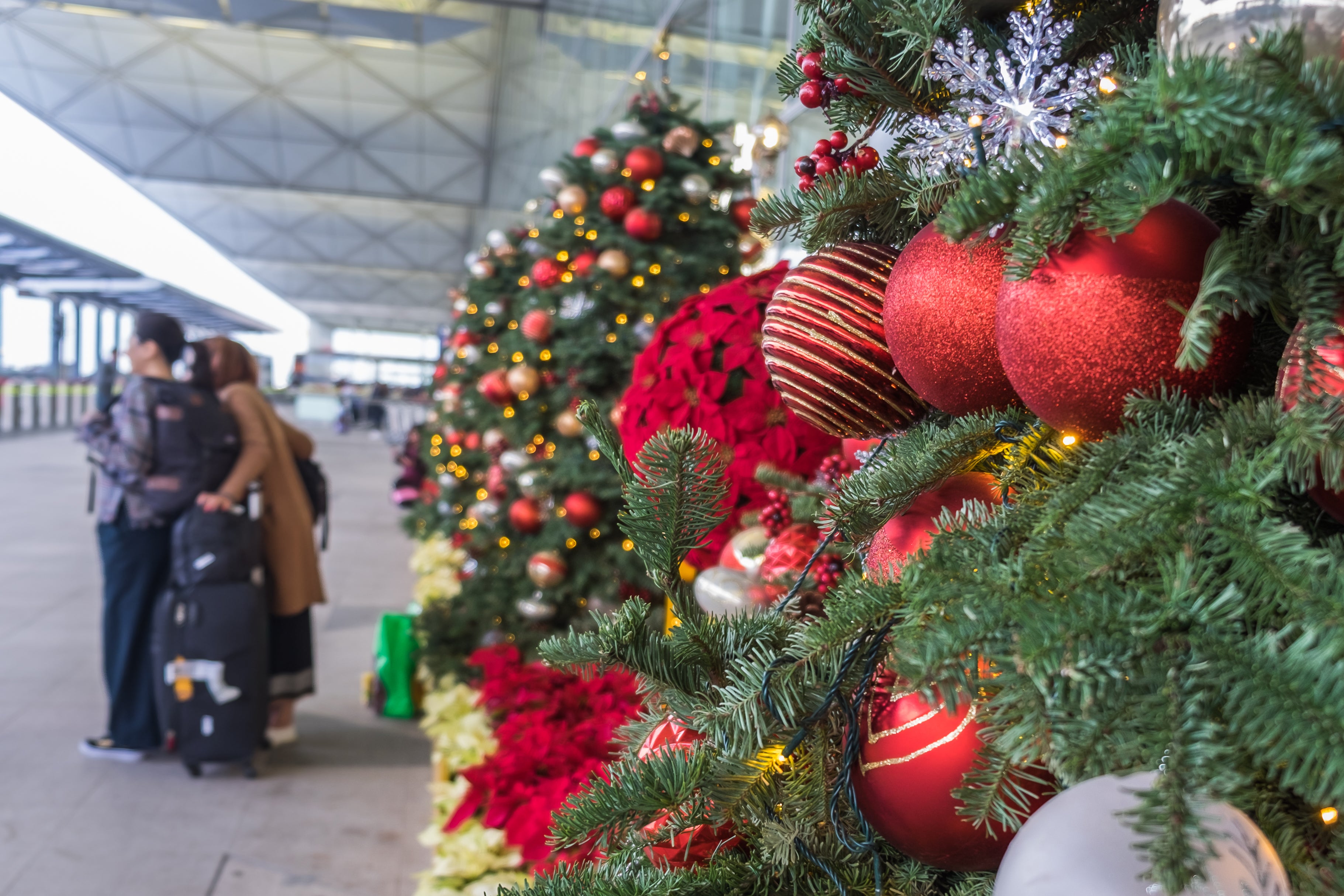 Pack the right credit card
It might be too late to add a new credit card to your wallet to help make your holiday travel easier, but the season isn't over yet. Here are some of our favorite cards with holiday travel perks and related benefits.
You can also check to see if you already have the right credit card in your wallet. Some credit cards protect you from incurring bag fees while others help you earn elite status (think: a priority line for airline customer service and the hope of a holiday upgrade). You could have a credit card that lets you board early or one that gives you a statement credit for your inflight purchases.
For example, having the Delta SkyMiles® Gold American Express Card gets you and your traveling companions a free checked bag on Delta flights. The Southwest Rapid Rewards Performance Business Credit Card reimburses you for Wi-Fi purchases on Southwest Airlines (up to 365 credits per year) and also includes four upgraded boarding positions per year, just in case that perfect Southwest seat is your goal.
There are also credit cards that get you access to airport lounges or cover the cost of a meal at the airport — both of which are much better ways to spend time before or between flights than sitting at the gate.
If you do get a last-minute credit card with a Priority Pass membership, you can still use a digital membership card at most eligible lounges.
A last-minute The Platinum Card® from American Express with an instant card number should also do the trick to get you into an American Express Centurion Lounge or other partner lounges including Priority Pass Select, Delta Sky Clubs (on same-day Delta flights) and Airspace and Escape lounges. Enrollment is required for select benefits.
Related: How to avoid checked baggage fees on major domestic airlines
Get to the airport early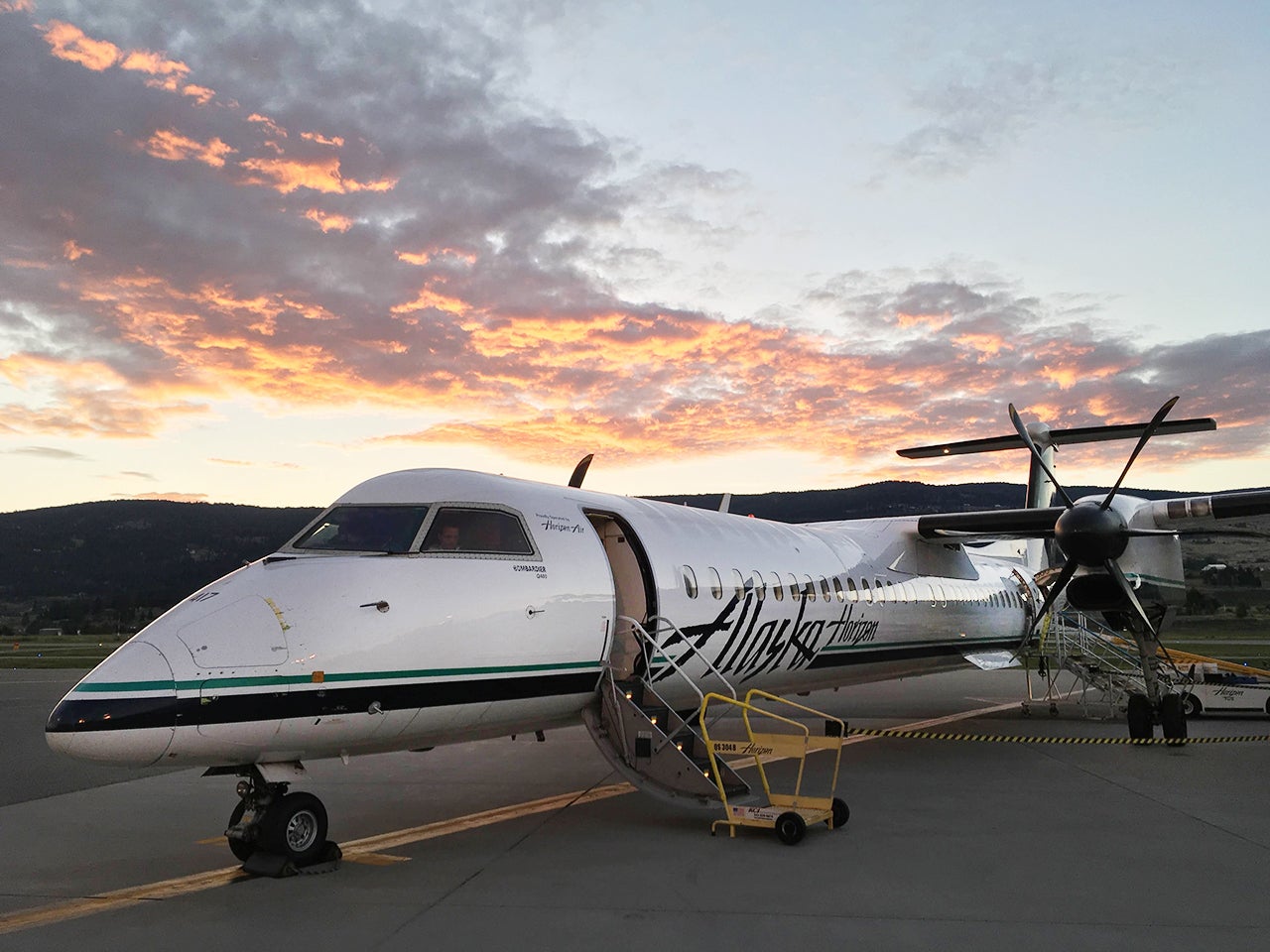 I know, this sounds like your parents talking, but nothing induces intense and immediate stress faster than running late for your flight — especially in today's world. So even if you normally cut things close, don't do it during the holidays when that "next flight" may be too full for you to switch to if you miss your flight.
Taking the first flight of the morning is a good idea, too. Early morning flights are the most likely to have been cleaned overnight and to depart on time, so get a jump on the day and book the early bird. If you notice bad weather forecasts for your travel date, getting out in the morning can be even more important.
Here are a few tips for changing your flights for free.
Be strategic about checking bags
During the holidays, some travelers swear by the mantra of "stay calm by not carrying on."
While I vastly prefer to carry on my bags 95% of the time, there is some logic to checking everything you can, especially if you have kids to chase after in the airport. If you check your bags, your hands are free, you don't need to worry about early boarding — as overhead bin space isn't a problem — and you don't have to stress as much over the security screening process and whether you need to pull out half your items to place them in bins.
While checking bags can slow you down a little, it can also result in some bonus free miles if the bags are slow to come down the baggage claim. If you really want to push the easy button, you can even skip the baggage claim completely and have your checked bags delivered to your final destination.
And of course, remember to toss an AirTag in your checked bag so you can keep a virtual eye on its journey.
Consider shipping your stockings
While strategically checking or carrying on a bag will work in most cases, there are circumstances where shipping packages to your final destination can be even easier — and sometimes, cheaper.
If checking your bags would subject you to oversized-baggage fees, then shipping can be a smart decision. Try the site LugLess to price and purchase shipping for your belongings (or presents), whether you want DIY drop-off or doorstep pickup and delivery. Just remember that shipping delays are worse than normal this holiday season, so allow extra time.
Related: The best suitcases
Know the TSA rules for flying with holiday items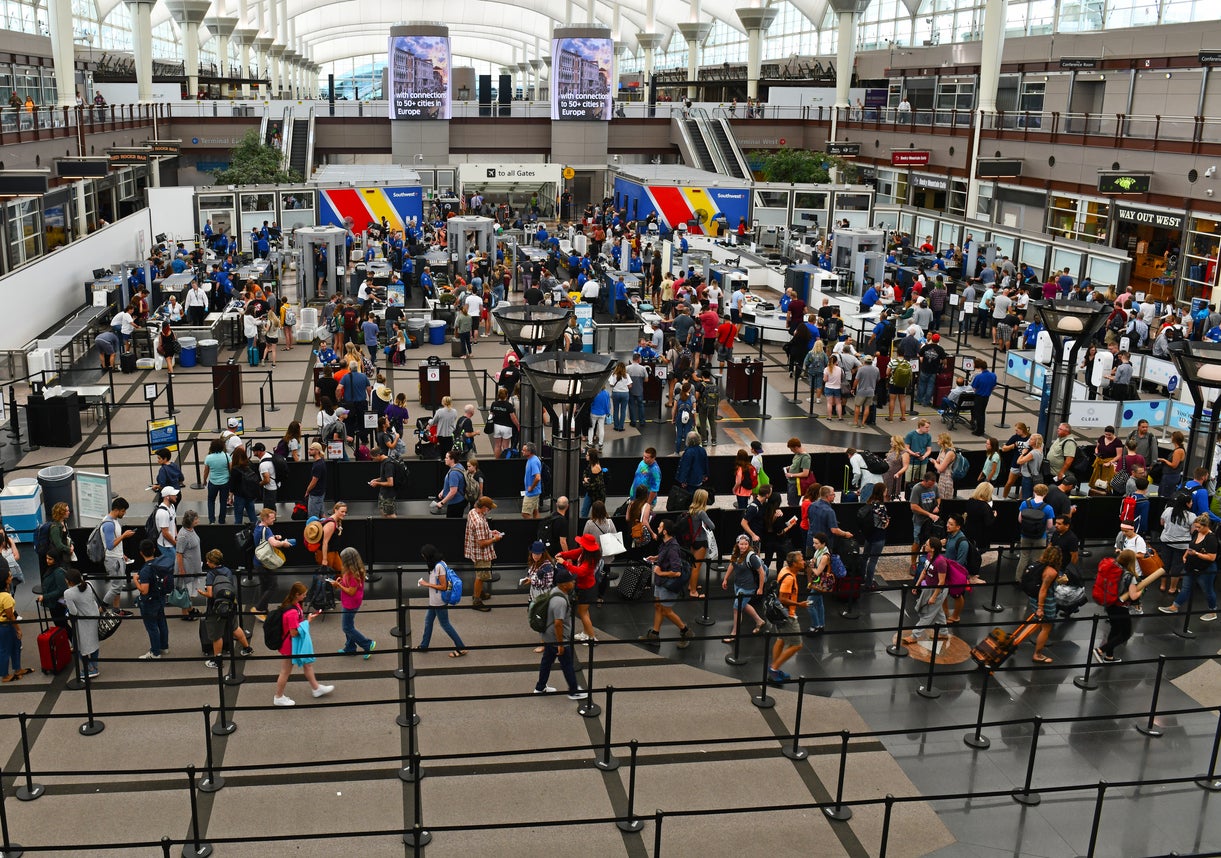 Can you bring wrapped presents through security? Technically you can, but it's a bad idea in the event Transportation Security Administration agents need to inspect what's inside.
Traveling with a snow globe? Make sure that the liquid is 3.4 ounces or less and it can fit in a quart-size, resealable plastic bag. (So really, don't carry on that snow globe.)
You can bring a fruitcake, sufganiyot or cookies through security, too, but you may want to put food in its own tray for inspection. Here are exactly which Thanksgiving types of foods you can bring through TSA as you head home for the holidays.
Clear security in a flash
On peak travel days, TSA PreCheck isn't always enough to get you through security as fast as you'd like, even if you left the snow globes at home. (I'm looking at you, Denver and Newark.) If you want the one-two punch of having all available expedited security options, consider getting Clear. Here's our guide to getting and using Clear.
You can sometimes even apply for Clear when you're at the airport if you see the regular security line crawling along slower than you like, so you don't have to commit in advance.
The Amex Platinum card now comes with up to $189 in Clear statement credits each calendar year, meaning you can receive Clear for free (membership costs $189). If you have the American Express® Green Card, it also comes with a $189 annual statement credit for the program. Also remember that kids can use Clear for free with you, and additional adults can be added to your main plan for just $60 per year.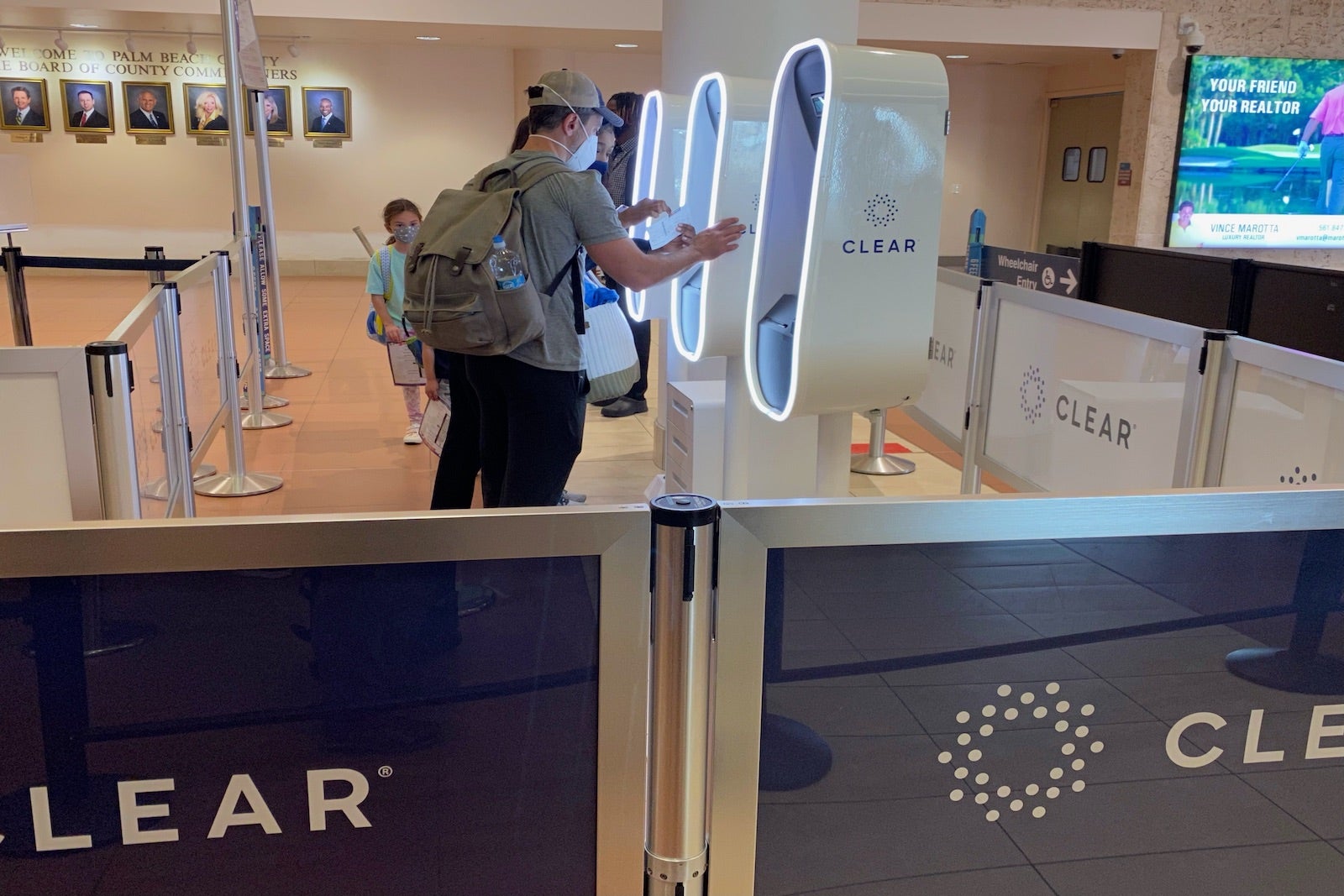 You can get Clear for a discounted rate of $149 for 12 months using code TPG149 or get a two-month free trial of Clear using code TPG2M. You may also be able to get Clear for a more affordable price if you're a Delta or United frequent flyer member.
If you don't have Clear, at some airports you can still now reserve a time to go through security, which is much better than nothing.
The information for the Amex Green Card has been collected independently by The Points Guy. The card details on this page have not been reviewed or provided by the card issuer.
Lounge around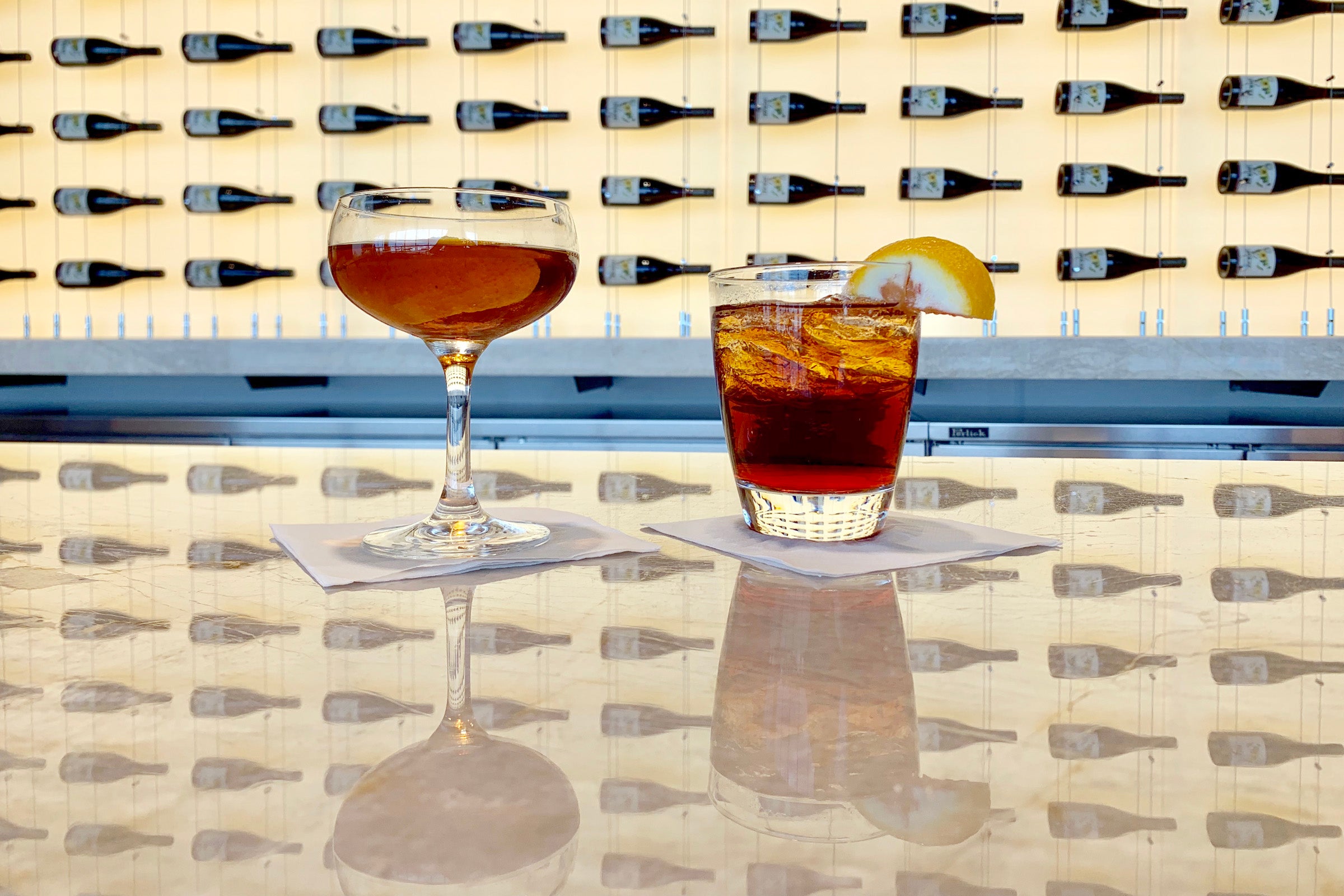 The airport lounges of today aren't just for the elite: They're for the savvy. So, don't find yourself stuck out at the gate if you don't want to be. Get yourself into a lounge on your holiday trip instead and enjoy some complimentary food and beverages.
If the whole family is flying for the holidays, you might want to specifically seek lounges that have family rooms, such as select Amex Centurion Lounges.
If you're just looking for the best places to lounge, here are the top Priority Pass lounges in the U.S. — and how a card you might already have in your wallet could get you access. Cards such as the Chase Sapphire Reserve and The Platinum Card from American Express will do the trick.
There's a new grab-and-go United Club Fly outpost in Denver that may work even if you have a tight connection. If you are connecting through Dallas Fort Worth International Airport (DFW), the Capital One Lounge there is not to be missed if you have access with a Capital One Venture Rewards Credit Card or Capital One Venture X Rewards Credit Card.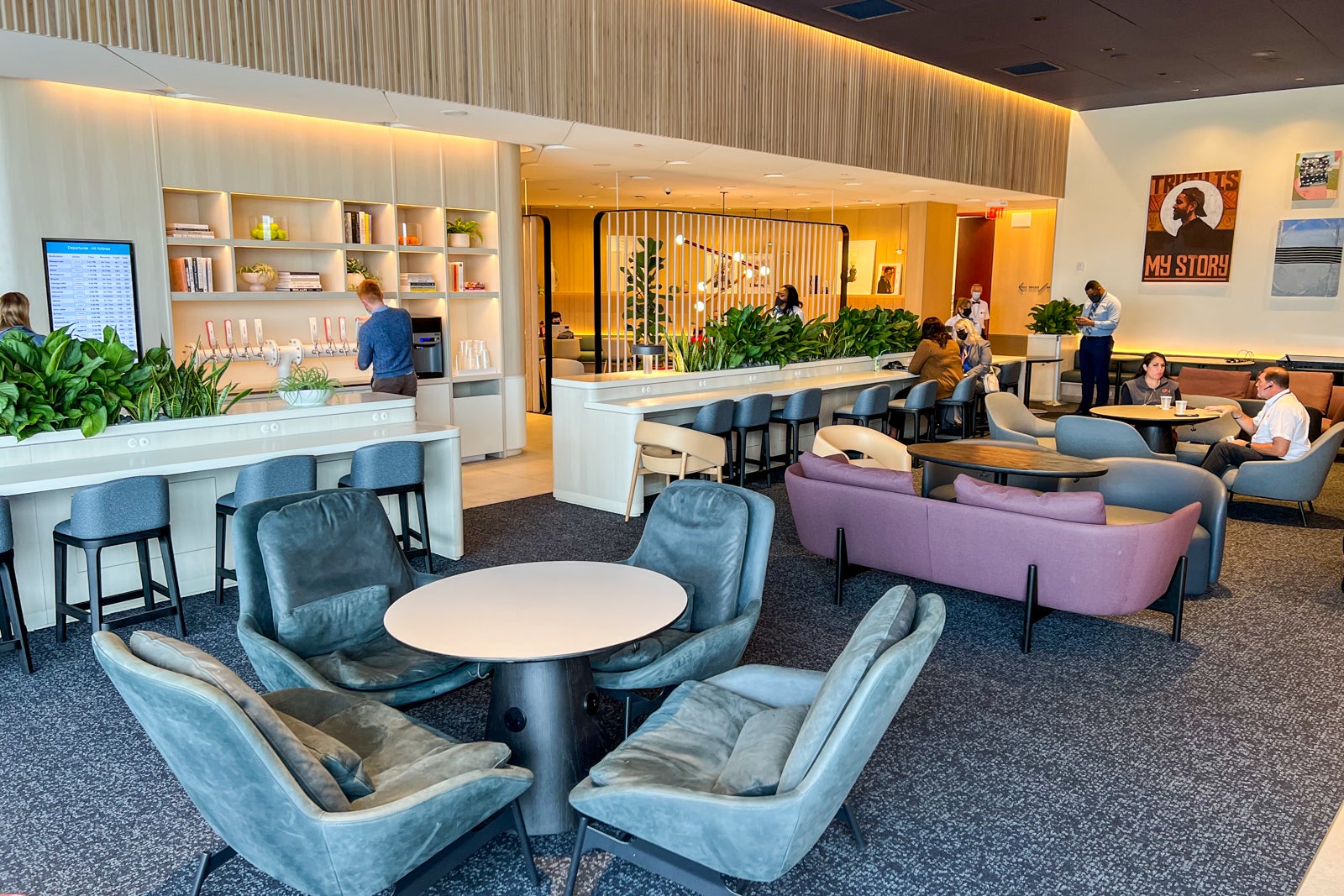 Related: Best credit cards for airport lounge access
Bring your own onboard essentials
Here are some tips for packing like a pro — as well as some specifically tailored to parents traveling with young children.
But whether you're flying solo or with a basketball team's worth of kiddos, you need to consider bringing your own food, comfort items and entertainment on board. Some airlines are better than others at providing some (or all) of those amenities, but it's best to be self-reliant — especially if you're traveling in economy.
Although airlines have resumed their inflight food and beverage service, you'll want to be 110% prepared since all that is offered on many routes is cold snack boxes.
Grab headphones, a neck pillow, snacks and something to keep you occupied and you'll be all set, even if the airline doesn't have anything to offer you beyond a small seat.
Related: These are the best US airlines for family travelers
Know where you can actually have fun at the airport
If you have a delay or long layover at an airport, you may be in luck if it is one of the airports that go all-in on winter holiday fun. For example, at the airport in Denver, the free ice skating rink is open and ready for travelers who may have some time — and energy — to use up.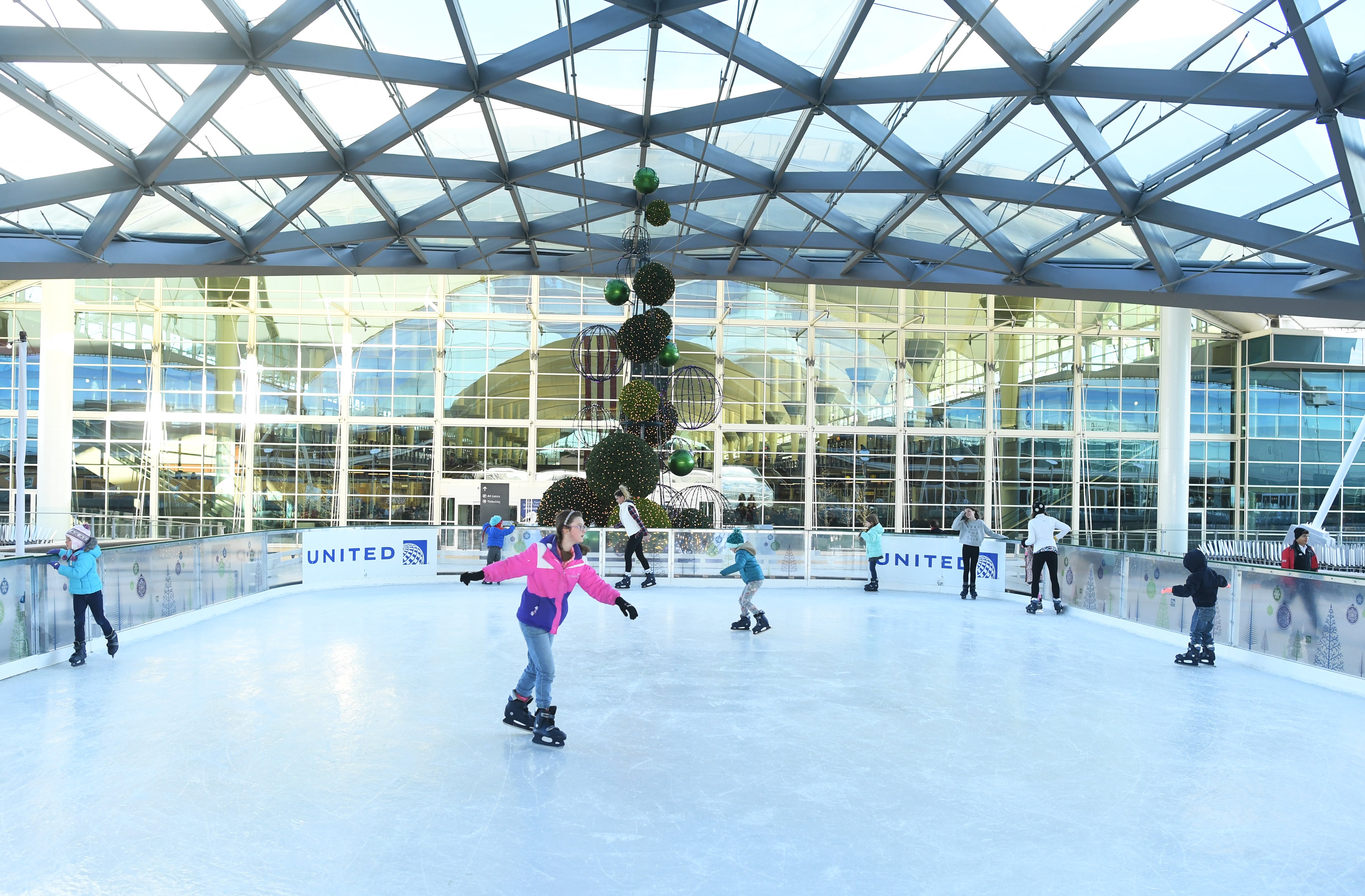 Other airports have game lounges, nap lounges and more — some of which you might be able to access for free with your credit card. For example, check out our guide to lounges at DFW and you'll find all sorts of fun ways to spend your layover.
Bottom line
The holidays are an exciting time to go home or get away, but an airport or a crowded plane isn't always the most magical portion of the experience. But we promise you'll survive your holiday travels by making a few strategic choices, packing your wallet appropriately and being prepared.
Additional reporting by Benét J. Wilson and Melanie Lieberman.